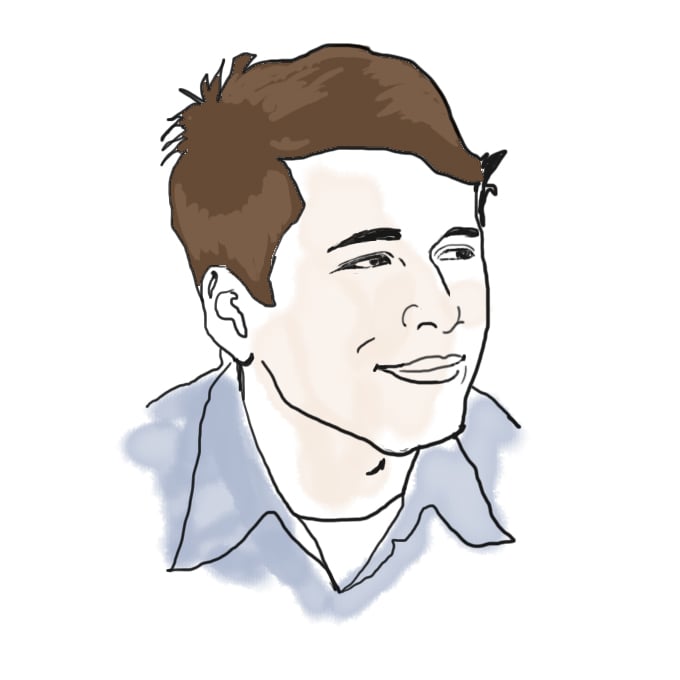 Introducing the Class of 2013: Sean '13

by Matt McGann '00
The third in a series of articles about the incoming MIT class. Plus, a related story about a rising MIT sophomore.
Let's continue the series Introducing the Class of 2013…
At the end of the article about Sean, I've attached a bonus related article. Enjoy!
---
Fannin finds more than academics at MIT
Friday, July 3, 2009 6:49 PM
By KURTIS ADAMS
ThisWeek Staff Writer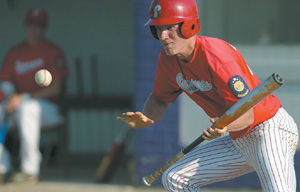 Watkins Memorial graduate Sean Fannin will attend the Massachusetts Institute of Technology next year. In addition, he will play baseball.
By Lorrie Cecil/ThisWeek
The movie "21," which is based on a true story, follows a team of Massachusetts Institute of Technology students and one of their professors as they try to strike it rich at blackjack by counting cards in Las Vegas.
Although such an unorthodox use of mathematical brilliance might be rare, the 2008 film from Columbia Pictures does underscore the vast potential of all who attend the world-renown private research university in Cambridge.
"They do things there that haven't been done before," said 2009 Watkins Memorial High School graduate Sean Fannin, who has received a full scholarship worth more than $52,000 to attend MIT next year.*
Perhaps lesser known is the fact that an institution specializing in science and technological research and development also offers a wide range of athletic opportunities, baseball and even football included.
Fannin, a three-year varsity starter in the outfield for the Warriors, applied to the MIT with academics in mind, but he also understands the benefits of becoming a well-rounded member of the student body as he prepares to play baseball there, too.
"It'll be a great release from all the pressure you face at a school like that," Fannin said before taking the field as one of three players from Watkins Memorial who are members of the Pickerington American Legion Post 283 baseball team, which this summer is trying to earn a third trip to the state tournament in four years. "A lot of people don't know it, but they offer more athletics (33 varsity sports) than any other Division III school in the country.
"Besides, baseball and math go together pretty well. There's a lot of thinking, a lot of numbers. I guess maybe that's why I was always drawn to it."
Fannin, who played only baseball at Watkins Memorial, remains unsure of his particular course of study but is interested in aerospace engineering, among other things. He ranked first in his graduating class and served was the class valedictorian. He scored a 32 on the ACT and a 2,100 on the SAT.
"He's a great role model for our younger kids," Post 283 coach Chris Weber said. "He was committed to a sport and was still able to achieve what he's capable of in the classroom."
Fannin is a two-time first-team all-OCC-Capital Division performer who also was second-team all-district in Division I as a senior. He played on the 2007 team that advanced to a Division II regional final one season after the Warriors captured their first district title and reached the state tournament behind standouts such as Eric Arnett, who last month was taken in the first round of the MLB amateur draft by the Milwaukee Brewers.
At the MIT, Fannin will be joining a baseball program that is coming off its best season. The Engineers, who compete in the New England Women's and Men's Athletic Conference (NEWMAC), finished 25-14 this past spring under sixth-year coach Andy Barlow, who first saw Fannin play when Fannin attended a baseball camp last summer at Harvard.
Barlow, who also has coached at Colgate and Vassar College, has helped several players reach the major leagues over the years, most notably former Cy Young Award winner Barry Zito.
"It's a smaller program, sure, but it's kind of growing right now and the team is getting better every year," said Fannin, who is playing left field and right field for Post 283. "It's just a great fit for me all the way around, really."
---
And here's the special bonus article about a current MIT student and baseball player. There are some nice stories in this article for all of our readers, but for our LDS readers in particular, I hope this answers a few FAQs: yes, there is a Mormon community here; yes, we are very supportive of students taking their mission during undergraduate studies; and yes, LDS students, like all students here, have a strong and supportive community life. Read on…
---
Stepping up to bat in missionary work
MIT baseball player shares gospel with team before leaving on mission
By Greg Hill
Church News staff writer
Saturday, June 13, 2009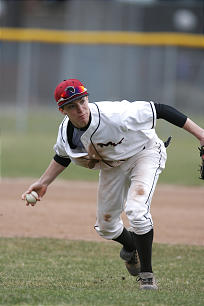 Creed Mangrum, making a play for MIT baseball team, had missionary zeal in college before leaving for the Italy Milan Mission.
A call to serve in the Italy Milan Mission was a mere formality for Massachusetts Institute of Technology baseball star Creed Mangrum. His missionary zeal has been evident throughout the school year in Cambridge, according to Bishop Patrick O' Loughlin of the Cambridge University Ward (Student Single), Cambridge Massachusetts Stake.
The most impressive example of that zeal came during a team meeting of the MIT Engineers baseball team following their final game of the season.
Creed e-mailed his teammates the Saturday prior to the Monday finale and asked if he could have some time to speak in a postgame meeting.
"I love my team. I love every guy on the team," Creed said during a Church News telephone interview. "They're genuinely interested in who I am. We made close friendships."
Throughout the season, Creed said, his teammates respected his faith and asked him questions about the Church.
"They thought it was cool I was going on a mission," he said, having received his call as the baseball season was winding up.
So the players were happy to give him time to speak after closing the season with a 5-4 victory over Fitchburg State. He explained to them what he will be doing in Italy for the next two years, talking about the schedule he will follow and mission rules. He gave each player a copy of the Book of Mormon and a pass-along card.
"I wouldn't want to leave without giving them a Book of Mormon," he said.
The players' positive association with one another helped the team to a 25-14 record, MIT's most wins ever in baseball. The Engineers reached the championship game of the NCAA Division III New England Women's and Men's Athletic Conference tournament before falling to Babson College, 6-3.
Creed was 2-2 with a 4.19 ERA as a pitcher for MIT, but made his biggest contribution at the plate, where he hit .393, ready to take the field in the infield or outfield.
Just a freshman at MIT, Creed said, "It's hard to leave, and I wouldn't be going if I didn't believe with all my heart it's the thing to do." He commented, "I've always wanted to go on a mission. It's something I always assumed I would do. And since I got my call, I've even had more of a desire to go and share the gospel."
An academic and athletic standout at Brighton High School in Sandy, Utah, Creed said he never even thought about attending MIT until baseball coach Andy Barlow contacted him. Though MIT doesn't offer sports scholarships, the coach's support for players he wants is important in the extremely competitive application process.
School is challenging at MIT, Creed acknowledged. He said he heard that no matter how gifted or talented a student is, there is another student who is more gifted or talented. He found that to be true. But he was impressed with his fellow students. He said he was often "clueless" about a homework assignment, but just walking down the dorm hallway he would always find someone who would offer to help him. In the demanding environment, he said, competition isn't student vs. student, but rather students vs. MIT.
Along with his academic courses, Creed took three institute classes during the school year, two in the evening at the Cambridge institute that caters to students from several schools, and one at MIT.
"I've grown more here intellectually and spiritually than ever before in my life," he said. "I feel like MIT is where I'm supposed to be."
Bishop Clint Cannon of the Willow Creek 4th Ward, Sandy Utah Willow Creek Stake, Creed's home ward, said the young man fit in well with a priests quorum of "great guys and a good group of peers."
"At MIT, Creed had a chance to blossom even further," the bishop said. He described the athlete as "one willing to take on a challenge" and who is "not arrogant." He added, "Creed has always had good direction with a focus on the gospel of Jesus Christ."
The son of Dennis and Elizabeth Mangrum, Creed is a four-year seminary graduate. He will enter the Missionary Training Center toward the end of June.
It has crossed his mind, "What if I get back from my mission and can't remember how to play baseball?" Though that's not likely, he'll have the support of his father, a high-school pitching coach, and brother Micah, a former professional baseball pitcher, to help him sharpen up again.
Creed said that when he returns to school, he may focus his studies at MIT on pre-med and music. He plays the piano and guitar.
18 responses to "Introducing the Class of 2013: Sean '13"