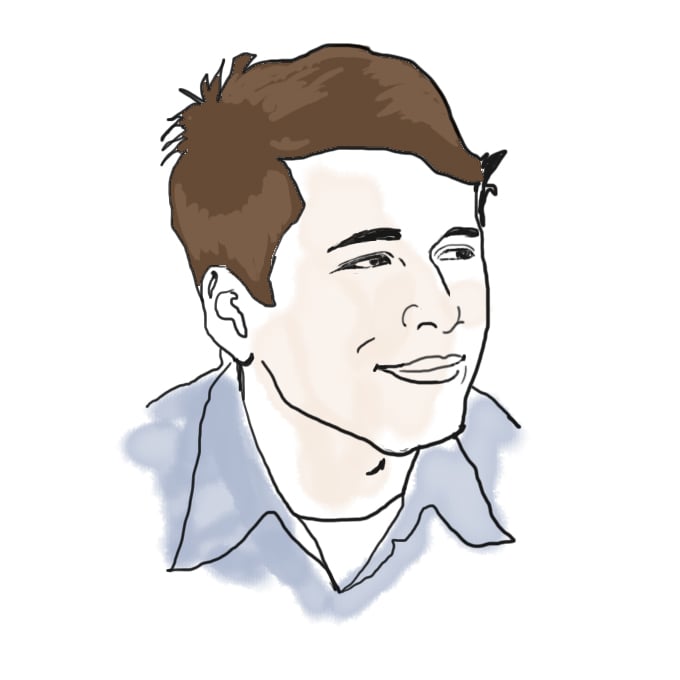 Introducing the Class of 2013: Trevor '13

by Matt McGann '00
The sixth in a series of articles about the incoming MIT class.
Continuing our series Introducing the Class of 2013:
---
Franklin High 'regular guy' bound for MIT
by Betsy Hammond, The Oregonian
Monday June 08, 2009, 8:53 PM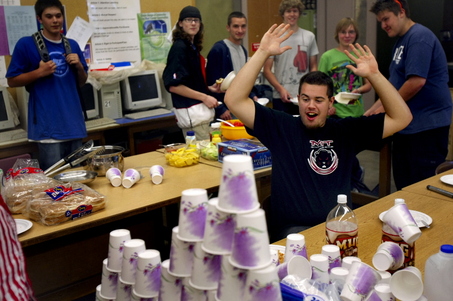 Bruce Ely/The Oregonian: Franklin High valedictorian Trevor Zinser reacts as an impromptu tower of paper cups collapses during a class barbecue to celebrate the success of their woodworking venture, which he helped direct. Zinser likes to work in the wood shop, lift weights, play football and help his dad with construction. But he's brainy, too, with a penchant for chess and crossword puzzles. He's headed to MIT with scholarships that pay nearly the total $50,000 cost of freshman year.
Portland high school senior Trevor Zinser has long excelled where muscle matters: playing football, heaving a shot put, framing a house, lifting weights.
A working-class kid raised just off Foster Road in Southeast Portland, the 6-foot-2, 240-pound teen is a leader in the school wood shop, set a school record lifting 600 pounds in the squats and counts his football coach as the teacher who knows him best.
But Zinser also quietly stacked up an academic record prompting Harvard, Stanford and MIT to court him for his brains. Few local graduates in the class of 2009 were as sought after by top colleges — a remarkable achievement for any teen, and particularly one who will be the first in his family to attend college full time.
Zinser will graduate tonight having aced every college-level Advanced Placement course Franklin High offered, from physics and calculus to English and psychology — 10 in all.
His straight-A record made him one of six Franklin valedictorians. But his performance on AP tests and the college-entrance ACT exam put him in the stratosphere, above the 99th percentile, among college-going students nationally.
The MIT-bound teen insists he is "a regular guy" and "not naturally intelligent." He wears inexpensive jeans and tank T-shirts that show his strapping arms and shoulders. He says he "hates doing homework" and calls himself "one of the worst procrastinators in the world."
Money has always been tight at home, especially after his parents each got laid off in recent years. Dad Scott Zinser is now a home remodeler, and as a result, his son knows his way around roof trusses, glue-lam beams, 10/12 pitch and compound angles — places where math meets the real world.
Still, Trevor Zinser says he was unsure he could get into MIT, and was floored when the university flew him to Boston to sway him to choose MIT over Harvard or Stanford.
He says a scholarly turning point came when he got A's in his AP classes as a sophomore but scored only 3's on the national exams — decent results, but not great, on the tests' five-point scale.
His take-away: Don't be a grade-grubber; work to maximize deep understanding.
Ever since, "I focus on trying to retain the material and really learn it," he says, "not so much on getting an A."
His mother, Kami, says his academic drive and talent surfaced early. As a 2-year-old, he potty-trained himself in a week when she told him that was a prerequisite for going to elementary school. At 3, he made a game of adding the numerals he saw on houses — 349 S.E. Main Street was a 16, for instance.
At Woodstock Elementary, his second-grade teacher let him take math with fifth-graders. His third-grade teacher steered him toward Winterhaven, a math and science magnet, for middle school.
At Franklin High, Zinser took physics, chemistry and junior-level math his freshman year, then opted for four college-level classes as a sophomore.
He says exceptional teachers, particularly science teacher Dave Sherden, worked hard to make classes deep and engaging.
Zinser took weight training or another PE class every year, too. "I enjoy it," he says. "It gives me a place to release a lot of aggressive energy."
Two pivotal summer experiences — an engineering camp at New Mexico Tech and a trip to see sustainable agriculture in Thailand — helped him figure out what he wants to do with his life.
The camp convinced him that chemical engineering is the field for him. Chemical engineers get to draw on math and science to test the limits of speed, temperature and other boundaries. Launching projectiles, blowing things up and propelling vehicles to top speed — all feats of engineering he tried at camp — were very much his style.
Studying global economics and witnessing extreme poverty in Thailand helped cement his desire to help low-income people by working to develop affordable renewable energy.
"The biggest problem with renewable energy systems right now is that efficiencies are low," Zinser says. "I'm one of those people who enjoys puzzles, and figuring out how to improve renewable energy is one of the ultimate puzzles."
---
Trevor Zinser
High school: Straight A's, including in every Advanced Placement class Franklin High offers. Took seven AP exams junior year, earning top scores in biology, statistics, English.
College: Accepted by Harvard, Stanford, MIT and others. Will attend MIT on $47,000 in scholarships.*
Family: Parents Scott and Kami Zinser; sister, Gabryelle; brother, Krys.
Likes to: Lift weights, play chess, hike, camp, play football, square-dance, procrastinate, hang out with people older than he is.
Doesn't like to: Lose.
Tough side: First-team all-league offensive lineman. Former heavyweight wrestler. Third at districts in the shot put. School record for weightlifting in squats: 600 pounds.
Tender side: Found and raised an abandoned kitten.
Career plans: Wants to be a chemical engineer working to make breakthroughs in renewable energy.
Wants to: Get a good-paying job so he can afford to "do the really cool things" such as sky diving, bungee jumping and owning a motor boat.
49 responses to "Introducing the Class of 2013: Trevor '13"