On Friday, the movie Iron Man opened (and opened big: a $100 million opening weekend).
I must admit, I'm not generally a big comic book superhero fan, and I hadn't even heard of Iron Man until only recently. Most movies like this go by without my notice. But last month, I heard from my friend Wally, via my friend Lisa, about photo stills from the movie that caught my attention:
Hold on, what was that? On his finger in both pictures?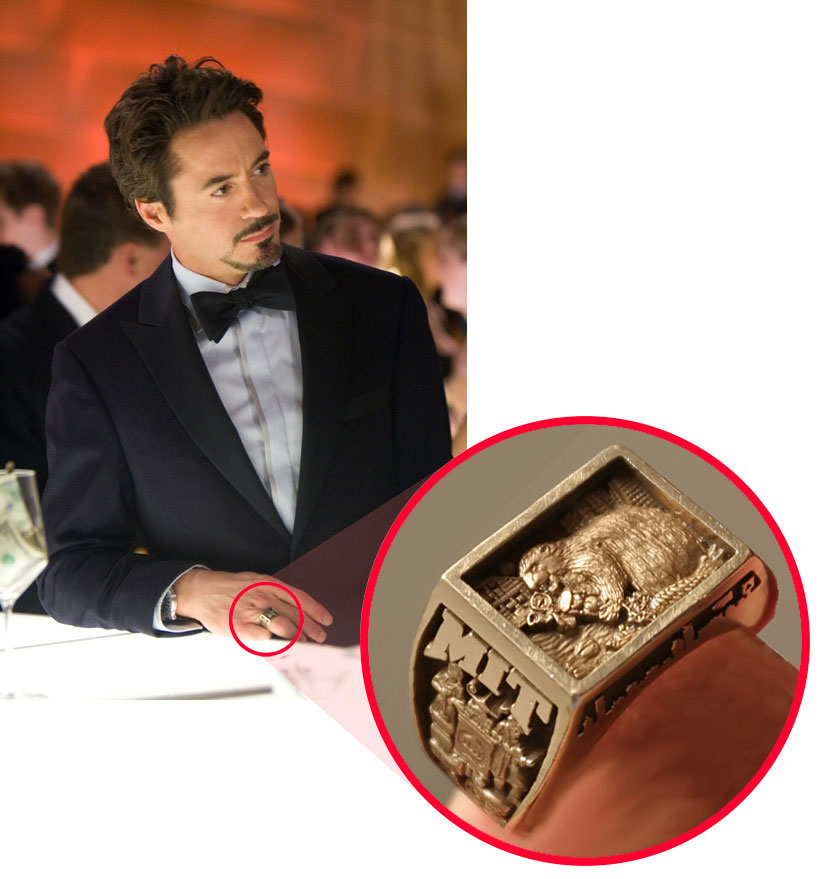 Iron Man with a Brass Rat!
Having Iron Man, a.k.a. Tony Stark, be an MIT alum got me interested in the movie. According to the Wikipedia bio, this is Stark's background:
Anthony Stark was born on Long Island, the son of Howard Stark, a wealthy industrialist and head of Stark Industries, and Maria Stark. Tony is a boy genius, entering MIT at the age of 15, and graduating at the top of his class.
In the movie version, they say that Stark graduated "summa cum laude" from MIT. Of course, MIT doesn't have Latin honors, or a valedictorian, or class rank, or anything like that. The movies really like to give these kind of honors to fictional MIT grads, though. In 2003's The Recruit, Colin Farell's character was said to have been the MIT valedictorian, with a major in "nonlinear cryptography." In the movie version of Carl Sagan's Contact, Ellie Arroway was said to have graduated magna cum laude from MIT.
In an MIT Viewbook-quality quotation, director Jon Favreau said of Stark as a superhero, "He wasn't bitten by a radioactive spider, he's somebody who created a suit using his own intelligence and sweat of his brow. I would love for that to make being an engineer cool, that people might want to go to MIT instead of being on MTV." (Thanks!)
The film, contrary to the web bios I've read, has also made Stark's best friend, James "Rhodey" Rhodes, an MIT graduate. Stark talks about a 1987 spring break trip with Rhodey, implying a college friendship. Even stronger evidence is Rhodey's wearing a brass rat himself in the scenes in the military control room.
Another nice touch is Tony Stark on the cover of MIT's alumni magazine, Technology Review. (I'm trying to track down a copy of the cover)
When you go to see the movie, you should stay through the end of the credits; there's a teaser of a scene that's worth watching. I could tell it meant something to the die-hard fans, but I was clueless, and much more interested in the actor making a cameo (I won't spoil it).
If you do stay through the credits, do me a favor — watch for the name John Underkoffler, and write down what he is credited as (Google has failed me on this one). It's towards the end of the credits, and it's a long title, something like "science/technology advisor & future visionist." Who is John Underkoffler?
John Underkoffler '88 SM '91 PhD '99 is an MIT alum, inventor, and science/technology consultant to many films, including Minority Report, The Hulk, and Æon Flux. You can read a cool article about his work on Minority Report here. And if you're interested in learning more about the technology of Iron Man, check out this article in NewScientist.
If you saw the movie, what did you think?
32 responses to "Iron Man, MIT '87 (?)"