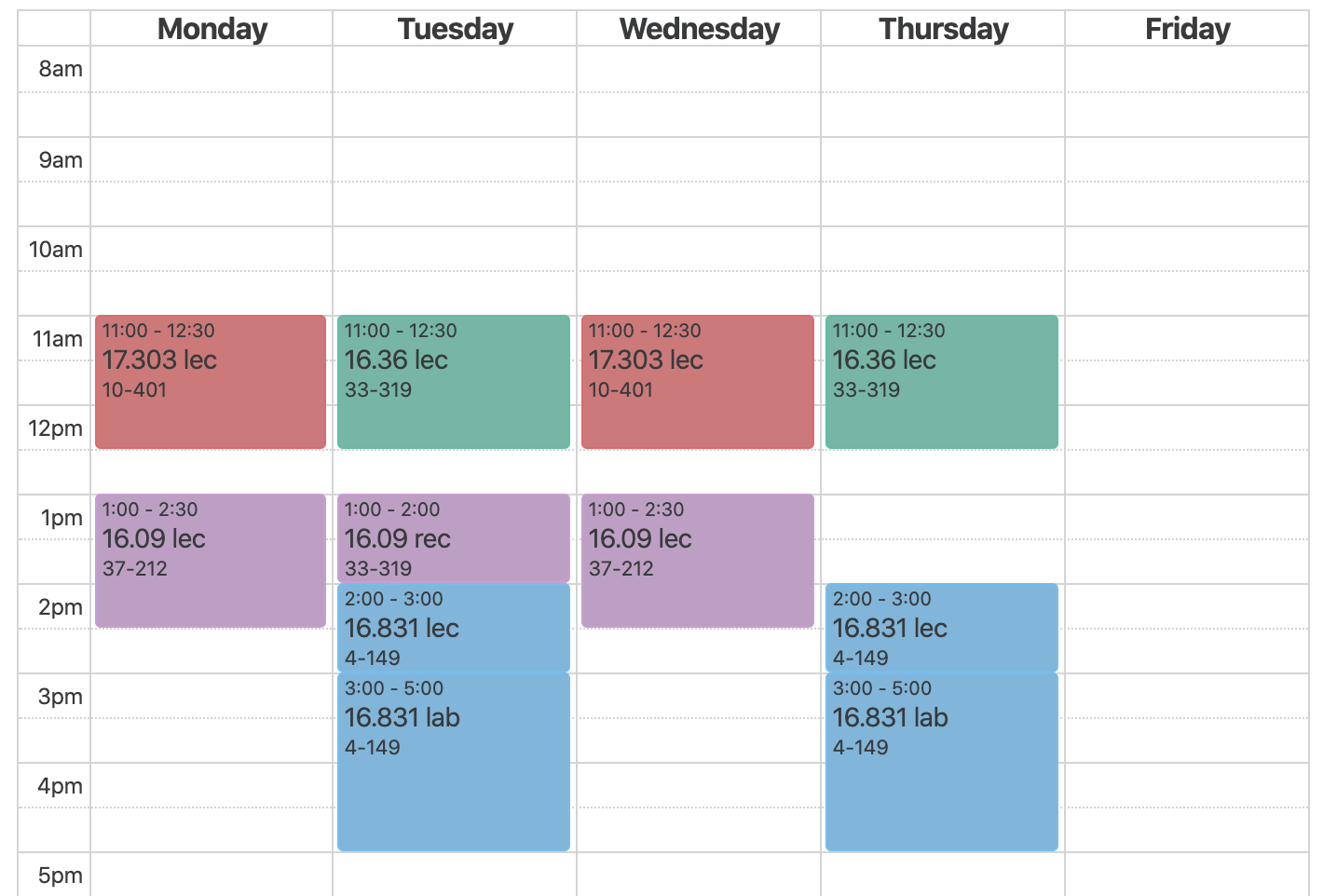 Classes
Is this what it's like to be an upperclassman and only take classes you enjoy? 
I'm taking just four (4) classes this semester, and I'm excited for all of them! Today I had two of them, and tomorrow I'll get to see what the other two are like. Best of all, I am finally free of 9ams, and have no class at all on Fridays!
First, there's 17.303/11.003: Methods of Policy Analysis. I need this class for my humanities concentration, which is public policy. I was slightly skeptical of 17.303 at first, because I thought it would be mostly political theory, but I was assured that we'll do lots of case studies this semester too. Even in the first lecture, we (briefly) covered some MIT policy regarding graduation and housing.⁠01 rip Bexley, Senior Haus, and now maybe Burton-Conner? It was really nice to see that the professor cares about (a) making the class relevant to students' daily lives, and (b) how MIT policy affects students as well as faculty, staff, and administrators. Bonus blogger crossover: Kathleen was also there.
Next, there's 16.09: Statistics and Probability. I need this class for my major. On day 1, the professor said this would be more of a math class than an engineering class, but that's okay! I like math! I'm excited to understand more about probability and statistics, because I'm very interested in satellites, satellite networks, and satellite communications, so I need to understand randomness and how random noise affects signals and communications.
That brings me to the next class, which is……16.36: Communication Systems and Networks! I haven't actually had this class yet, but I'm very excited for the first lecture tomorrow. I am finally going to get to learn about satellite communications!
Finally, that brings to my last class, 16.831/12.431: Space Systems Development. I am going to help build a satellite! It is going to space! I am going to help build something going to space! This is a capstone class for course 16, and the project, BeaverCube, is currently scheduled to launch (literally) in October 2020. I am super excited for this, but the first lecture isn't until tomorrow.
Jobs
In addition to my four (4) classes, I also technically have four (4) jobs this semester. The first is blogging (obviously). It's a pretty good gig.
My second job is working front desk in my dorm. I've done this since freshman fall and it's a pretty chill way to earn some grocery money while also getting homework done in the many hours of monotony between deliveries. Sometimes, I even mix it up and blog from desk.
Thirdly, I will be grading for Unified, now that I'm finally done with it. I've graded before for a different class, and it was also pretty easy; the head TA provided grading rubrics for each problem, so I pretty much just checked to see what parts of the problem were correct, which parts were incorrect, and which parts were missing. I think this grading job will be pretty similar to the last one.
Finally, I have acquired a UROP!⁠02 or as I like to call it, an Undergraduate Research Opportunities Program It's in the Space Systems Lab. The project is called WaferSat, and it's basically an attempt to make a really, really small satellite. The goal is to ultimately make many tiny satellites, which can network together to perform like a larger traditional satellite. One main benefit of this approach is the ability to iterate more quickly, shortening the design cycle and launching more frequently. Also, with a network of satellites, you can get better coverage for Earth observation or communications with Earth (think more satellites=better cable).
Extracurriculars
Beyond my many jobs, I also will be continuing my main extracurricular: rowing! I am a coxswain⁠03 aka tiny dude who steers the boat and yells on the MIT men's heavyweight crew team. It's a whole lot of fun.
I also love making bread,⁠04 need2knead and do so every couple of weeks with MIT Challah for Hunger, a club that's part of a national organization dedicated to ending hunger and food insecurity, especially food insecurity on college campuses, one bake sale at a time. Our first bake of the semester is probably going to be next week, and I'm excited to see my friends from CfH again and knead some dough.