---
UPDATE:
After a tip from Pro-snowman league warning us of a possible attack on our epic snowman by the anti-snowman league, we started receiving reports that the snowman's head had indeed been removed and destroyed in a vicious attack. Not to be deterred or beaten down, a recovery mission was dispatched to the snowman to assess the damage and administer any treatments necessary.
Upon arrival at the snowman we deemed the head not fixable. We gave it a ceremonial sending off in the moat and sought a replacement. A traffic cone was deemed suitable.
A message, addressed to the Anti-Snowman League, was attached to the traffic cone. Let it be known, to whomever maliciously assaults snowmen, we will never back down and we will fight for the survival of snowmen everywhere! We will defend!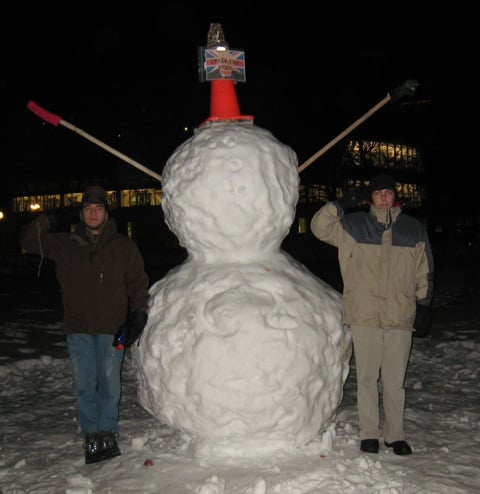 ---
If I could give them out, I'd give out an instant admit coupon to anybody who immediately recognizes the title reference.
Anyway, I don't know if you've heard, but snow has officially dumped on MIT, creating about a foot of snow all over everywhere (except for the sidewalks, thank you facilities). Students here have shifted their footwear to boots, started doubling their pants and shirts, and we're starting to see winter hats. I, for one, have ordered the awesomest hat ever, it should be here in about a week or two.
We actually ordered 4 of these, expect epic rock band pics to come

Along with the new wardrobes come new and exciting activities for MIT students to take part in. This includes snowmen. BUT!!! We're engineers, we don't just build lame snowmen, we build EPIC snowmen! Well, at least that's what the Facebook album describes it as, "the epic snowman of IAP."
It was originally James 11's idea, but Sauza '11, Wes '10, and I latched on to help.
Step 1: Build giant bottom ball for the snowman. We did it the typical, fundamental way, roll a ball around in the snow until it's really big. The thing is, really big snowballs are REALLY heavy, and at the end of it we were basically dying. We all leaned against the snowball, panting heavily, and then flung ourselves at it again, adding more and more snow. Kevin '11 snapped a picture of this process, this is when we started to realize how big the snowman was actually going to be.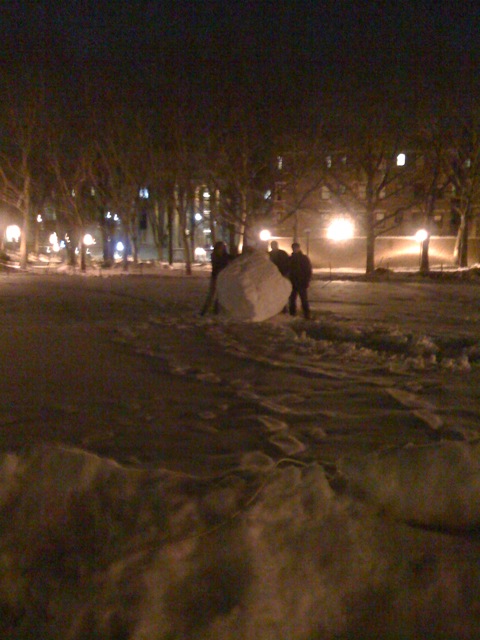 We packed some snow on it, rounded it off, and were left with a perfectly massive snowball.
Step 2: Build the second ball for the snowman. This was easy, just a smaller snowball than the first. The tricky part was step 3.
Step 3: Get the second snowball up onto the first snowball. But. . . how? The second snowball was impossibly heavy. We ended up having to build a large ramp out of two more huge snowballs, eventually heaving the second snowball up the precarious slope. The ramp itself was almost as impressive as the bottom snowball,and probably bigger in size.
Step 4: Attach head. This was easy. Roll a snowball, carry it up the ramp, set it on top.
Step 5: Features! We ran back to the dorm to get some more people and to get stuff for facial features. We grabbed a potato, cut in half, for the eyes, a carrot for the nose, a red bell pepper slice for the mouth, and three Solo cups for the buttons. We used a pirate hat for the hat, two wooden stakes for arms, and two lost gloves for hands (one pink mitten, one black leather glove). Again, the snow ramp was utilized, and the features were stuck nicely on the snowman.
Step 6: Revel in the awesome!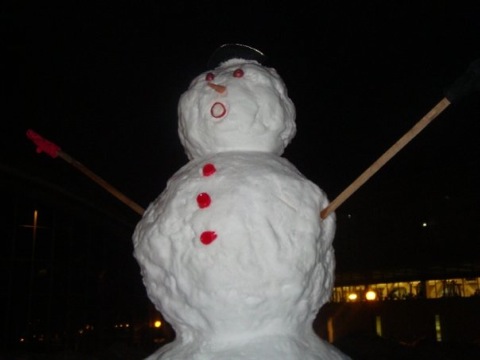 We grabbed a tape measure while we picked up the facial features, and the snowman came in at a staggering 10 feet tall (1 foot taller than Melis's snowman from last year).
Step 7: Destroy evidence of the ramp. Giant snowmen only look amazing if you can't tell how they're made. We took to destroying the snow ramp.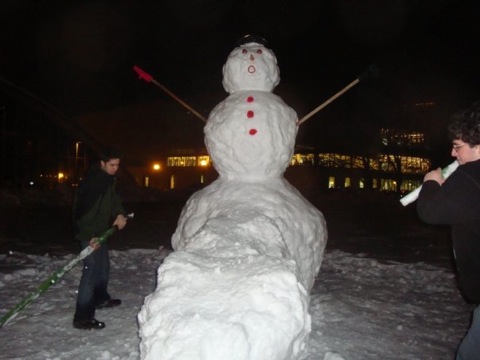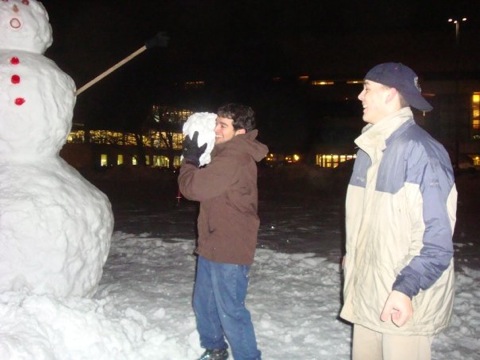 Now for the group shots. Here's one of us expressing our affection for it.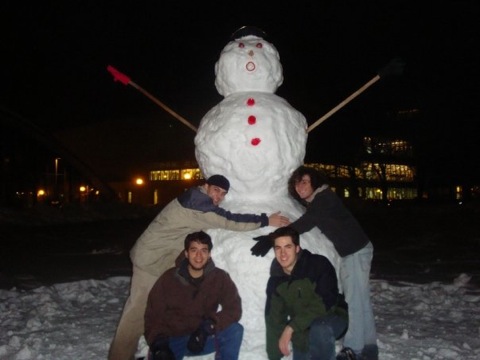 And our "we're hardcore" pose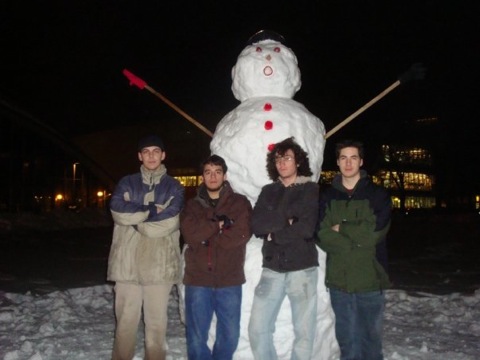 And our "pretend you're the snowman!" pose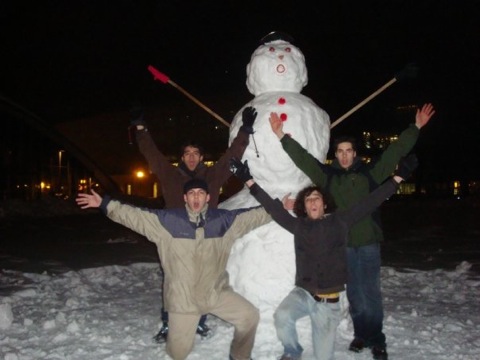 Most of the snowman's features fell off today, I think all he has left are eyes and a Solo cup button. The body of the snowman, however, is probably going to be around until the end of winter (CPW if you're lucky) so we'll all get to enjoy him for quite a while.
So that was my yesterday, building a giant snowman, just another day in the life.
30 responses to "Let's Build a Snowman [CRITICAL UPDATE!]"