Orientation is about to arrive and all of a sudden MIT will be flooded with eager beavers that want to eat free food, stay up late, and maybe even meet some new friends. Orientation is just like CPW all over again, only better, because now you have all your stuff here, can do laundry, and have a place to sleep. You'll actually be living here and will be able to do whatever you want. Awesome, eh?
Well, I thought I'd take a walk through campus and show you some of the things you may run into. I only have a half hour left of battery so this can't really be the liveblog I intended it to be, but I'll throw up the first location on my journey and then post the rest tonight, so come back!
First, Stata's newest (and, frankly, strangest) exhibit. I like to call it the "Four person naked house" but its real name is "Tuesday." Mine makes more sense.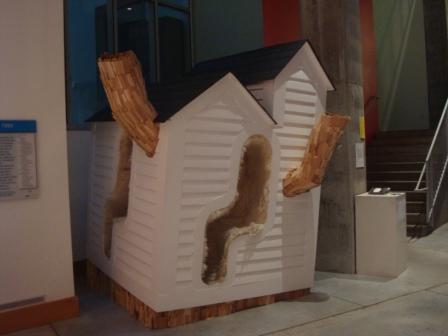 If you read the description you'll see why I called it that. The PDF is just about 1.8 Mb and is totally worth it if you have dial-up, go for it!
I'm scared to sit in this house just because I know what's been in there, so I'm going to move on now and take some pictures of some other things. They should be posted by 10 PM EST tonight. If not, well, I'm going to be tired at work tomorrow.
---
As I left the Stata Center I noticed two things. Thing number one: Prefrosh had been there. How could I tell? I saw this on the board: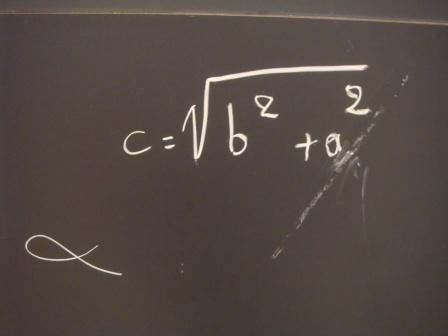 If it had been an MIT student, well, it would have been the kind of math that causes a ringing in your ears and then makes you want to beat your head against the wall. The Pythagorean Theorem, however, is nice and pretty.
Thing Two: A giant paper butterfly!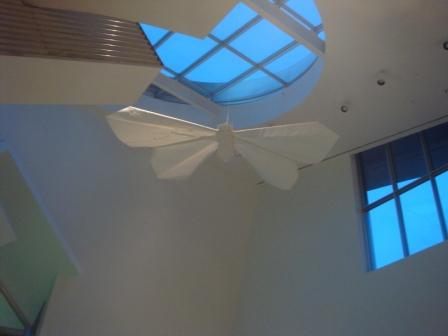 Outside now, I wandered over to the site of the new Media Lab extension. They've started putting the glass in now, it's looking pretty epic (yes, I'm one of those people that says "epic" a lot).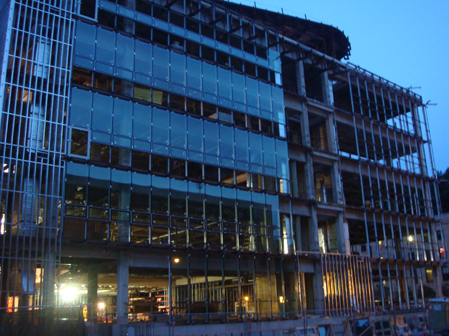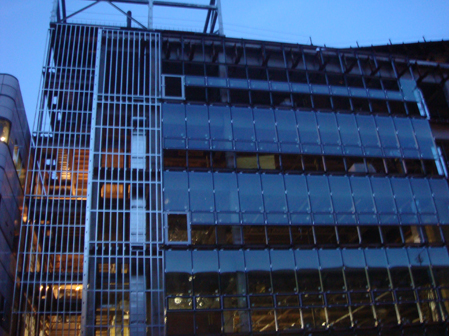 Trekking down Memorial Drive, away from East Campus and towards the Harvard Bridge, I spotted the Green Building and what almost looked like a giant game of Connect 4.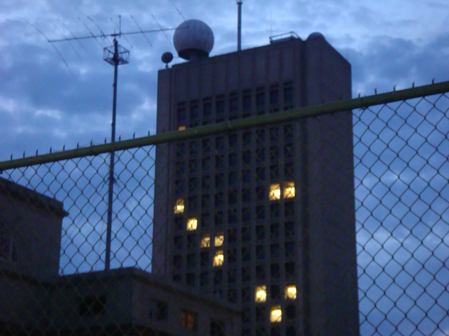 Walker Memorial was next, but there was a fence around the entrance. Peering through the fence I caught a glimpse of the brand new stairs they just installed.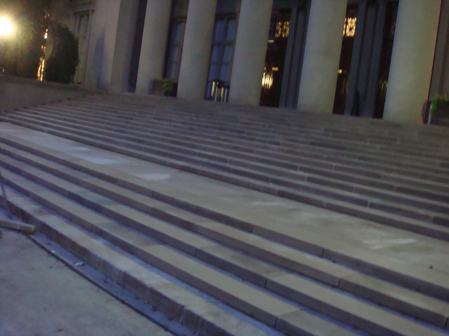 Farther and farther towards the Harvard bridge I went and before I knew it I was at Killian Court. Postcard picture moment!
Onward still and I made it to the Harvard Bridge, with an excellent view of the Boston skyline.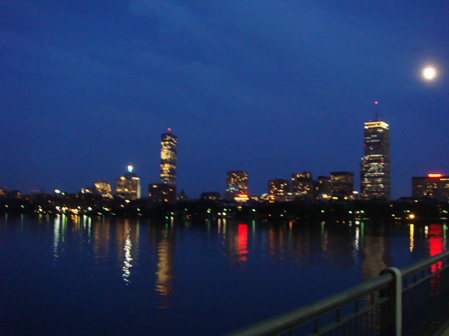 I made it halfway away from Hell shortly thereafter, taking the opportunity to look back on campus, darker now.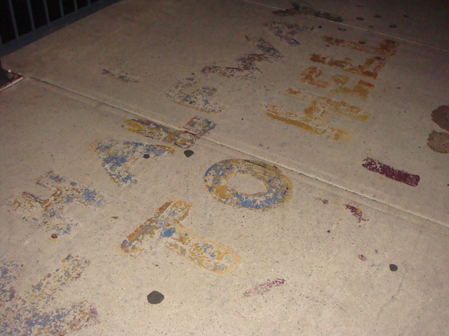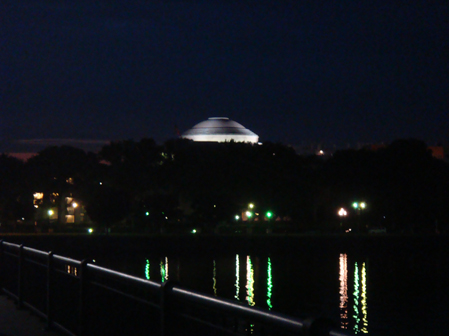 Down Mass Ave, left on Newbury Street, and soon I was at Newbury Comics, my new all time favorite store.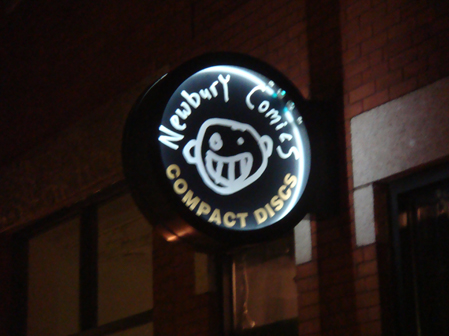 Where I picked up a copy of: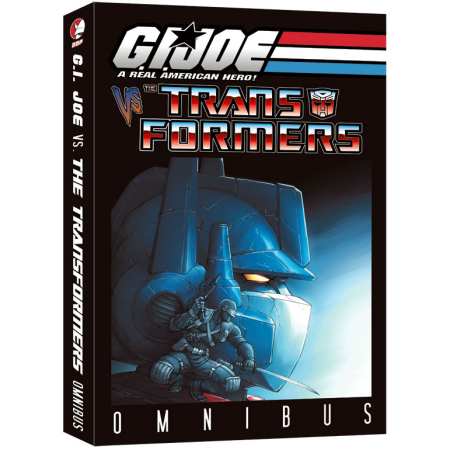 Back to MIT I headed, stopping in Lobby Seven so I could point out some things. See these big silver things?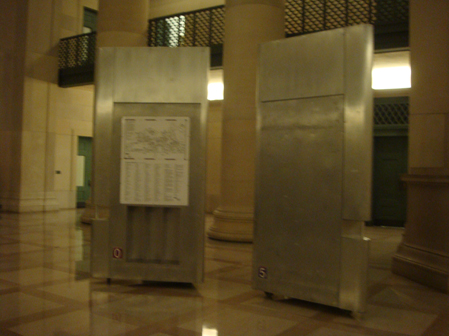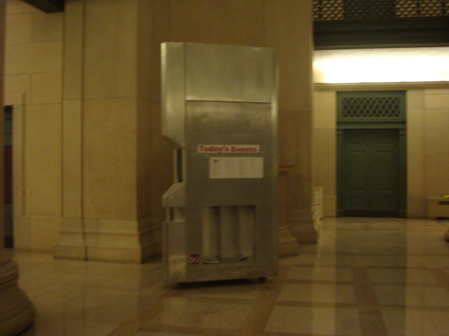 One of them has a mirror on it. Can you guess why? Up to the third floor and into building nine I headed. Exploring the twisty series of hallways I came upon a dead end. The coyote must have discovered it too.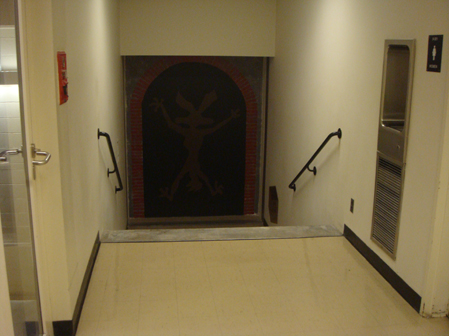 Then it was time to head back. Now I'm sitting in my room, typing, getting to read a little bit and then head to bed. It's 9:59 now, I'll hit the submit button and it'll be exactly 10 PM. Goodnight all!
34 responses to "Let's Take a Walk"