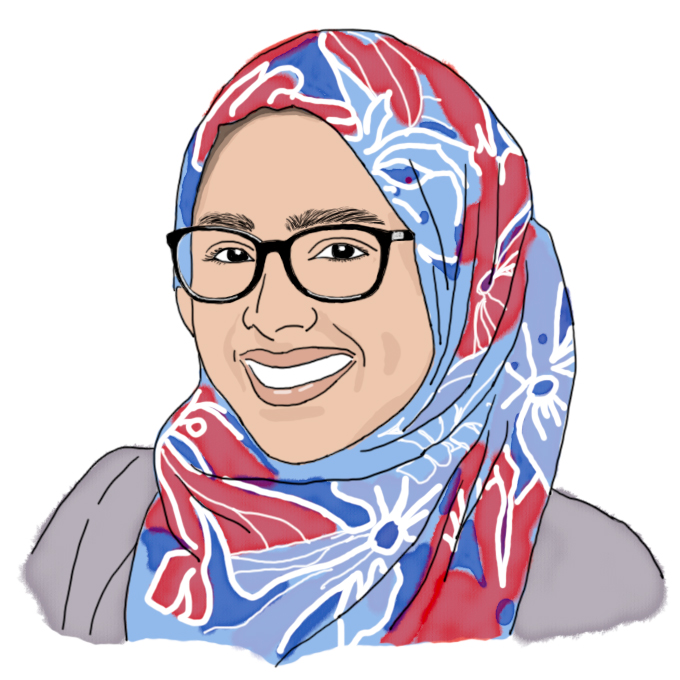 lots of evidence that the people are the best part of MIT
I remember exactly where I was when the email got sent out. There was this sense of nervousness and uncertainty in the air. I had woken up to my phone exploding with notifications. Harvard's decision was out, students were being asked to leave campus. No one had expected that. No one. If Harvard was closing down, MIT was probably going to do the same, right? Rumors and 'leaks' had been circulating all morning. We knew that our email was coming too. MIT was going to follow suit.
When the email came out, I was sitting in the McCormick lobby, with our Head of House sitting to my left, GRAs and some close friends scattered around. And so began what is easily the most demanding of days I have lived through. What was really a week feels like one incredibly never-ending day. Falling asleep at the end of the day was hard and waking up in the morning was even harder as I realized all over again that this was really happening. We were living through a pandemic. And we were being forced off campus. With absolute good reason, but still everything was coming to an end. And there simply wasn't enough time to come to terms with it. 
It was hard. All of it. From long phone calls with airlines to making sure everyone in our dorm had free storage to rushed pack ups to running around helping people carry boxes to fighting for our friends who weren't being granted exceptions to simply trying to spend as much time with one another as possible, it was really really hard. But, when it was time to leave campus there was this surreal sense of joy in the air. If you ask any student on campus why they chose to come to MIT, they'll tell you that it was because of the people. And this very long never-ending day is a testimony to that. There was a sense of joy because the MIT community had really come together in an unprecedented way to be there for one another, to take care of one another. And in the face of everything that's happening, it really did feel joyful. I could have been in a lot of different places when the email came out, I'm really grateful I was at MIT. 
It's a scary time and the impact COVID-19 is having on communities is unimaginable, but I'd like to take some time to shed a different light on the situation. That even at a time of social distancing and fear, humanity is real: 
MIT Professors & Staff
From department heads to professors to office staff, I've received so many emails offering support and help. It's just a really good feeling to know that you're not alone and that there are so many people thinking about you: 
Email from Biological Engineering Head:

Email from my advisor: 

Email from AeroAstro staff: 
-Joyce
McCormick Hall's House Team 
I really don' t know where to start with these guys. I'm truly blessed to have such a great second-family who has spent the past week supporting us in any and every way possible, from helping pack to helping load PODS to planning as many regulation-friendly events as possible to really just making people smile. Our Heads of House and GRAs have spent so many hours sitting around in the McCormick lobby to lighten the mood and help students in any way possible. I spent a majority of the past week with these guys and they've made eviction so much more bearable. 
Our Head of House, Raul posing with the infamous Purell stand: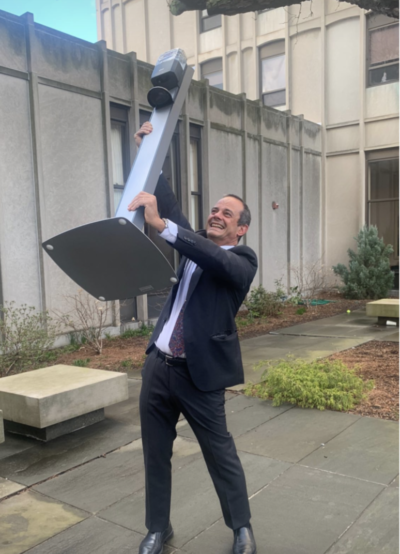 (PC: Amber Z.)
Some of our GRAs (Margaret, Ashley, Samir) posing in their assigned storage PODS: Amidst a late night of packing, our dorm ran out of packaging tape. One of our GRTs, Al, ran over to the local Target at literally 10:30 PM to buy a crap ton of tape:
Alumni 
Since the very first email went out, an immense amount of support has come pouring in from MIT Alumni, offering to help with housing, storage and transportation: 
Our very own blogger alumni Selam and Vera, among others, have reached out:

Various other emails/messages that have come through:
Student Leaders 
During times of crises, an easy option is to focus solely on yourself. You could very easily focus on your own plane tickets, your own storage, your own plan of action. But that's just not the MIT way. Student leaders at every single level used their platforms to advocate for others and to make sure as many people as possible were taken care of.
The Undergraduate Association has been working non stop to advocate for students, demanding flexibility and arrangement from administration. One of the many things they've set up is a process for student groups to donate unused budgets to help students with financial needs get home: MIT's First Generation Program (FGP), Class Support, Awareness and Equality (CASE) and Quest Scholars Network (QSN) coordinated with all of the different student groups and resources available to put together a 20-page document of all pertinent information students may need access to: When international students with vulnerable/difficult situations were not granted exceptions to stay on campus during the first round, the community came together to protest and put on a fight until permissions were granted: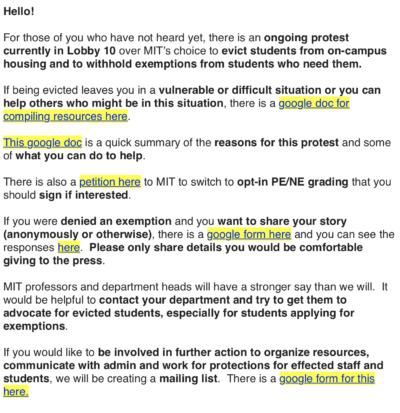 Underclassmen did what they could to celebrate the graduating seniors. McCormick handed out these MIT pennants signed by friends: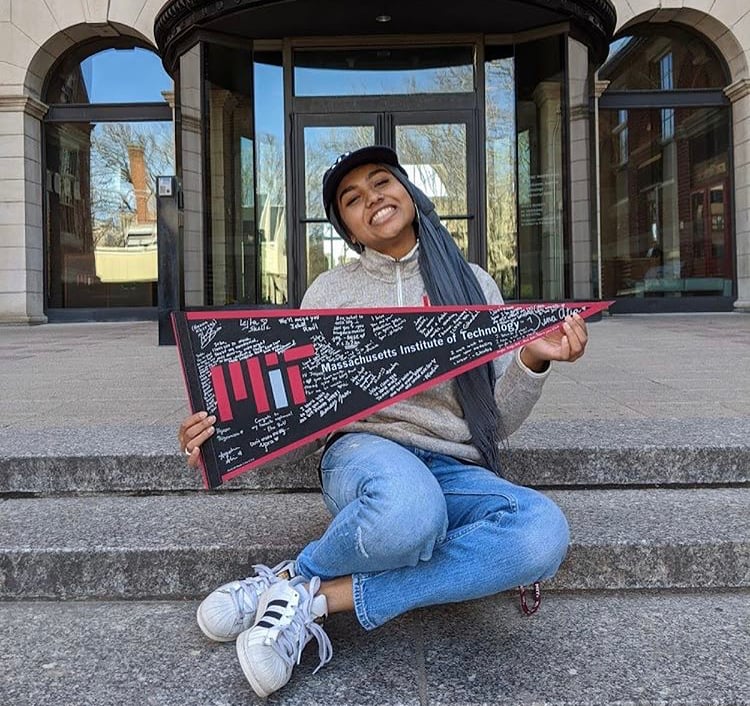 Others have not forgotten about community members that are less fortunate and have been organizing food drives and donation collections for the homeless and refugee populations:

A group at CSAIL is coming together to build ventilators before a shortage. As one of my friend says "STEM is the closest thing to superpowers we've got!":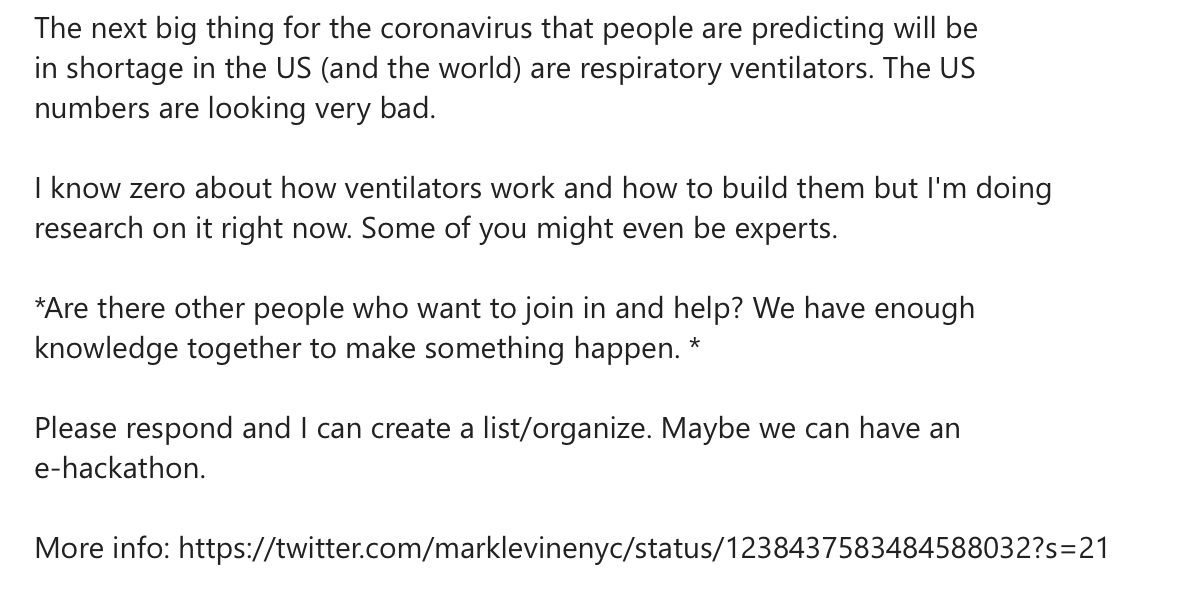 Some are using their DJ-skills to keep the morale high:

And many have rose to the occasion to make sure that MIT's sense of humor and memery continues through these trying times: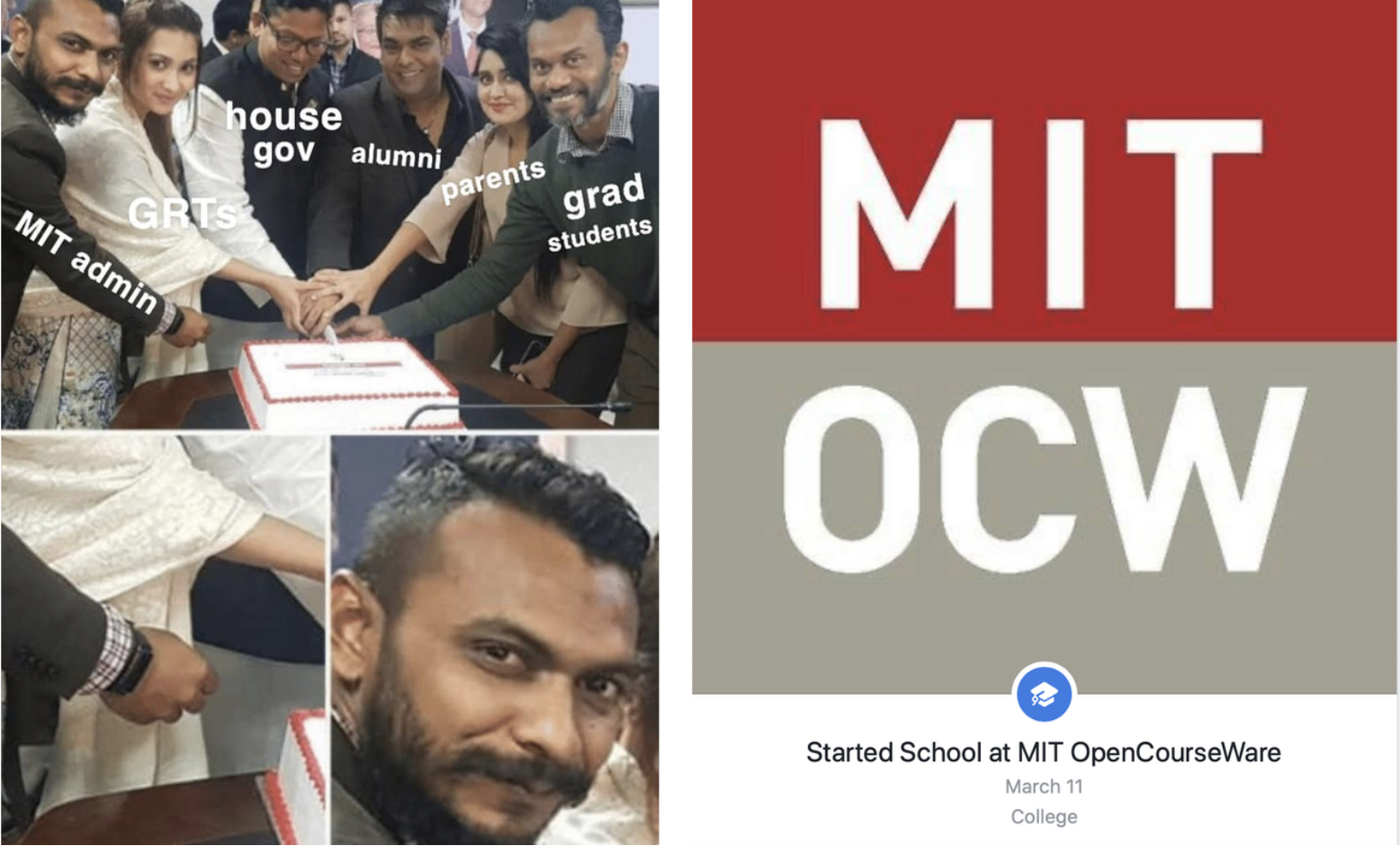 (Meme Credit : Vik T. ' 22)                                        (Updates on Facebook) 

(Is that a purell stand? On top of Kresge? PC: Samir W.)
I'm high-key emotional rn. While that was a lot, compared to the amount of information/emails/messages I've received over the past few days it's really just a small fraction. The people at MIT are freaking amazing y'all and I really couldn't ask for a better place to be kicked out of. On behalf of the entire student body, a wholehearted thank you to every individual that has helped in even the smallest of ways. Thank you for being selfless, resilient and kind. To the graduating seniors, thank you for all you have done in the past four years to make MIT my home. To the recent admits, congratulations and I hope you decide to come join this ridiculously unreal group of people. I'm sorry that this wasn't the Spring Semester any of you were expecting. But in the most unexpected of ways, we somehow managed to end with something beautiful. Stay safe, keep on purelling those hands and practice responsible social distancing. Fingers-crossed for returning to a much healthier Cambridge soon.