This OFFICIAL MIT blog is probably not designed for late-night delirious whims of posting. Oh well.
So, it's late (3:00 AM) and I just finished most of a Diff Eq. PSET (I started at 10:45 PM, it's been a long day).
Here's when you know it's time to go to bed.
Roommate Jon: "Did you get Part II, 4) d?"

Me: "No, solving for k was impossible, not even Mathematica could do it."
Jon: "I know, the same thing happened to me. I think I figured out how to do it though."
Me: "How?"
Jon: "Here, look what I did. . . "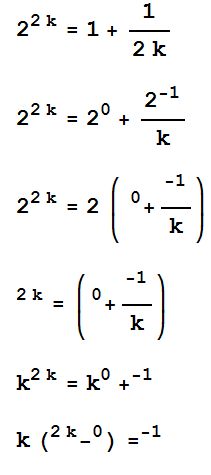 Me: ". . . what!?!"
Jon: "Wait, you can't even solve this! I hate math."
Me: "I'm going to bed."

77 responses to "Math = Broken"