This week, I am fulfilling my dream of taking over the Admissions page with a series of six consecutive posts. I am calling the takeover Yultide (credit to the bloggers for the awesome name). Today is Yultide Day 3. Check out Day 1 – "Sketches from the Independent Activities Period," Day 2 – "Just 41 Pictures I Took in 2017," and Day 3 – "College Life Changes, Described by a Frosh."
_______________________________
Good news for book lovers: MIT and the Greater Boston area have plenty to offer for you!
Sure, students have less time for books in college, but we don't stop reading for fun entirely. Not that my class readings haven't been fun, but this post is about the coolest fiction events I've attended. I now have a signed book collection.
Chuck Palahniuk 7/17
My favorite author is Chuck Palahniuk, the author of Fight Club. When I read for fun, I rarely read for the plot. Instead, I appreciate the writer's style. Chuck Palahniuk is a minimalist writer, which means not a single word in his books is out of place. You may have heard of his infamous Guts short story, which I will not link here. The reason it's so disturbing is beause it's written so well—the idea is to let the readers fill in the feelings of the narrative for themselves.
But, this post isn't an ad for Palahniuk's books (and now coloring books too). Last summer, I got to see Chuck Palahniuk in person. He even put me in a chokehold, Fight Club-style! That one moment was completely worth the 4+ hours in line under the sun (though I did have it easier than some of the bald fans). I also got a personalized signature for the new Fight Club 2 graphic novel, and a pre-signed book from the store.
The bookstore where the Chuck Palahniuk signing happened is Brookline Booksmith. They have regular author visits you can find here.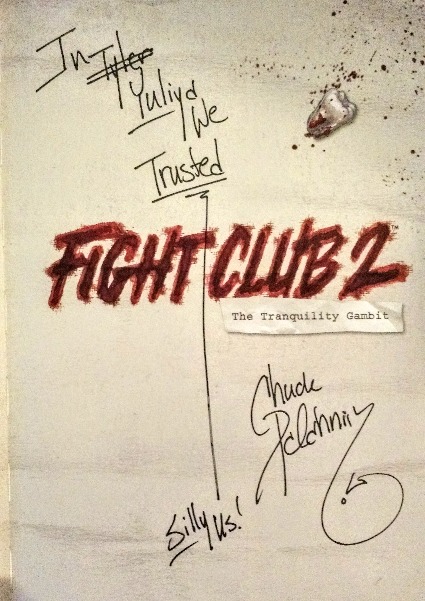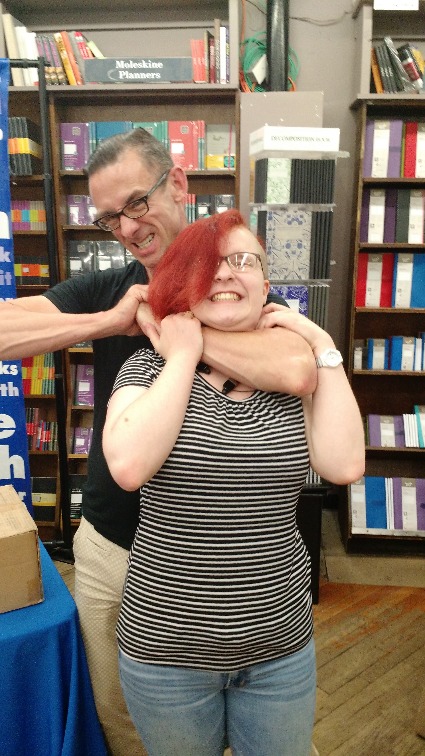 Hidden Figures
Remember Hidden Figures, one of the best movies? I got to see it ~20 days before it came out in theatres, thanks to the Libraries' MIT Reads program! Last December, MIT Libraries teamed up with the departments of Women's and Gender Studies and Aerospace Engineering to organize a free pre-screening of Hidden Figures. Even better, the author of the book the movie was based on, Margot Lee Shetterly, came along!
I loved the screening, especialIy in the company of young female engineers. And afterwards, there was a panel with the author and MIT's first female Aerospace Engineering professor. I can't express how grateful I was to be a student at the Institute on that day.
After the panel, Margot Lee Shetterly had a book signing. And, MIT Press provided copies of Hidden Figures to students for free. A crazy amazing deal! I also got an abridged children's version of the book for my sister at a discount, and personalized signatures from the author in both versions. Didn't even have to wait for four hours, since the event was limited to members of the MIT community.
If you're interested in similar opportunities to read and discuss books with at the Institute, check out the monthly MIT Reads series from the MIT Libraries, which occasionally features author visits.
Festival of Bad Ad Hoc Hypotheses and Ig Nobel Prizes
MIT is the site of the East Coast BAHFest (Festival of Bad Ad Hoc Hypotheses), "a celebration of well-argued and thoroughly researched but completely incorrect scientific theories." BAHFest has "celebrated terrible ideas for four years on three continents" (you can watch some of the hilarious presentations here). The founder of the festival, Zach Weinersmith, is the creator of the SMBC (Saturday Morning Breakfast Cereal) comic series. I highly recommend SMBC for nerds of all disciplines—one of the comics is currently taped to my physics professor's door!
This spring, I went to BAHFest for the second time. At the end, I got to attend another surprise book signing! Zach Weinersmith was releasing a new comic book, and I got a signed copy of his older Science: Ruining Everything since 1543. I also got a signed copy of This Is Improbable: Cheese String Theory, Magnetic Chickens, and other WTF Research by Marc Abrahams, the keynote speaker for BAHFest 2017 and founder of the Ig Nobel Prizes. I even had a conversation with Marc Abrahams. He told me to look out for potential Ig Nobel nominations—scientific papers that are well-researched but also ridiculous (e.g. a paper on the best way to slice a ham sandwich, mathematically).
The annual Ig Nobel ceremony, incidentally, also takes place nearby, at Harvard, and, like BAHFest, it is a must-see hilarious nerd event.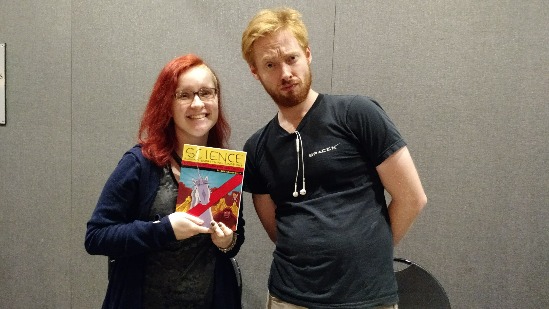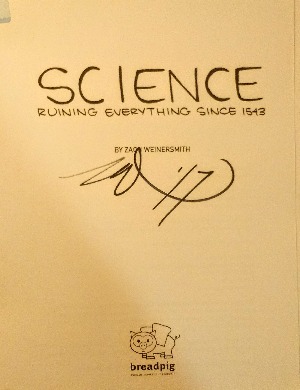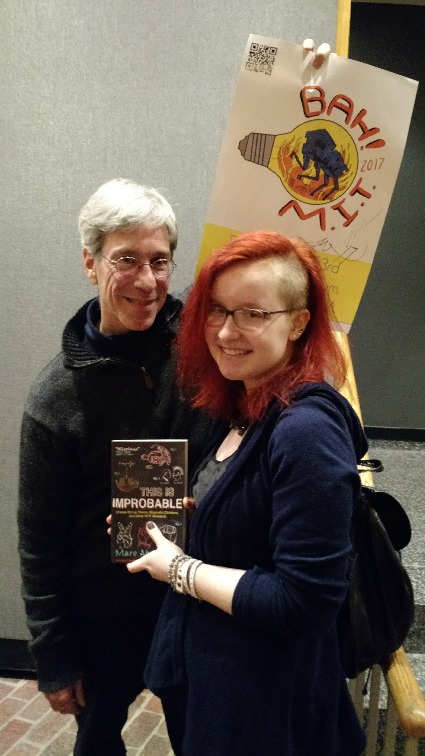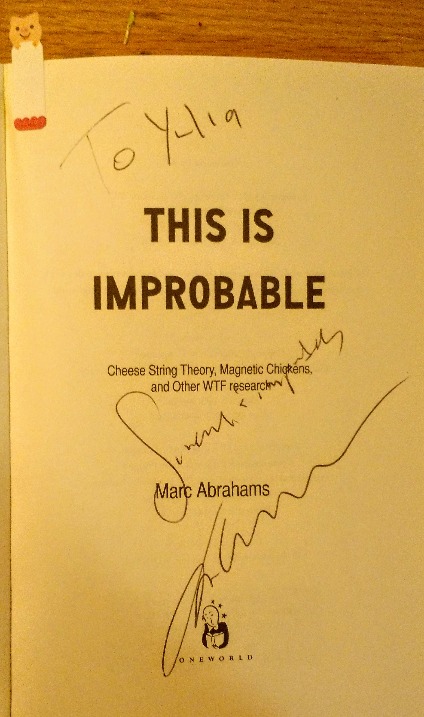 Harvard Book Store Warehouse Sale
Twice a year, the Harvard Book Store opens its Somerville Warehouse for a weekend of new and used book deals. And it's not just Harvard Press books, but any type of books you can think of, at discounts of 70+%. The Winter and Summer Sales are also great opportunities to escape the intense MIT bubble to the calm Porter Square. I highly recommend going—you'll be shocked how much more relaxed Porter is, and it's only a 10-minute ride on the subway.
My favorite find at the Sale (besides a bunch of cheap Chuck Palahniuk books) is Tristano by (sort of) Nanni Balestrini. The book is generated entirely by a randomised computer algorithm! I own unique version #10,577 of the book.
For fellow nerds, here's a longer explanation of the algorithm from the back of the book: "[Each book is one of] 109,027,350,432,000 possible variations of the same work of fiction. Inspired by the legend of Tristan and Isolde, Tristano was first published in 1966 in Italian. But only recently has digital technology made it possible to realise the author's original vision. The novel comprises ten chapters, and the fifteen pairs of paragraphs in each of these are shuffled anew for each published copy. No two versions are the same. The random variations between copies enact the variations of the human heart, as expemplified by the lovers at the center of the story. The copies of the English translation of Tristano are individually numbered."
If you want to buy cheap books without leaving campus, you can also go to the bi-annual MIT Press Warehouse Sale, which features discounts on mostly academic and some nerdy books, plus beautiful journals.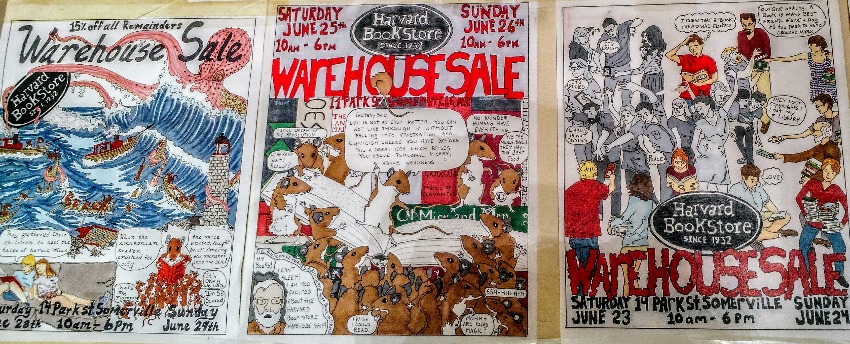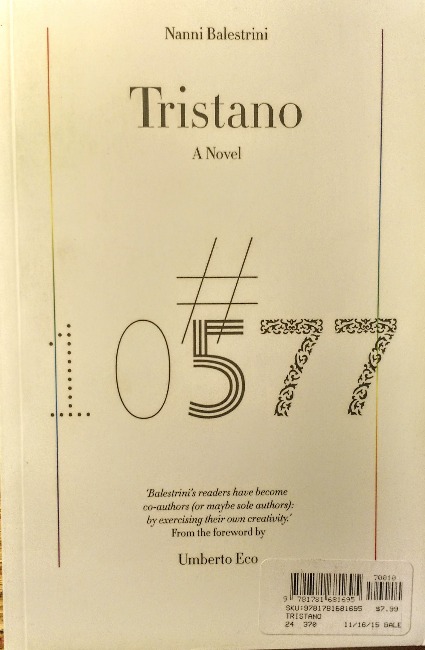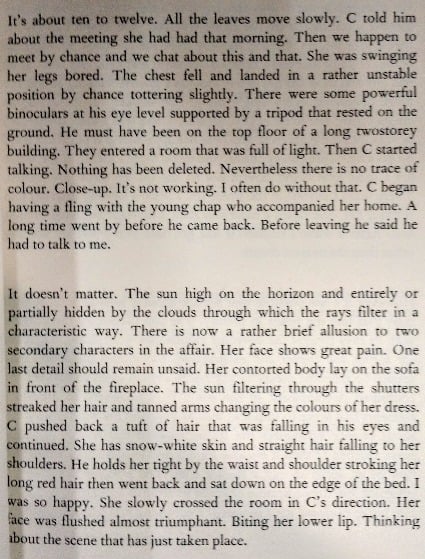 Boston Book Festival
I've already blogged about this annual event, so here's the link to the full post, and an excerpt included below. BBF is another event where I got a signed book (the first of now seven).
Excerpt: All over the magnificent square, vendors offered literary treasures under white tents. In the nearby churches and the Boston Public Library, authors gave talks and led storytimes.
My friend and I got stickers and bookmarks, smiles and hellos. We got free sci fi hardbacks with pleasantly smooth covers, free tickets to the fancy Boston Antiquarian Book Fair, and flyers for future Boston adventures.
Then we headed to the Church of the Covenant for a Fiction Keynote. One of my favorite authors, Colum McCann, had come to Boston to speak about his latest book, Thirteen Ways of Looking. Another best-selling author, Claire Messud, came to lead the Keynote. Messud is famous for her New York Times-bestselling The Emperor's Children and the recently published and critically acclaimed The Woman Upstairs. I was beyond extremely incredibly thrilled to see the two authors!
I purchased Colum McCann's new Thirteen Ways of Looking on-site with a sense of magical excitement. The author himself would sign it! … 
Boston Interntional Antiquarian Book Fair
This event is also a repost from fall 2015, link here and excerpt below. Like the Warehouse Sales, I recommend this annual event for escapist entertainment. The Fair is for rich adults, and therefore fun to observe at a distance—imagine being in a museum where you could buy any exhibit (if you have the $$$$, that is)!
Excerpt: If you're wondering what an "antiquarian book" is, the Fair's website has got you covered. Such a book is one "that is valued as a physical object above and beyond its value as a vessel of content (text and/or illustrations)." This definition encompasses books from as early as the 1400s to as recent as the 1980s, but distinguishes the collectibles from "previously owned books that [are] valued solely for [their] content." Those are merely "used books" and not fit for the Fair. … Walking through the aisles of bookseller booths from all over the world was a special experience. The books, maps, and prints looked like they ought to be in museums, but were instead bartered and sold by private collectors. Leaflets advertised antiquarian book fairs in other U.S. locations. Do book collectors travel regularly to those? How big is their community? … I saw leather bound incunabula from the 15th century and first editions of Twain and Nabokov and signed copies of Charlotte's Web and I, Robot. Giant maps and miniature volumes, only about 2 inches tall (and quite adorable). Collectibles $100 and under for those "discovering" the antiquarian book world. Volumes for children and adults. Scientific tracts and journals. And many more exciting books to admire from a distance. … The prices were astounding as well, perhaps the most shocking aspect of the Fair. … Could an antiquarian book exceed the value of a full-priced year at MIT? Certainly. The most expensive sell I could find was an original Abraham Lincoln letter at $95,000. Not even "the most historic 1792 letter" by Alexander Hamilton or the "Birth Certificate of Italy" by King George I of England could match that. Way to go, Abe!
Bonus: Short Story Dispenser
Yesterday, I saw this adorable Short Story Dispenser at the Prudential Center in Boston. It prints out a receipt-shaped story for your selected reading time! (you can check out the stories here)