Hollis teen is a Presidential Scholar with a summer job at Google
Published: Monday, May. 22, 2006
By DAVID BROOKS / Nashua Telegraph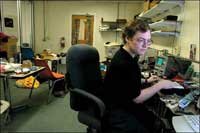 At right: Lawrence Academy senior Quentin Smith works on an independent project in his office on the school's campus in Groton, Mass., May 19, 2006. Smith, a Hollis resident who is interning at Google this summer and will attend Massachusetts Institute of Technology in the fall, is one of two Presidential Scholars from New Hampshire and is headed to Washington, D.C., in June to be recognized for his achievements. "Because I asked," he remarks on having his own office at Lawrence Academy. [Staff photo by Peter DiCampo]
You can probably divide people who know Quentin Smith into two categories: those most impressed that he's one of two Presidential Scholars in the state, headed to Washington, D.C., in June for a presentation that might include meeting the president; and those most impressed by his summer job -- as an intern for the coolest of cool tech companies, Google.
"In the interview, they asked me: Just how would I break the search engine?" said Smith, 18, a Hollis resident who attends Lawrence Academy in Groton, Mass.
He won't really get to break it, though; he'll be working with a software engineer whose specialty is quality assurance.
"They won't let interns touch any of the critical code for ranking pages," he said, a bit wistfully. "There are trade secret reasons."
Still, having a well-paid job (more than $5,000 a month, which may not seem quite so much if Smith rents housing anywhere near the company's Times Square office) with the Web-search company that is the buzz leader of the tech world is pretty impressive.
Perhaps it's not entirely surprising, considering that when he attended public school in Hollis, Smith was in the Mathcounts program and on the school math team, and he has already taken courses at Cornell University and at the Massachusetts Institute of Technology's Research Science Institute, with an office in architect Frank Gehry's funky new building.
Smith will attend the Massachusetts Institute of Technology in the fall to study computer science.
Still, becoming one of up to 141 presidential scholars in the country each year requires more than serious geek credentials. The program was established in 1964 to honor not just academic but also artistic and cultural achievement in high schoolers.
That's OK by Smith, who is manager at the school's radio station; was part of "Pippin," the school musical; is in the school's award-winning dance program ("Dance is a sport here . . . the MVP of the football team has done dance"), and when asked to honor one Lawrence Academy teacher as part of his nomination, chose Peter Hazzard of Nashua, a music teacher.
Hazzard "does all sorts of things here; he's one of the Webmasters for our Web site; directs chorus and a capella singing, teaches music and film classes, audio recording, is a faculty advertiser for radio station," said Smith. "He's the teacher I've spent most time with over the past four years. . . He's really helped me one-on-one."
Smith is the son of Phillip and Gina Smith. His father is an electrical engineer at BAE Systems and his mother was formerly a physicist at Bell Labs. An only child, he is a day student at Lawrence Academy. Partly because the school is less than a half-hour from the state line, it has well over a dozen Hollis residents among the roughly 400 pupils attending classes there.
Smith was one of two-dozen New Hampshire students nominated by their school, or other folks, for the presidential scholar program. The winners were chosen by a Commission on Presidential Scholars.
They will be feted with an expense-paid trip to Washington from June 24-27, which will include visits to D.C. memorials, receiving a medallion and meetings various officials, maybe even President Bush.
"I had to sign forms, giving them permission to do background checks," said Smith. "They cannot guarantee a ceremony in the White House, or that we'll meet the president . . . but last year's scholars did."
Being chosen as a presidential scholar includes one other, very serious test: Even though Smith has two parents, he can only bring one guest.
6 responses to "MIT '10: Quentin Smith"