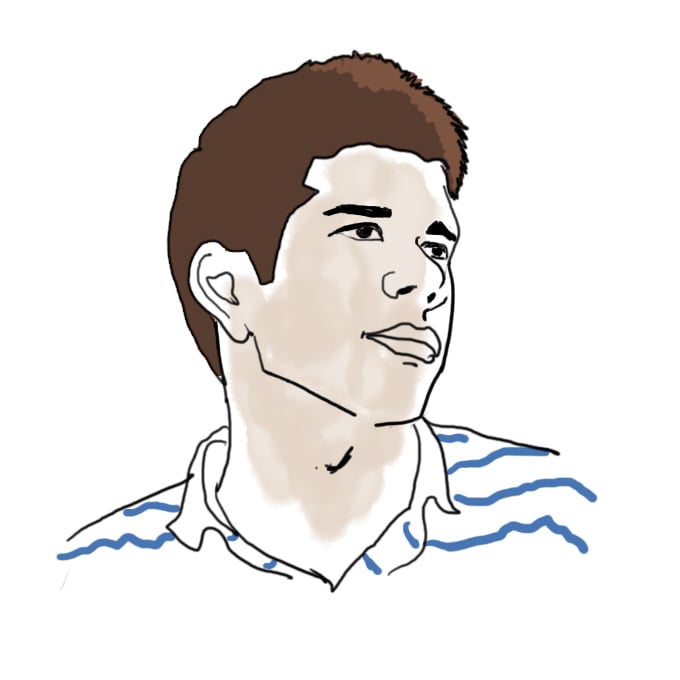 Or how a local Model UN conference broke molds and expectations by going abroad
Time to state the obvious: the world knows MIT pretty dang well for its contributions to science.
That includes the obvious disciplines falling under the term: every branch of engineering – from aeronautics, to chemical engineering, to electrical engineering – and every physical and life sciences department in between.
But course 17 (Political Science), though seemingly only a science in a purely semantical sense, is a hidden gem here at the Institute. More importantly, in ways, it's a bit of an art, too.
That's what I learned this past weekend, when MIT's Association of International Relations and Model United Nations (AIRMUN) held their third Model UN conference.
Though MITMUNC (pronounced mitt-monk), a 3 day Model UN conference that focuses on technology and society, has only officially been around for three years, the Model UN culture has thrived at the Institute ever since BosMUN. That joint effort forged between Boston University and MIT has since seen its founders run their own conferences.
In that short span of time, the number of delegates attending MIT's conference has jumped up tenfold – from scarcely enough participants for a single committee, to over 250 delegates. Its representation is becoming nearly as diverse as MIT's own student body, with delegates coming from places as close as Boston or Hopkinton, to those as far away as San Francisco, India, and even South Korea.
This year's delegates, whose presence filled Sloan's Wong Auditorium
Some of you might be wondering what Model UN is in the first place. On the most basic level, it's simulating the proceedings of any number of committees in the United Nations. You're given a country, and your job for that weekend is to faithfully represent it while passing resolutions to suggest international policies.
Oh, and you suit up.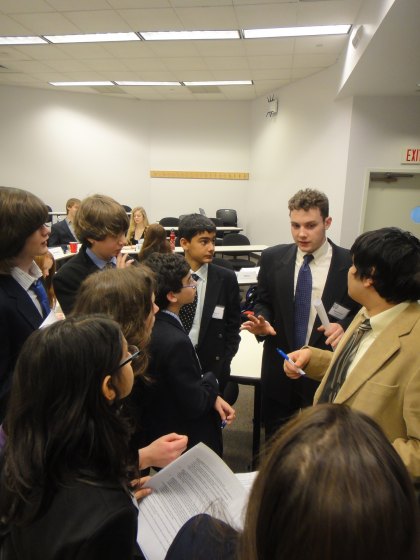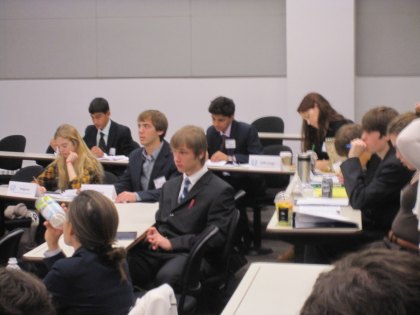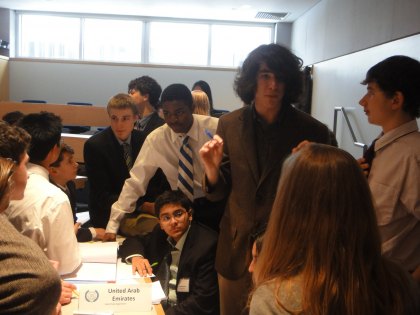 Depending on where you go, you might be asked – as I was in my two and a half years of doing Model UN in high school – to help stimulate sustainable global development, crack down on human trafficking, rescue Eastern Europe from Russian aggression (and resolve an energy crisis), or send Tammany Hall-era New York City into populist anarchy.
Or, in other words: save the world, make it a better place for the people of tomorrow, and in some cases, travel through time.
While my obligations changed as one of MITMUNC's Crisis Staff Directors – I was engineering crises instead of solving them – the delegates in this year's UNSC committee had pretty much the same deal. Of course, if you were as (un)lucky as the delegates in this year's UNSC committee, you also had to stay awake as you solved a huge problem before sunrise.
(Here at MIT, we call that "Sunday night.")
So what did I get out of it? First, the swag: three t-shirts, a fistful of pens, some legal pads, and a tricked-out badge. Also, food.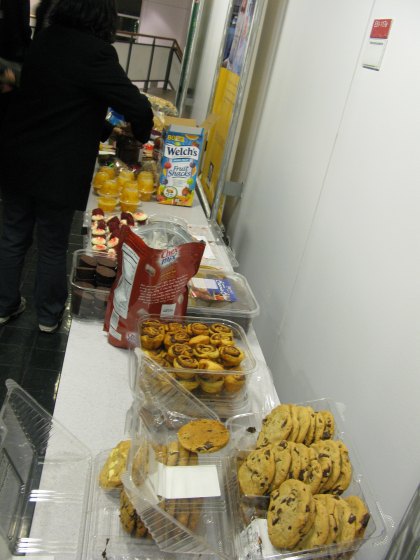 A lot of it.
As you'd expect from an international relations club, staff lunches and dinners sampled different culinary flavors; Mexican, Mediterranean, Thai, Indian, and Italian food (for that last one, read: pizza) subbed in for my bland dietary regimen of pop-tarts, cereal, saltines, and some stuff from nearby food chains.
Not only that, but I found myself pleasantly surprised that, even with MIT's technical focus, the Institute has a hardcore humanities constituent. The people in AIRMUN, who enjoy global affairs as much as they do engineering and science, have made more than just a niche – they've given momentum to an overseas movement.
Just how far has it gone? After running a successful conference last year, it's taken them all the way to Seoul, South Korea, where two juniors, Ahmed H. (a former blogger) and Albert W., were invited to be guest chairs for Seoul's own Model UN conference. With this year being another success, the partnership is likely to continue.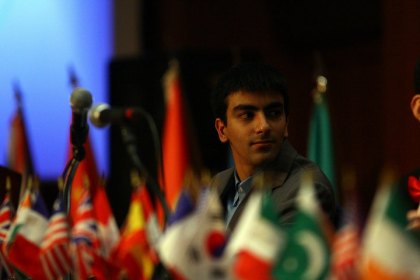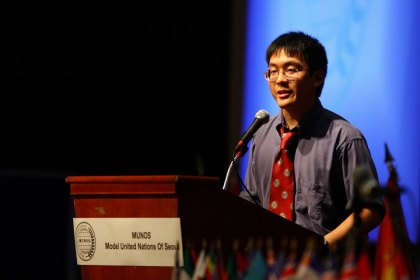 That's when I started to appreciate the many ways that MIT's passionate student body operates. Some students use their ingenuity to forge a brilliant invention; others, like the students at AIRMUN, forge a cross-cultural partnership. Some students discover what unites the loose ends of our knowledge; others discover what unites people to promote peace and global awareness.
The common goal, of course, is to use our drive and inventiveness to leave the world better than how we found it – in some shape or form. And MIT students, be they rocket scientists or political scientists, are piecing that world together.
Today for AIRMUN, that means going to South Korea. But who knows what that'll mean – both for AIRMUN and for everyone else – tomorrow?
15 responses to "MIT International"