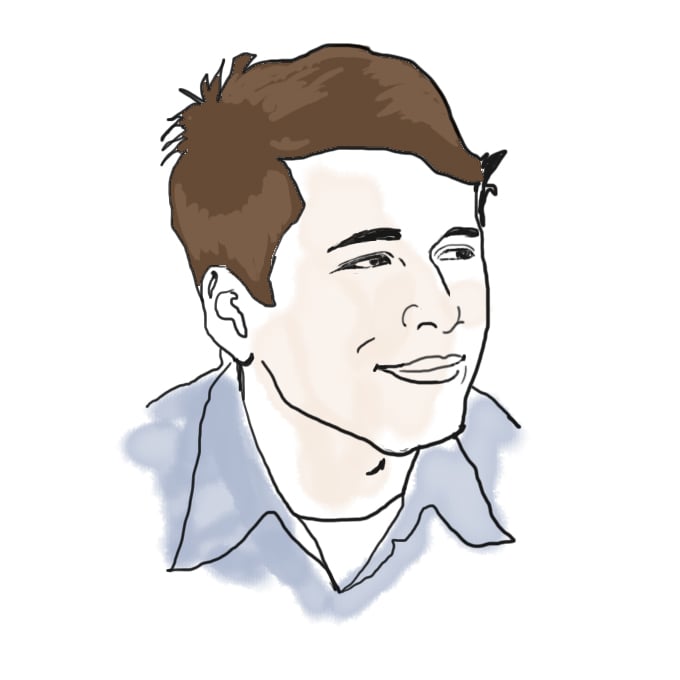 Concerts (on & off campus), doors (on campus), and lectures (also on campus).
I'm a bit under the weather today, and I'm still working on the next Omnibus, so it's time for more odds & ends…
The band Hot Hot Heat will play a concert at MIT (for MIT students only, sorry) on Friday night, November 11. I saw Hot Hot Heat on a previous tour swing through Boston, and they put on a darn good show.
Of course, this being Boston, lots of bands come through. Within 2 miles of MIT (and within 5 subway stops), you'll find the following big concerts here over the next few months: Gwen Stefani & Black Eyed Peas (Halloween!), Nine Inch Nails (November 8), Lenny Kravitz & (Boston's own) Aerosmith (November 12), U2 (December 4-5; this is their second stop in Boston this tour), Dave Matthews Band (December 15), among others. (Death Cab for Cutie was here last week, Rob Thomas the week before, and Ludacris is in town tonight)
Last entry, I posted some photos from my nascent Dorm Room Doors photo series, and wrote, "If you have some dorm room door photos, send them along!" Well, Jo took me up on my suggestion, writing, "I've got a door for you, hailing from Beast (2nd East) of East Campus. The arch inscription has been modified from the original. It reads 'ennyn erufaile bereth moria: pedo mellon a minno.' I'll leave you guys to figure out what that means ; )"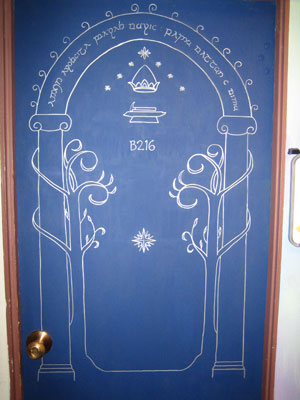 The inscription translation is now an open question to be answered by you, as is the identity of the Cosplay from an entry several months ago. So, answer these two riddles, and send me pictures of interesting MIT Dorm Room Doors.
Also, earlier today as I was walking from my office to the subway, I noticed that there was an abnormally large number of interesting lectures on Thursday, including:
The Big Question: How and When to Exit Iraq: All are welcome to a special CIS Starr Forum, "The Big Question: How and When to Leave Iraq." The event will be held from 4:00-5:30 on Thursday, October 27, at Morss Hall in MIT's Walker Memorial. Ford International Professor of Political Science Barry Posen will chair, and will propose a withdrawal strategy. The guest speakers will be Phebe Marr, a leading U.S. historian of Iraq; Jonathan Schell, peace and disarmament correspondent for The Nation; and Bill Kristol, Editor of The Weekly Standard.
Peter Diamandis '83, Chairman/CEO, X Prize Foundation & Zero Gravity Corporation: Entrepreneur and space evangelist Dr. Peter H. Diamandis speaks as part of Dean's Innovative Leader Series. Competition spurred advancements in aviation's infancy, and now visionary entrepreneur and space evangelist Dr. Peter Diamandis sees competitive prizes, such as his revolutionary $10 million Ansari X PRIZE, catapulting society to frontiers in space and other technologies. Diamandis, founder, chairman and CEO of the X PRIZE Foundation, will speak to the MIT Sloan community Thursday, Oct. 27, as part of the Dean's Innovative Leader Series and in conjunction with MIT Sloan Innovation Period (SIP). He is an appropriate speaker for SIP, an intense week in which students test innovative leadership outside the bounds of ordinary classrooms. A graduate of MIT (SB '83 and SM '88) and Harvard Medical School, he has made a career of doing what conventional wisdom held could not be done.
Water Politics and Earth Democracy: Second in a series on The Future of Water. Speaker: Vandana Shiva, Director, Research Foundation for Science, Technology and Natural Resource Policy and author of Biopiracy: The Plunder of Nature and Knowledge and Stolen Harvest: The Hijacking of the Global Food Supply
CMS Colloquium: Animation at the Beijing Film Academy: Animation at the Beijing Film Academy with Sun Lijun, dean and professor of doctoral studies at the Animation School of Beijing Film Academy. His works include the short films Little Conch and Good Neighbor, the TV series Three Little Foxes and the feature The Little Soldier Zhang Ga.
There are also some interesting lectures in Biological Engineering, Physics, and Operations Research.
So many lectures, so little time! Which would you go to, if you could go to only one?
Thursday should be an exciting day! For the blogs, too… (stay tuned)
16 responses to "More Odds & Ends"