I've lived my entire life in Salem, Oregon. I like Oregon, it's clean, green, has mountains and an ocean, open spaces, and people who obey traffic laws.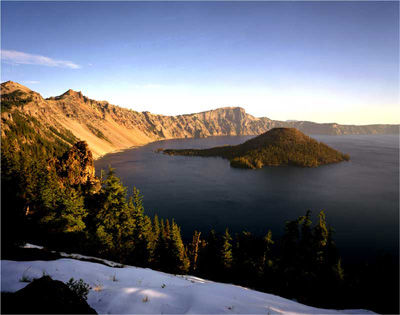 My grandma lives in Vancouver, Washington, about an hour drive from my house.
In fifth grade my parents and I were driving to my grandma's house when my parents asked a completely unreasonable question for a ten year old.
"Michael, where do you want to go to college?"
Say wha–!?
"Um," I replied, "Well, I don't know anything about college."
"Alright, what do you like to do in school?"
"I like math. . ."
"MIT is a great school for math, one of the best."
"Ok, I'll go there."
*laughter*
Little did they know that by mentioning MIT to me at that early age they had not only given me the MIT bug but had also resigned themselves to more debt than is probably healthy (financial aid statements came out a while ago and I'm happy to say that our award from last year (which was marginal at best) has now been cut in half). Oh those little things we say that we wish we could take back . . .
But seriously, it's a good thing my parents brought it up, because the name "MIT" just sat in the back of my head for the next 4 years, slowly growing into more than just a name. 8th grade came, went, and then it was time for high school. As much as middle school seems important while you're there, I'm pretty sure that you could get D's in most of your classes and it wouldn't affect your life at all. But, high school, now we're talking big time. High school was that place where the real learning happened, where the decisions you made determined your life, and where school shootings happened. Honestly, I was a bit concerned about school shootings, you never really hear about middle school incidents but high school was riddled with deaths and ******* crazy gunmen (there's a great swear word hidden behind all of those asterisks, it really makes the sentence, but since these are clean blogs you'll have to come up with your own).
By freshman year I actually knew I wanted to go to MIT, it wasn't just a name anymore. How did I know? A lot of reading and a lot of internet. I read the MIT website, I read the Newsweek college guide books, and I read all sorts of websites that had neat tech stuff in them, many of which had articles all about stuff developed at MIT. I kept hearing little things about MIT that made me realize it was where I belonged. The one thing that sealed the deal is actually kind of funny and I don't think it was intended to have this much of an impact on anybody's decision. I was reading the admissions site years ago and was checking out the enrollment numbers. They looked something like this:
Undergraduates: ~~~
Freshmen: ~~~
Sophomores: ~~~
Juniors: ~~~
Seniors: ~~~
Graduates: ~~~
Faculty: ~~~
Student to faculty ratio: ~~:~
That's when I got to the end.
Undergraduates: ~~~
Freshmen: ~~~
Sophomores: ~~~
Juniors: ~~~
Seniors: ~~~
Graduates: ~~~
Faculty: ~~~
Student to faculty ratio: ~~:~
Blackbirds in Killian Court: 2
HAHAHAHAHA!!! Ok, MIT has a sense of humor, no doubt in my mind, I'm going there.
Since it was freshman year and I knew where I wanted to go to college I was able to pick my high school course load so that it catered to what MIT wanted. MIT asks for a lot in terms of high school classes and if you aren't careful it's possible to go all through high school and not take one or two of the requirements. Luckily this wasn't an issue I ran in to.
I went to my first MIT info session my junior year and reaffirmed that I needed to be at MIT. Matt McGann was the host of the info session and he had someone from Random Hall along with him. We drilled both of them with questions but there was one answer to one question that I remember more than anything else. After discovering that Random hall had all of their washing machines and dryers networked so residents could check their status from their rooms, the speaker explained why.
"We realized that we could walk all the way down to do laundry without knowing, but what a waste of time if they're all full! I'd much rather buy another road in Settlers than walk all the way downstairs and not be able to do laundry."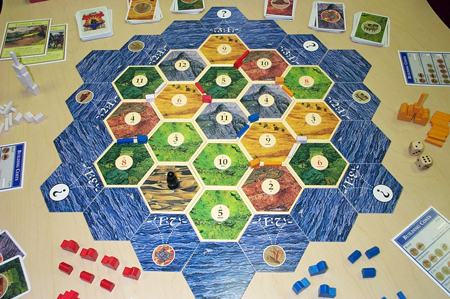 Nobody in the room laughed. Not one. I couldn't believe it because I was sitting there about to die. I didn't know that anybody else in the entire world even knew what Settlers was, and here was some student from MIT talking about it as if it were a normal, everyday occurrence.
Fast forward to spring break of my junior year. This is when I made my first visit to MIT. I didn't do an overnight and I didn't actually meet any students because campus is deserted for spring break, but I still had a fantastic time. I wandered the halls, explored the Barker engineering library, found Stata, went to the MIT Museum, and had my picture taken in Killian Court.
In July the application came out. I downloaded part one of the application about 5 minutes after it hit the internet. Four hours later I submitted it and had officially begun my application to MIT. The rest of my application didn't get turned in until October 25th. I spent months working over essays, listing activities, getting teacher recommendations, and when I was finally done I clicked submit. Right after I clicked submit is when I realized that one of the very first sentences of my main essay was a sentence fragment. Wonderful. Well, at least it shows that I'm human . . .
From November 1st until December 9th it was a waiting game. Contrary to popular opinion, I was not a blog stalker at this point. I read a couple of the posts and had left one or two comments, but I wasn't nearly as prolific as I soon came to be. Why? I was paranoid. Although they aren't allowed to let it influence them, I knew that admissions read the comments and I just wouldn't let some random comment affect my chances. I still believe that, subconsciously, admissions decisions are affected by blog comments but I'll leave whether you accept that or not up to you. Official policy is that they do not matter.
When December 8th came I knew it was going to be like Christmas Eve. It'd be impossible to sleep and I'd be a mess the next morning. My solution to this was to invite a friend over and play Wii (it had just come out about 15 days prior) all night and try to completely beat Excite Truck. Distraction is one of the most useful methods of eliminating anticipation anxiety. Come 8:30 AM the next morning I started to get nervous. I'd been told that decisions come out 15 minutes prior to the official release time (9 AM) so I hopped online and started refreshing the website. Nothing yet.
I'd accepted deferral at this point. That was really the only safe thing to do. *Refresh* You can never assume admission to MIT, but I was pretty sure I wasn't going to be flat out denied. *Refresh* There's a warning on the decisions website that basically says there are no intermediate screens and that if you click the button there's no turning back, you'll know your decision. *Refresh* 8:45 AM, nothing. Then I looked at what I was refreshing. Gah! I was just refreshing the "Not yet!" screen, I wasn't resending anything! I went back to the main screen and then clicked the decision button again. A new screen popped up this time. This was it! I was about to find out where I stood with MIT.
"Dear Michael, It's our pleasure to offer you acceptance blah blah blah blah mush" is what I read. Seriously, the sentence actually started to deteriorate as I read it, to the point where I was yelling before having actually finished it. "I got in! I got in!" My mom came running from the bedroom screaming and gave me a big hug and almost started crying. My friend just kind of stood there with Excite Truck on pause, not quite knowing what to do. I showed my mom the computer screen and I don't think she made it past the first line either.
My dad, who's a fire fighter, pulled into the driveway as all this was happening since he'd just gotten relieved from work. My mom and I went into the laundry room to catch him as he came in from the garage. He opened the door and came in.
"Guess what!"
"What?"
"Guess where I'm going."
"Where?"
"MIT!"
He just gives me this look, you could see each of those three letters hit him like a wave and then sink in. After about three seconds of just staring he just continued to look at me.
"You're kidding."
"Nope! I just checked, I got in!"
"Really? You're not kidding?"
"No!"
He gave me a huge bear hug and then he almost started crying. He left for a little bit and it wasn't until later that I found out that he'd gone and thrown up. It's amazing, the physical effects that result from waiting for something like this to happen, and then to have the best possible outcome occur. We spent the next hour calling every single person we knew and sending a billion e-mails. I didn't actually end up reading the entire letter for about 2 hours. My mom went into town (I live out of town) and took my MIT shirt with her. While she was gone I texted my friend from my same high school and asked if she'd been accepted. She had! Two people from a random public high school of no special importance had both been accepted to MIT! My mind boggled. My mom came back from shopping with dark red and silver balloons, congratulations banners, and my t-shirt with "Accepted" printed on the back. Then she decided to go shopping again, but she made me come and wear my shirt so she could show me off to everybody. That was kinda weird, just lettin' you know mom, but I went along with it and we went grocery shopping.
That night was the city Christmas parade and my marching band was marching in it. I had told my section the day before that I was either going to be completely miserable and not let them get away with anything or I was going to be in the best mood ever and they'd get away with murder. When I walked into the band room that night it was pretty obvious that my section had already heard the news because they had made a tunnel at the door and applauded and cheered for me when I came through. True to my word, I let them do pretty much whatever they wanted that night.
On Monday I had school. I got to school early just like every morning, prepared to just hang out in the commons and chat with friends before class. Sometimes I'd help people with pre-calc but most of the time I'd know how to do it just as well as they did: not at all. As I sat there, before hardly anybody else had arrived, our vice principal came running towards the table where I sat.
"Is it true!? Is it true!?"
I remember thinking that I'd probably just earned an in school suspension. I mean, I hadn't told her about MIT, and normally the vice principal screaming at you and running towards you is a bad thing. I just gaped at her.
"Is what true?" I managed.
"Did you and Michelle both get into MIT!?"
[My Mind] Good God woman, how did you find out? What, do you stalk my blog? Did you steal my password and check decisions.mit.edu as well? WTF!?
[My Mouth] Yeah! We're both really excited!
"Oh that's so wonderful! I'm so happy for you!" She trotted off happily, leaving me there, still thinking about how she figured it out.
That week at school was MIT week. People brought cupcakes for us, made us cards, and congratulated us all the time. I also made it my personal mission to make sure everybody on the planet earth knew I had gotten in. No, don't give me that humility crap, you get into MIT and try to keep it a secret. I was excited! For that week and the week after I was probably unbearable but everybody was nice about it and put up with me.
The rest of senior year was impossible. Knowing that you'll be attending your dream school makes the subtleties of high school non-existent.
"I could study for my calculus test. . . or I could read through my housing stuff again!"
"I could pay attention in class. . . or I could make MIT graphics on my calculator!"
"I could write this essay. . . or I could watch the I3 video AGAIN!"
Graduation from high school was one of the best times of my life. Nobody I knew cried. This wasn't because we hated high school, it was because we chose to celebrate a job well done! My friends and I camped out in front of the football field all night so that we could get good seats for commencement (first come first serve seating, an excuse to camp out), smuggled beach balls in, I gave a speech, we partied at the grad night party, and just hung out and played video games for a long time. No tears, no regrets, no hugs, just a great time. All of us knew, we had beaten high school (handily), would be heading on to our respective universities, and didn't want to look back at graduation as something sad or emotional. We wanted it to be a party, the last party we'd get to have together before we went our separate ways and got ready to take on the college life. Junior year through Senior year was agonizingly slow but finished in spectacular fashion, catapulting me towards MIT. That, is my MIT story.
---
Personal blog entries from when I was accepted:
The moment
The letter
The Tube
Video Journal of morning leading up to graduation:

My graduation speech:

77 responses to "My MIT Story"