For the past three days, I was at the conference of the National Association of College Admission Counseling (NACAC). NACAC is the primary professional association for guidance counselors and admissions officers, and once a year they gather for a conference. This year's conference was in Tampa, FL, and MIT had seven representatives: myself, Marilee, Jenny, Joanne, Edmund, Bryan and Ben. It was quite an interesting conference.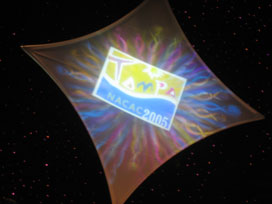 The NACAC Conference Tampa logo.
I like attending professional conferences (see: NEACAC, OACAC) because I come away feeling energized, with many ideas, and having learned something new. This year, some of the sessions included:
Dealing with Natural Disasters
The New TOEFL is Here!
Helping Students with Asperger's and Nonverbal Learning Disabilities Go To College
The Common Application Q and A
Student Performance on the New SAT
Recommendations: The Good, the Bad, and the Oh-So-Stale
I am drawn to sessions with inspiring speakers. Some of the speakers I saw:
Also among the presenters was Marilee Jones, our Dean of Admissions. She presented on the topic, "College Admission as a Mental Health Issue." Like many who are involved with admissions, Marilee is very concerned about the stress placed on students and families by the pressures to be admitted to the "right" college.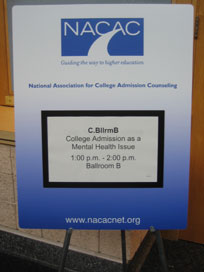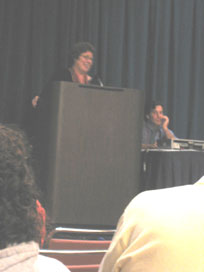 The sign announcing Marilee's talk, and Marilee addressing the crowd.
On the final day of the conference, Ben and I gave our presentation about — what else? — these very blogs. Our mission was to tell other admissions offices 1) what a blog is, and 2) how blogs can be used to demystify the admissions process and provide students with real insight into life on campus. We hope that other admissions offices will start staff and student blogs, and based on feedback, this is happening! If you attended our presentation and are reading this, I hope you'll say a quick "hi" in the comments section below.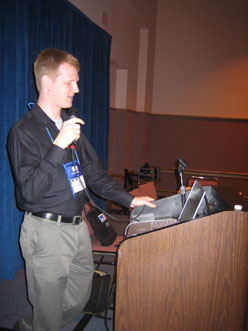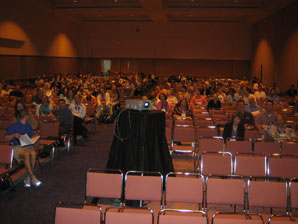 Ben presents blogging to the crowd (I'm behind the camera). We presented to an enormous ballroom that was about half-full; no one wanted to sit in the front, though, it seems.
The NACAC conference also included a "Counselors College Fair" (I may have even said hello to your counselor), a "Conference Social" (which I missed), and the members' meeting, where Crucial Admissions Business is voted upon.
I also learned a bit more about options for international students. Coming in, I knew about the six schools that are known for admitting international students in a need blind fashion and meeting their full financial need: MIT, Harvard, Yale, Princeton, Williams, and Middlebury. But I was not aware of some other schools that have many, many international students who receive great financial aid, including Berea College, Colby College, and, most notably, Mount Holyoke, where their large population of international women is greeted with generous aid packages.
It was also nice to get to catch up with my MIT colleagues for a couple nice dinners. We dined Friday night at Columbia Restaurant, Florida's oldest Spanish restaurant, housed in a beautiful space in Ybor City, where we ate and watched the Flamenco dance show together. Since we've all been on the road traveling so much, it was nice to see everyone again.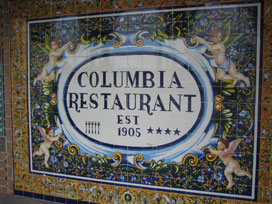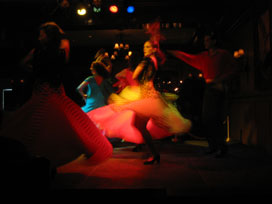 Columbia Restaurant, home to delicious food and great Flamenco dancers.
We also dined together Thursday night, and got a nice picture: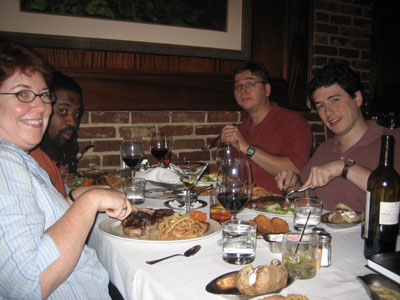 From left: Marilee, Bryan, Edmund, myself (behind the camera: Ben)
I'm in the office in Cambridge briefly again today, then tomorrow I fly out to Southern California. I'll be doing Central Meetings this week in Orange County (Wednesday), Westwood (Thursday), San Diego (Saturday) and Pomona (Sunday), followed by meetings in San Luis Obispo (Wednesday) and Long Beach (Thursday) next week. I'll be seeing those of you in Southern California soon!
8 responses to "NACAC Conference"