Several weeks ago a kid, a sophomore on my floor, contracted a strand of influenza that was tested to be neither A or B. Flu season hasn't actually started, so the verdict? Probably H1N1. Wonderful. MIT Medical gave him a blue mask, had him spend the night, and sent him back to live with us. A couple of days later a kid in my suite had similar symptoms, went to MIT Medical, and returned with a blue mask. Soon a girl in my suite was blue-masked, then another guy in my suite appeared one day with a blue mask. As of today, ~4 people living within 50 feet of me had some form of flu, most likely H1N1.
This is what I look like today.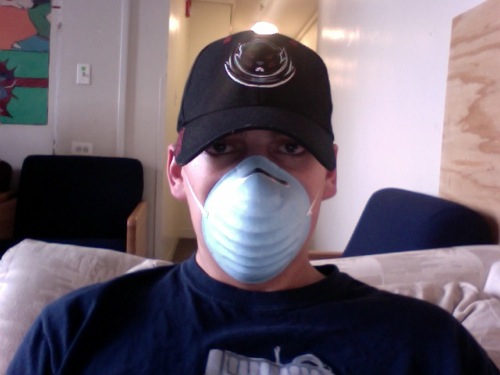 Wonderful. I suppose it was only a matter of time, but now I'm running a fever of 101, my stomach is hating me, and I keep getting chills. MIT Medical isn't actually testing for H1N1, so there's no way to know if I have it, but considering all the likely cases I've been around, I'm feeling pretty piggish right now.
So, how's MIT dealing with the H1N1 "issue?" There are signs all over campus telling people to wash hands, be clean, and avoid class if you have flu like symptoms. MIT Medical has sent several e-mails to the entire campus telling them symptoms and how to react if you exhibit them. They even have a website deemed "Flu Central", which is where I went to figure out what to do. I called a phone number they listed, they told me what steps I should take (self-quarantine, Tylenol/ibuprofen, fluids, rest, etc), told me how long it'd last (~4 days), how long the cough would last (~2 weeks), and told me to avoid class.
Skip class!? At MIT!? Absolutely, especially with my bio professor co-chairing Obama's Council on Science and Technology. We're threatened daily with horrible and gruesome consequences if we come to class with the flu. In order to prevent everybody from skipping and in order to allow people to reschedule exams (like my exam on Friday potentially), the Dean of Student Life sends a list of flu cases to Student Support Services and then students can e-mail professors.
So for now it's up to me to just hydrate, chill (literally and figuratively), and wait for this to go away.
Awesome.
34 responses to "*Oink Oink*"