The 2006 Class Council is responsible for planning and executing many things:
Career Fair
Senior Gift
Senior Ball
——————————–
Side note: Check out the hilarious Senior Ball Survival Guide, with advice on topics like
How to Set Up a Friend as a Favor
How to Set Up Two of Your Friends
How to Avoid Being Set Up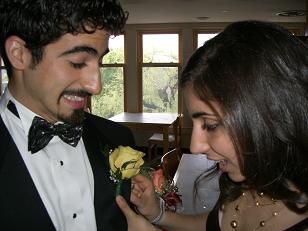 How to Pin a Boutonniere
What to do if you get an ugly corsage
How to Treat a Pimple
How to Properly Apply Cologne
How to Save Your Date from Choking
How to Buy Someone a Drink
How to Get Someone to Buy You a Drink
——————————–
Clearly, class council is busy. The best thing our class council has thought of, in my opinion, are these student faculty dinners.
**2007 Student Faculty Dinners**
"Get excited! Because from now until October 15th, you can take out an MIT faculty member to a nice dinner out on the town, paid for by the '07 class council! :-)
Take this amazing opportunity to interact more closely with some of your favorite professors from over your past four years at MIT!
In other words, to encourage you to hang out with faculty outside of the classroom/lab, our council pays up to $25 per person for dinner. Last semester, when we received a similar email, my friends and I spent the next few hours (well, days, sort of) trying to persuade each other to go with our own personal favorite faculty member. Last year, I ate with two friends and an economist, so I think I should branch out into other schools for this dinner. On my short list at the moment, I've a world-renowned-but-totally-awesome life scientist, a world-renowned-but-totally-awesome game theorist, and a world-renowned-but-totally-awesome architect. Will keep you updated
2 responses to "Stud/Fac Dinners"