Valentine cards? Check.
Expensive jewelry? Check.
Yummy chocolate? Check.
Dating? Check.
A wedding engagement? Check.
A little bit of class? Check.
And a serenade? Check!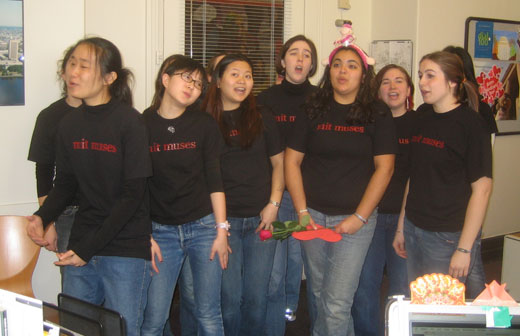 Thanks to our secret admirers, the Admissions Office received a wonderful serenade from the beautiful and talented Muses.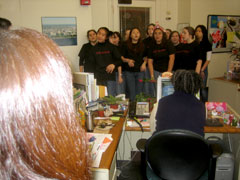 Left: The Muses serenade us, as Stu, Edmund, Jenny and Amy look on. Right: Mari and Gisele watch the serenade.
Also related to Valentine's Day: did you know that those little candy hearts with sayings on them (e.g. "Be Mine," "Sweet Talk," and, yes, "Email me"), until 2002 were made at the Cambridge headquarters of NECCO (the New England Confectionery Company), right next to MIT's Random Hall dormitory? Ah, many of my finest memories of walking to class in the morning from my dorm were on days when the wind was blowing just right so that you'd get a sweet candy smell the entire stroll. Actually, Cambridge was once the center of America's candy universe, with 32 candy factories (including those for Tootsie Roll, Necco Wafers, and Squirrel Nut Zippers) in the city. Sadly, many of those have moved; NECCO moved to a nearby Boston suburb several years back (its site is now home to Novartis Institutes for BioMedical Research, so while the sweet toothed students are sad, those looking for even more in the way of biomedical internships are quite happy). Tootsie Roll, however, is still made just off MIT's campus, and it is a nice treat to smell their candy goodness while walking the streets of our fair city.
Hope you had a happy Valentine's Day!
8 responses to "Post-Valentine Blog Roundup"