Just the other rainy spring day when I was making my way across campus to the clover food truck to satisfy a craving for their famous soy BLT on whole wheat, I passed by numerous workmen unloading flatbeds of mulch, bushes, brightly colored spring flowers to be planted, and a big bunch of string.
String?
Looking up, I made my way past large equipment and a police officer directing the flow of lunchtime walkers as a young woman on a crane directed workmen on the ground while pointing out how to precisely assemble her public art sculpture.
String Tunnel by Yuna Kim, Kelly Shaw, and Travis Williams, all graduate students in Architecture, is located at the Dreyfus Building bridge (Building 18) and is just one of more than 20 public art installations all part of the culminating event of the FAST Festival. On the evening of May 7th, the Charles River waterfront and MIT"s campus will glow with sculpture that incorporates light created specifically by MIT students and faculty. How cool is this?
But even more impressive to me about MIT"s commitment to art is that there are 91 pieces of public art on campus. I feel like I"m back in art school taking an art history course when I pass by Calder"s Big Sail on the lawn of McDermott Court, or the reclining Henry Moore in Killian Court. There is a Frank Stella room-size installation in Building 7 on the 3rd floor that blurs the boundaries between painting, sculpture and architecture, and an Anish Kapoor in the Stata Center. Geez, the Stata Center itself is a Frank Gehry work of art.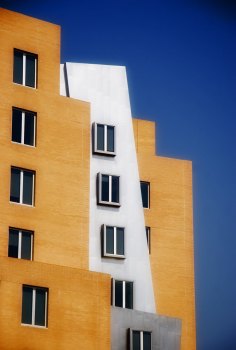 And tonight the MIT List Center will dedicate a newly commissioned Percent-for-Art project called Through Layers and Leaves (Closer and Closer) by Scottish sculptor Martin Boyce.
"The entire work, at approximately 10 feet tall and 95 feet in length, operates in the interstice between art, architecture, and design, between the space of a public sculpture and the privacy of looking.'
Next time you are walking around campus, be sure to look around at all of MIT"s Public Art offerings. Best viewed with a clover food truck sandwich in hand, of course.
3 responses to "Public Art"