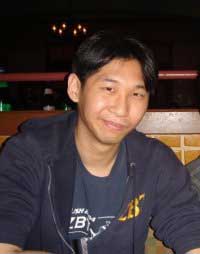 Name: Jonathan Lii
Hometown: Manhasset, NY
Degrees and Minor: 18 and 15 with a minor in 14 [in layman's terms: a double major in Mathematics and Management, and a minor in Economics]
What's next: Working as a trader at Lehman Brothers.
Favorite class at MIT: 18.440: Probability and Random Variables with Prof. Richard Dudley. It was a class in probability where we calculated the probability of holding poker hands and other interesting problems. Other cool problems were the marriage problem, and birthday problem. This class really helped me out for my finance interviews too.
Favorite professor at MIT: Prof. Daniel Kleitman is my favorite professor here. He is the coolest guy to talk to about ANYTHING. He has all sorts of crazy artifacts in his office and visiting him is always a treat. Going to him for one on one help really pulled me through 18.310. I feel like I learned a lot from him. We have talked about various things like Ping Pong, the Enigma Machine, and bike lamps.
Favorite MIT event: It's a toss up between Battle of the Bands and NightMarket. Battle of the Bands was awesome because ZBT gets all the awesome local bands together and there is a giant music free-for-all. Its definitely one of the most exciting events out there. NightMarket is also sweet because theres so much food. Association of Taiwanese Students does a great job with getting the event going and provides some of the most dedicated students to make the event a reality.
UROPs: I worked with Nate Quitoriano (my TA for 3.091… gotta work those graduate student connections!) for a Course 3 [Materials Science] lab that doped germanium wafers. Later I UROPed for Prof. Kleitman helping him to revise some of his 18.310 notes.
Living groups: I had a one year stint at Simmons Hall and then spent my last three years living at Zeta Beta Tau (ZBT). At ZBT I was community service chairman, academic chairman, and then Vice President.
Activities: I have been involved with Sport Tae Kwon Do, Used Computer Factory, Association of Taiwanese Students, the Undergraduate Association Finance Board, and ZBT.
What I'll miss most about Cambridge/Boston: The biggest thing I'll miss about Cambridge/Boston is the town-y feel I get here. Its not as urban as NYC and there is a certain charm to that. The restaurants in Boston are awesome and there's so many fun things to do!
What I'll miss most about MIT: I'll miss my friends in Association of Taiwanese Students and brothers at Zeta Beta Tau. I have an amazing social network here that I am really reluctant to leave, and of course I'll miss walking into Matt's office just to talk! Seriously just walk into his office, he'll spend some time to talk with you! He is awesome.
Final thoughts: MIT ROCKS.
2 responses to "Senior Week: Jonathan Lii"