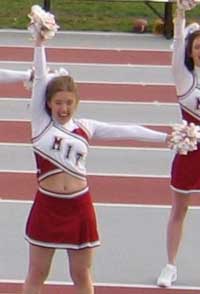 Name: Mollie Burgoon
Hometown: Pickerington, Ohio (a two-horse town near Columbus)
Degrees: Biology (Course 7) and Brain and Cognitive Sciences (Course 9)
What's next: Entering the Biological and Biomedical Sciences PhD program at Harvard
Favorite class you took at MIT: 7.31 (Current Topics in Mammalian Biology) and 9.301 (Neural Plasticity) — both were small seminar-style classes heavy on reading and discussing the primary literature, which is way more fun than doing problem sets and taking tests. Susumu Tonegawa, who's a Nobel laureate, taught 9.301, and Rudolf Jaenisch, who's going to be a Nobel laureate, taught 7.31.
Favorite professor at MIT: Carlos Lois. He taught 9.12 (Molecular Neurobiology Lab), and was so friendly and caring that he ended up becoming my unofficial mentor — I can go into his office and plop down on a chair and whine about my life anytime, and he even listens! He was really helpful when it came time to apply to graduate school.
Favorite MIT event: Rush! Free food, seeing your friends for the first time after the summer, and helping a bunch of freshmen figure out where they'll be the happiest. What's not to love?
Favorite/random MIT memory: The time traveler convention last year was really funny. My friends and I didn't get tickets, so we didn't get in, but we went over and hung out for a while. My friend Mark made a t-shirt that said "In the future, I'm famous."
UROP: Morgan Sheng's lab in Course 9/Course 7/Picower Institute for Learning and Memory.
Living group: MacGregor House, A-Entry and D-Entry
Activities: Cheerleading, MacGregor House rush chair, blogging
What you'll miss most about MIT: I will miss the automatic sense of community that you get when you walk into a room of MIT students… I will particularly miss my living group. But 10 of the 70 first-years in my PhD program are from MIT, so maybe we can make an MIT colony at Harvard.
3 responses to "Senior Week: Mollie Burgoon"