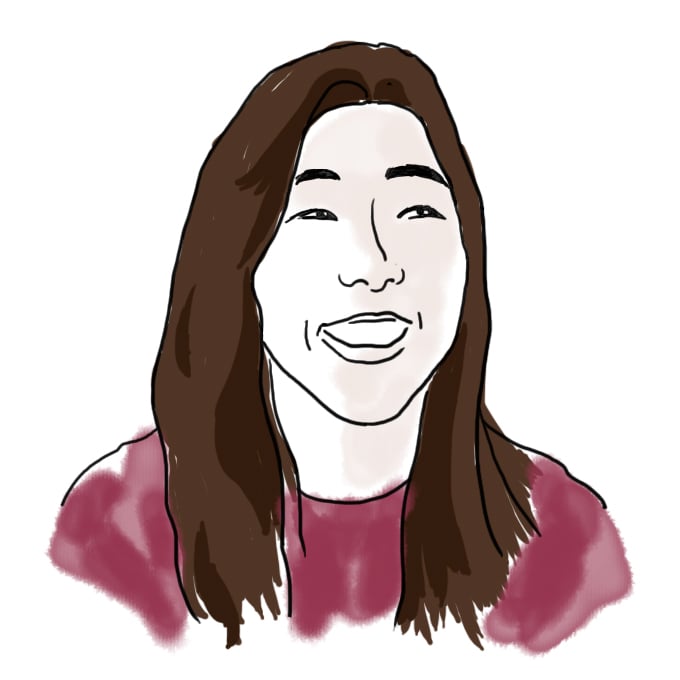 Speaking of numbers: the number seven in particular, brought to you by the birthday of a century.
Saturday, 07/07/07, was my birthday! I usually don't plan anything big in advance for my birthday – no one's ever around to celebrate, so I got into an early habit of ignoring it. After I turned 7 on 07/07, it seemed like it was just downhill from there. Except I forgot about 07/07/07, which of course translates to THE BIRTHDAY OF THE CENTURY.
(Regardless of your beliefs about the number 7.)
I took this as a challenge to transform those 24 hours into the best ever. Actually, I slept through quite a bit of those 24 hours, but that just makes the time that I was awake that more special, right?
My first thought was to go skydiving. It turns out, though, that you need a reservation in order to go skydiving, and by the time I had actually gotten around to planning out 07/07/07 it was about 11:59 PM on 07/06/07, because I am a baaad baad procrastinator (bad bad bad – don't do this at home, kids). Then my friend Ashley suggested that I do seven things to commemorate this fortuitous day.
"Like what?" "I dunno, seven.. meaningful things."
With that helpful advice in mind, I came up with this list:
1. Skydiving
2.
"No. No, we're just going backwards. We need something fresh. Something better than before. Something better, stronger… faster. Wait, am I quoting 'The Six Million Dollar Man' again? When did that happen?"
Somewhere in between quoting 70s movies and actually discussing what I should do for my birthday, it was decided that I would eat seven different meals at seven new and different places over the course of the day. It would be a momentous undertaking, but I could do it. My stomach was feeling primed and ready.
After all, it was 07/07/07. And if you aren't celebrating the day of the century with copious amounts of food, you need to rethink your definition of a celebration. So Ashley and I (because you should always bring backup whenever you are attempting a task of this magnitude) thus embarked upon a whirlwind food tour all over the Bay Area. We began with breakfast!
1. Alamo Cafe: breakfast in PJs.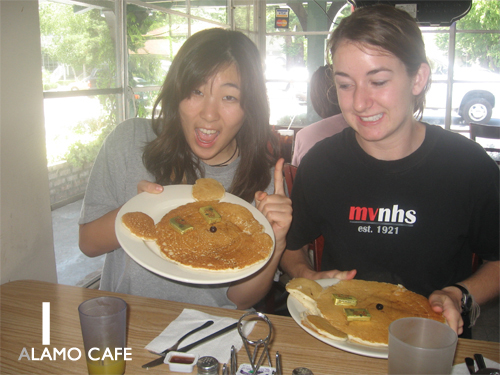 After sleeping through half the day (what'd I tell you? best birthday ever, right?), we headed off for breakfast in our pajamas to a tiny diner, at which Ash and I both ordered mouse pancakes.
| | |
| --- | --- |
| | We thought we'd start small and order from the kids' menu, but it turned out they were bigger than my face. They were incredibly delicious, but it made me slightly rethink my plan. I'd have to go for smaller portions in order to increase my endurance. |
2. Brass Bear Deli: this would be lunch number one.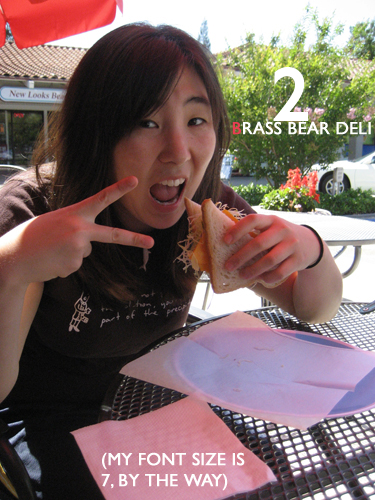 3. Coldstone Creamery
: cleansing the palate with Strawberry Blonde. Notice the enthusiasm is still present.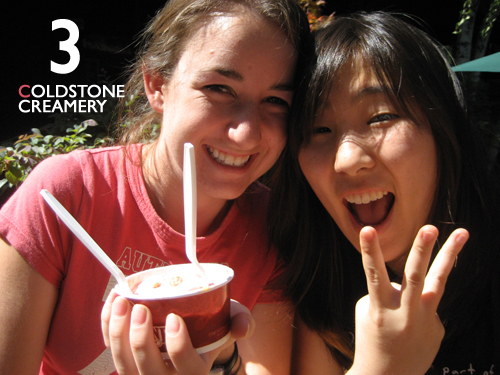 4. Dog, The
: lunch number two-ish was garlic fries. Did you know there are no garlic fries on the east coast? It's not like they don't have fries, and it's not like they don't have garlic. It just never occurred to anybody over there to combine the two. It also never occurred to anybody (and included in "anybody" in particular are the people who build restaurants in the MIT Student Center) to build an In-N-Out, which in my humble opinion is a VERY SAD MISTAKE.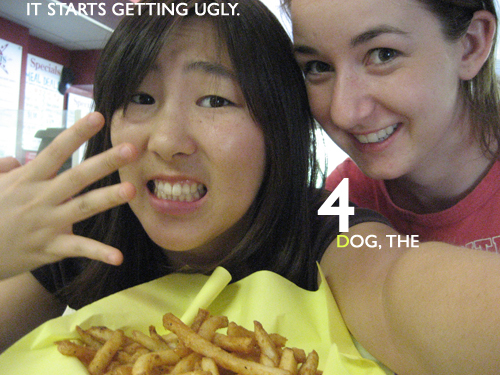 | | |
| --- | --- |
| | Anyway, whilst eating very intensely garlicky garlic fries and feeling full to the brim with celebratory joy, I started to get a bit nervous. I wasn't even eating complete meals – they were more like courses, and with much help from Ash – and yet I was beginning to feel my pants stretching, barely halfway through. Luckily I had worn stretchy pants. But there were still three more places to get through, and I began to wish I was skydiving. |
4. Extreme Pizza: we weren't sure if it was "xtreme pizza" or "extreme pizza", but luckily, it was the latter, so it worked out. Unluckily, we asked us for one slice and they gave us two. On any other day, it would have been a bonus slice. On this day, it was a death sentence.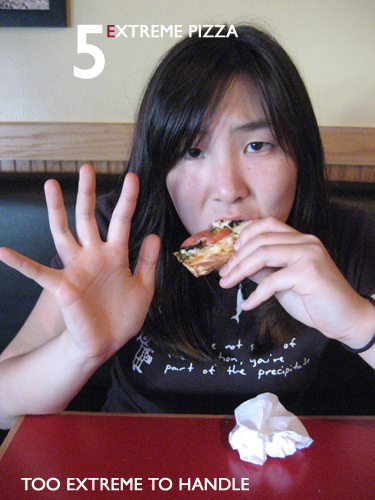 #5 proved to be the low point of the day, even though the pizza was excellent.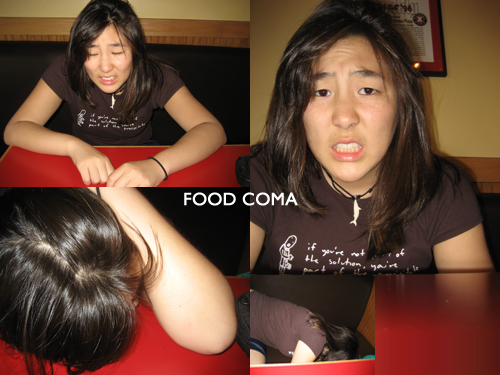 We very much needed a little break from all the joyful celebrating, so we went to the nearest mattress store and crashed on the Tempur-Pedic® mattresses. We were briefly accosted by the salesman, but averted his probing questions ("Can I help you ladies?" "We're just trying out a new mattress for school,") because he clearly did not know that MIT rooms come fully furnished, beds and all. (I do, however, suggest a mattress pad, i.e.
Memory Foam
. MIT's mattresses are most definitely not Tempur-Pedic®.)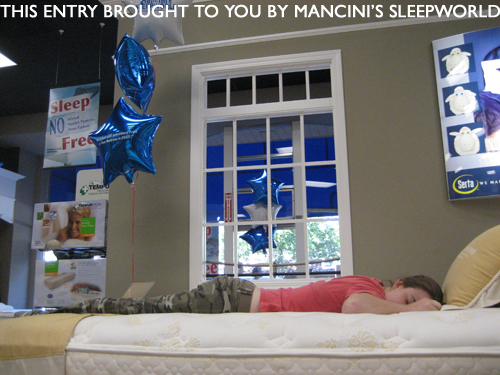 Our napping almost made us miss the dinner party at Fuzio. We did, as a matter of fact, eat at 7 PM. WITH SEVEN PEOPLE. Pretty epic how that worked out, eh?
6. Fuzio: party on, Wayne!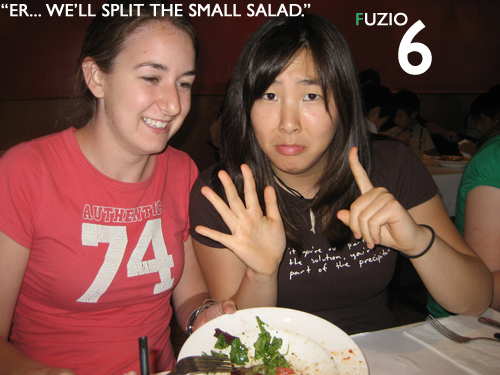 Sadly, Ash and I were both in such a food coma that we were unable to order anything more than the "small salad", which we of course split. It was sort of tragic, but everybody else seemed to enjoy my birthday dinner, and that's what counts, right?
7. Gelateria Naia: some may say this is not different from Coldstone. I have nothing to say to those people.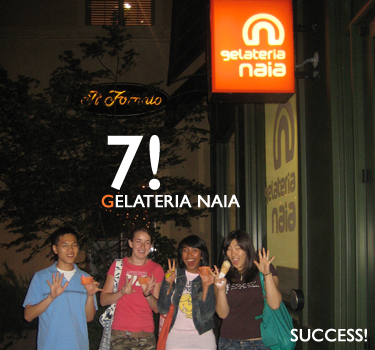 Well, we made it, and it was memorable indeed. I'm a little disappointed in myself that I hit food coma so early, but with such little preparation I don't think I could've stretched it much further. If I do happen to be alive for the next 07/07/07, though, I'll definitely start training a few days before. If that tiny Japanese guy can eat 60+ hot dogs, why can't I manage a few meals?
Or maybe next time I'll just go for the skydiving.
36 responses to "07/07/07"