Right now, I'm sitting at home at my dining room table, with a big stack of applications before me. To my right, out the window, I see big, fluffy flakes of snow falling from the sky. I start to think that I could go for a hot cup of cocoa, but I realize we don't have any in the house; I happily settle for some oolong tea.
As I think more about the cocoa, I'm reminded of the Cocoa tradition of the Fourth East (a.k.a. "Slugfest") hall in the East Campus dorm.
According to the Slugfest wiki,
Every school night (Sunday-Thursday), promptly at 11 pm, one can hear the cacophonic calls of "Cocoa! Cocoa!" echo through East Campus. Or at least we hope you all can hear us. The idea is for everyone to take a break from Tooling, to come out and join their fellow slugs for a hot mug of cocoa (bring your own mug and spoons, we provide the rest) for a few minutes. Come on, join us and our chocolatey goodness. You know you want to.
This was my first time on the Slugfest wiki. I enjoyed reading about the plans to "automate the heating of the Cocoa water every night." "The cocoa pot will be controlled by a PIC that will also monitor temperature and water level and send data over the 4E Network. The server will calculate the heating time based on the water level and ensure that there is hot water for cocoa every school night."
I also enjoyed reading about the invited guests at the Special Cocoa Events, who have included Richard Stallman and software developers from Harmonix (makers of Guitar Hero and Rock Band).
But that's enough on cocoa for know; back to the blog entry and my oolong.
Some of you called me out on my last entry, when I wrote:
"…It would be hard for me to choose which to attend, if I didn't have to be working on applications right now!"
Yes, have to be working on applications does sound a little bit like I'm complaining, but nothing could be further from the truth. It really is a joy and a privilege to read applications for MIT.
One word I would use to describe application reading is inspirational. I find myself continually inspired by all that you have already accomplished, and by all that you aspire to do as your lives progress. For all of the problems that exist in American and global education, reading your applications makes me extremely optimistic about the state of our schools. And for all of the problems that exist in this world, reading your applications makes me extremely optimistic about the future of our planet.
As I write this, the entire dedicated team of MIT Admissions Officers is busily reading and evaluating early action applications. I'm know all of my colleagues are as inspired by your applications as I am. Regardless of how your admissions process turns out, I know you will have a successful future and make everyone proud.
Finally, since today is a snowy day, I wanted to leave you with some of my favorite MIT snow photos from the blog:

Snow frisbee in Killian Court, via The Tech.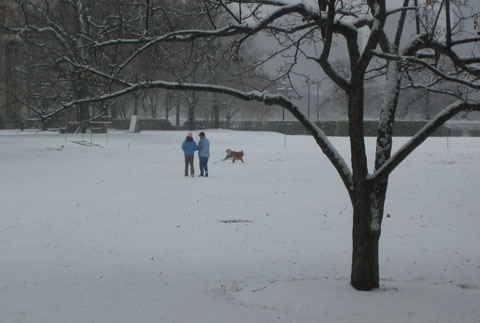 MIT President Susan Hockfield, her daughter Elizabeth, and their golden retriever, Casey, playing in the snow during selection, 2005.
100 responses to "Snow(y) Day"