Yesterday's Boston Herald had a story about the MIT Solar Electric Vehicle Team (SEVT) getting into a little trouble:
A group of MIT students were taking out the Tesseract – a solar powered car that took third place in the 2003 World Solar Challenge in Australia – for a spin on Mount Auburn Street when a state trooper pulled them over for not displaying a license plate yesterday morning. Other problems the trooper noticed: no headlights, no rearview mirror, overly tinted windows and no windshield wipers. For the record, it also looks a little like a stealth bomber.
My friend and SEVT member Ben Glass '07 had somewhat of an explanation:
Aerodynamics was the reason the license plates weren't attached to Tesseract, said MIT student Ben Glass, who was traveling ahead in a lead car. "Obviously it's not built for the road," he said.
I don't know if they were issued a fine, but if so, I'd be more than happy to help defray the cost.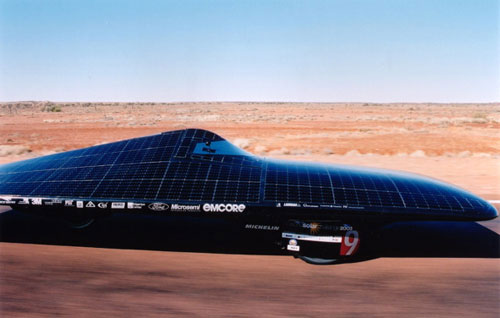 Tesseract, the MIT solar electric vehicle.
Next up for Tesseract: The North American Solar Challenge. The race will begin July 17th in Austin, TX, make its way through the Plains states/breadbasket provinces before finishing July 27th in Calgary, AB. Check out the schedule and best times for viewing in your town here.
10 responses to "Solar Car Pulled Over"