When the CPW schedule came out  when I was a prefrosh 50000 years ago, I turned into a puddle of excitement. A puddle!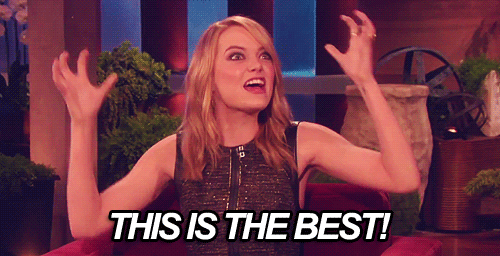 I tried to plan out a full itinerary and ended up with something like this:
… and miserably failed at attending all the events I had hoped to be at.
While this is not a guide to optimizing your CPW experience… here are a few things I wish I knew as a prefrosh!
1) Your host loves you, so try your best to get to know them! Remember that your host is fully aware of the commitment of hosting a prefrosh, so don't feel like you are a burden. However, you shouldn't plan on glomming onto your host—remember that campus is filled with hundreds of other prefrosh just like you, so it'd be a shame to not go out and meet them :)
2) The MIT Mobile application will help you navigate across campus and on the Boston side where you might find events from FSILGS. Download it and check it out! You can also use whereis.mit.edu for a simple Google Maps version of campus. Don't be afraid to explore – there are great events that are often a shuttle ride away.
3) You can catch up on sleep when you get home. Don't feel guilty for wanting to stay up and try everything. :) You've earned it!
4) CPW is still school for us! (unfortunately) If your host has classes on Thursday and Friday, or club meetings throughout CPW, or a bit of studying or problem sets to do for next week… then your host is indeed an MIT student! Don't fret and feel like they don't want to spend time with you—they are often trying their best to clear their schedule for you. :D
~~~~~~~
And if you want to find a blogger for some life guidance?
Here's where you'll find us this CPW:
I will be…

at Activities Midway on Saturday at the Asian American Association and Undergraduate Association booths! please come say hi and get some free swag from me :)
at Phi Sig Iron Chef enjoying some of the best (and most elaborate?) dinner on campus
at my sorority on Saturday from 5-7pm for our open house event—make your own pizza. all the pizza. infinite pizza!
making delicious dumplings on Saturday with the Asian American Assocation
floating around to cheer on my friends at a number of different events

Anna H. '14 will be…
Rachel D. '16 will be…

in the EC courtyard helping to dye hair and show everyone how awesome EC culture is
helping out with the EC haunted house on Saturday night as a scary person
giving tours of East Campus if you see her in the courtyard and recognize her as a blogger—she'll let you meet the infamous cats of Tetazoo!

Erick P. '17 will be…

at Skullhouse (Phi Kappa Sigma) manning different dinners and steak and shake every night
at Meet the Bloggers on Friday
living the prefrosh life, so don't blow his cover

Emad T. '14 will be…

at a screening of Silver Linings Playbook, an event co-sponsored by Active Minds at MIT and the LSC
at the Activities Midway at the UA, Active Minds and SMASH booths
probably trying to steal pancakes and eating stuff at Max Brenner
And blogger or not—don't be afraid to ask a student tough questions if you're looking for deeper answers. Beyond our hopes that CPW is one of the craziest experiences of your life, we hope that it answers a lot of your questions if you do have a tough choice to make. My CPW host helped me understand why MIT was a good fit for me. :)
Oh and…
5) Bring a pair of comfortable shoes you can walk, run and climb in. For uhh… exploring.