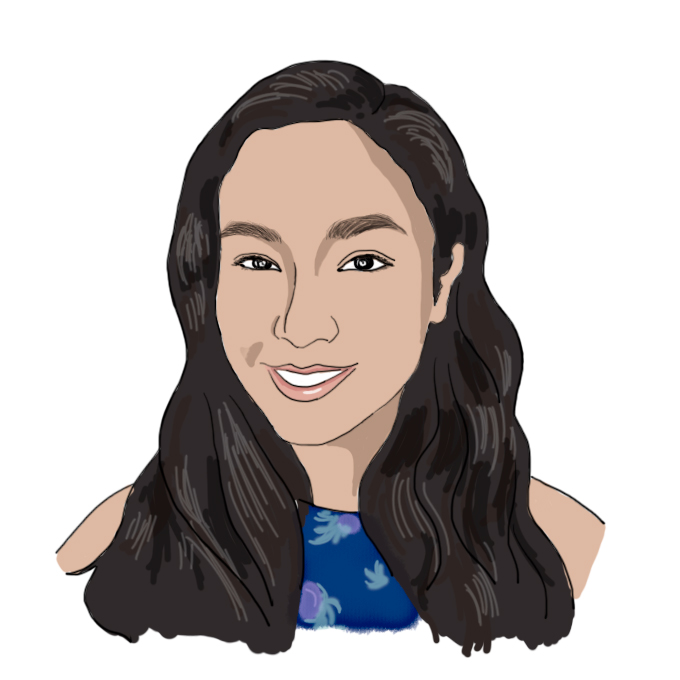 a tight-knit community scattered across the globe
This blog post unfolds in three parts: (1) a story about how I got into embroidery, (2) a magnificent social discovery, and (3) a gallery of adorable and beautiful things produced by MIT students.
1. Storytime
Way back in 2019, I met someone very special. Her name is Kidist. You might have seen her out and about on the blogs. We had run into each other before, in our freshman year at MIT, but I think our story really starts on a sunny day in the fall of our sophomore year. She approached me in the atrium of Building 46⁠01 the Brain and Cognitive Sciences building and struck up a conversation.
From there we had lots of late-night hangouts. I witnessed her computer die (like, permanently stop working) and she witnessed me eating ungodly amounts of dining hall food. We shared classic MIT-area foods (pizza from Oath, froyo from Cafe 472, and cupcakes from Georgetown) and rich conversations, spilling dreams, insecurities, and our funniest stories. In between all of that, we also did the occasional pset.
My freshman year, I was told by a now-graduated member of the class of 2020 that a lot of people don't meet their best friends until their sophomore year. At the time, I didn't want it to be true – who wants to spend a whole year without finding their new college bestie? – but it was 100% true. Freshman year wasn't terribly lonely (although some points were), but I didn't make many close friends. Instead, the friends I made at the time taught me a lot about what qualities I liked and disliked having in my social circle, which helped me forge better relationships my sophomore year.
One thing that I loved having in common with Kidist was an appreciation for the arts. At one point, I mentioned I had always wanted to try embroidery. She showed me an embroidery kit she had and encouraged me to get one too. It was a great recommendation; having a kit made it super easy to start learning.
I got the embroidery kit⁠02 It was advertised as an embroidery kit, but was actually more of a cross-stitching kit. I still just used it to try out embroidery. for Christmas, but life got busy and I only opened it in early April 2020. For my first project, I tried making a fish⁠03 Pictured later in this post. . Later that month, Kidist and I facetimed to "stitch n bitch" and she posted something about it on her social media. It was this post which led to the aforementioned magnificent social discovery.
2. Stitch n Bitch
Shortly after Kidist's post, we were both added to a massive Messenger group chat called stitch n bitch! It was full of MIT students who liked to knit, crochet, and embroider. The chat was full of people complimenting each other's craftsmanship and sharing advice. I was thrilled. I had just become part of a thriving ecosystem of MIT students who also loved the arts and actively dedicated time and energy to their craft.
Discovering this community felt extra special because it happened at a time when I felt more distant than ever from MIT. Even with MIT students being scattered across the globe, I was able to talk to and learn from a whole new group of people.
To my understanding, the group was formed by Salma I. '22 in late 2019 following a popular post on the MIT Confessions facebook page. The confession got over 100 reacts and had dozens of comments with people interested and excited about the idea of a club dedicated to various forms of stitching.
The chat is super supportive. Anytime someone sends a new picture of their work, they are met with tons of heart reacts and compliments. I called this post "Stitch and Bitch: Quarantine Edition" because I hope to write another post about this community once we're able to gather together again on campus.
3. Photo Gallery
Now it's time to appreciate some of the members of stitch n bitch. I asked members to send me photos of their favorite work. Thank you to Grace K. '20, Junyu Y. '20, Jiayi D. '21, Laura R. '22, Grace T. '23, Fiona G. '22, Sarah L. '22, and Katherine M. '23. Here's what they sent:
Grace K. '20 sent me a variety of scarves and other apparel she made: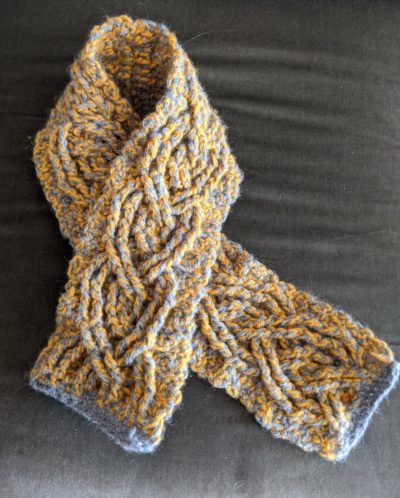 Junyu Y. '20 sent me a series of adorable animals: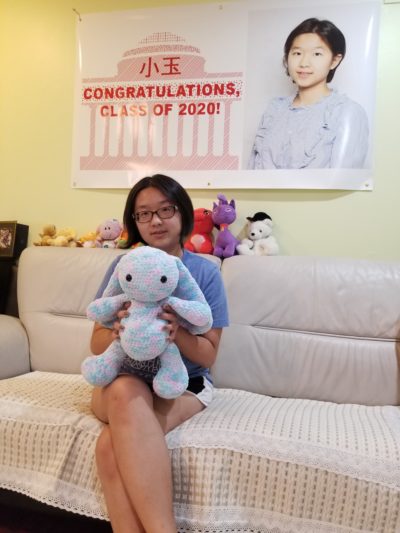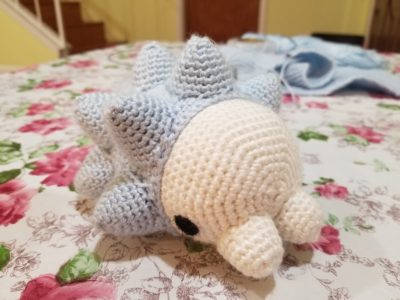 Jiayi D. '21, who says she loves "seeing what other people make" sent me her amigurumi: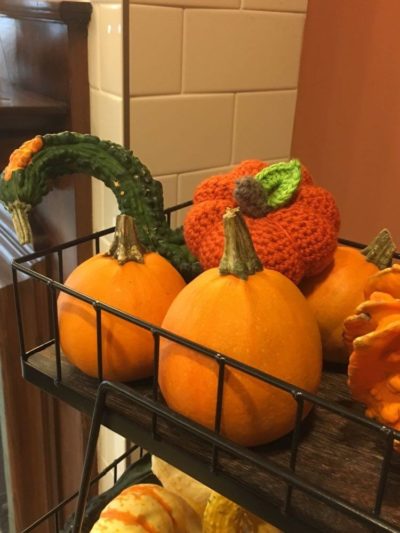 Laura R. '22 says that the community is "honestly such a light in my life" and sent me these amazing photos: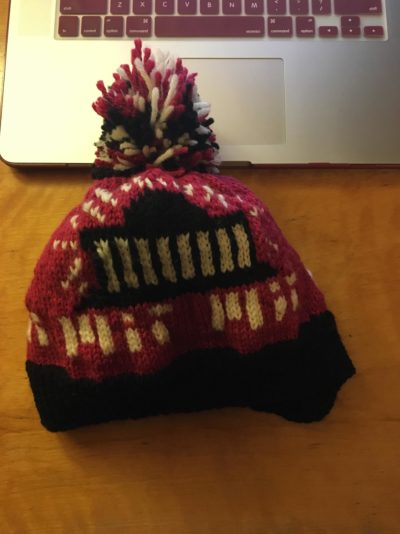 Grace T. '23 sent me her gorgeous embroidery: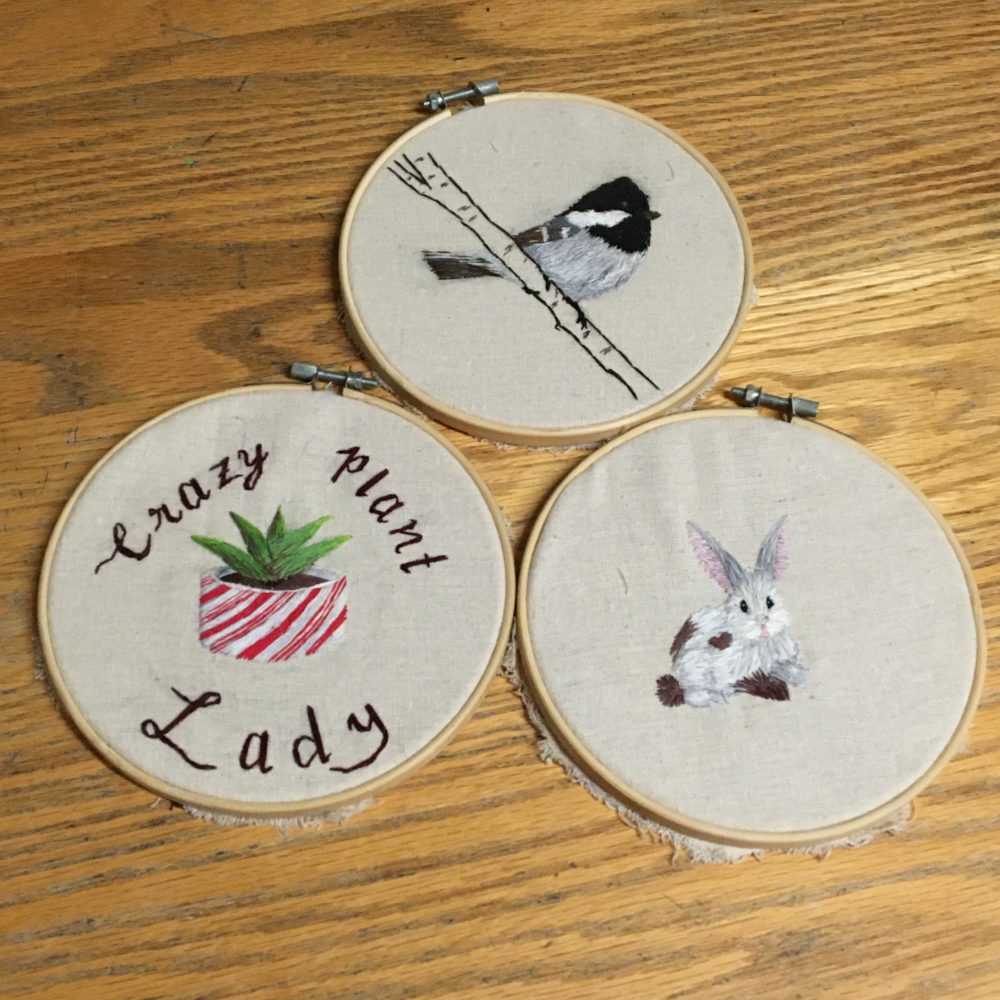 Fiona G. '22 and Sarah L. '22 sent me these adorable animals:
Katherine M. '23 sent me this stunning family: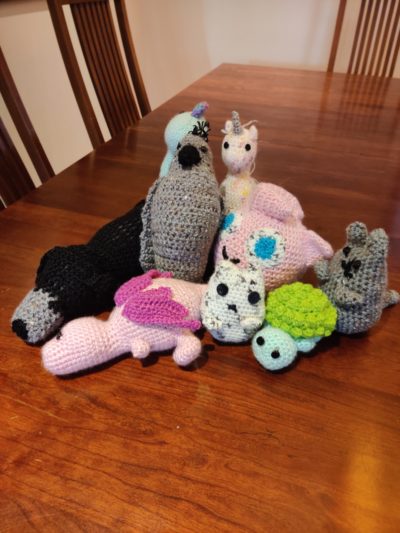 Kidist A. '22 made this beautiful embroidery, starting on our fateful facetime call back in April:
Lastly, here's my work on the fish. If you're someone who does embroidery or cross-stitching, you know that I've done embroidery on a cross-stitching fabric (blame the misleading description on Amazon). Regardless, it was super fun to make!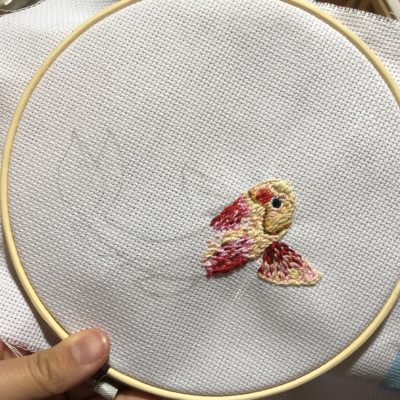 the Brain and Cognitive Sciences building⁠

back to text

↑
It was advertised as an embroidery kit, but was actually more of a cross-stitching kit. I still just used it to try out embroidery.⁠

back to text

↑
Pictured later in this post.⁠

back to text

↑