Remember when I said that we're human after all? That's still true. And it's still true of everyone who wants to get in to MIT.
And I talked about humanity as a perk; that is, the admissions office has high, albeit reasonable expectations of its applicants. Chris Peterson put it nicely when he said you don't have to build, say, a nuclear reactor to get in.
But part of being human means acknowledging some limitations. For example, this bears no resemblance to snow: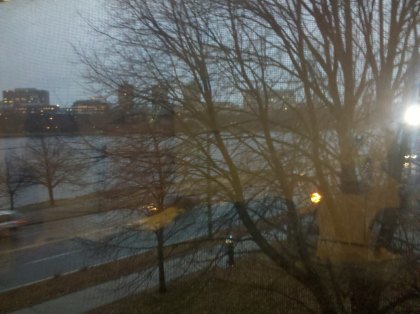 Gratuitous picture. Yes, this is visible from my awesome double.
As much as I would've liked for it to snow today, it didn't. In December. If you live in the northeast, that's kind of a big deal. To illustrate that, I invite you to go to Google and type "blizzard of" without quotations – it'll automatically suggest "blizzard of 1978 boston."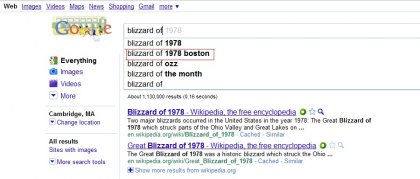 Also, Ohio. But I guess Google's search suggestions are biased?
More to the point of that pressing topic on some of your minds:
OH MY GOD AHHHH ADMISSIONS DECISIONS?!
Well, no, not yet…there's a panel of hard-working, air-breathing, and food-eating humans still at work on that. Nevertheless, and quite understandably, you want to know whether you're in. Right now.
But that's not good for you, let alone productive. The best thing you can do is take the weight of waiting off your shoulders. Take a load off.
It's advice that you may have been told already, but it bears repeating, because it's good advice and it's true. That said, it doesn't sound very helpful, or even convincing, but I have to write about this anyway, because it's advice that I wish I had taken earlier. So I'll try two approaches to make the point: one of them involves Einstein, but the other – and the first angle I'll try – is to tell my own story of how unnecessary all that stress can be.
Back when I was applying to colleges – when I was a good deal more lazy than I am now – I only felt like sending one application ahead of the regular decisions deadlines; I chose to apply to MIT EA. As soon as I had sent the last required document away, it was as if the admissions office had just made me eat a really terrible burrito against my will (or something), because from then on, something grew in my stomach and tied it up in excruciating little knots.
Anticipation. Dread. A pang of regret for having been so eager, as if I were hastening the arrival of utter disappointment, or worse still, raising the possibility that the agonizing wait would last almost twice as long.
Despite the high hopes I had and the stars that were in my eyes, I counted every possible point against me: a 690 on the math section of the SATs, a mere 710 on the SAT II Bio test (why weren't these all 800s?!), a lack of research experience, a lack of non-academic lab experience, a lack of incredibly strong connections.
A lack of sustained, truly Nobel laureate-caliber genius.
My therapy called for large doses of optimism. So I focused on what I had going for me: sincere interest in the classes I took, at competitive levels; a few constructive things I had done to keep myself occupied in the summer, though it was nothing mind-blowing.
But ultimately, all that made me think about was getting my decision even faster. With credentials like those, I thought, the worst that could happen is I'll get deferred, right?
But I wasn't sure. Up until that very last night, I kept countdowns going, I kept playing out little scenarios in my head about ways to react, or how my friends would react in each of the three outcomes, and I kept comparing myself to past applicants who posted their success stories on College Confidential, that woebegone breeding ground for needless anxiety, because my flipping topsy-turvy stomach wouldn't settle back on solid ground if I tried anything else.
Well, I did go shopping for gifts for my school's holiday drive, but there was a point that night when I just wanted the right things to jump into my shopping cart, presumably so I could resume my regular pattern of waiting in abject terror.
My point: though I tried my hardest to get MIT Decision Day 2010 to come faster, I couldn't. Heck, it was just a coincidence that MIT decided to release the results minutes earlier than their projected "We'll have them at 8 PM tonight" statement.
And while this particular story has a happy ending, that's not the point. Sure, enduring fitful nights of sleep and the agonizingly slow advance of time, all just to see MIT's decision, makes for a dramatic story, but it doesn't make you an altogether sane person for that time, or an altogether happy one.
Again, I understand the pressure and the gut-wrenching anticipation. I've been there. It's entirely natural.
But you know what else should come naturally? Doing the things you love to pass the time; it's advice that's been handed down from these blogs before, and I wish I had listened then. Because there's nothing more unnatural than trying to rip a hole in the space-time continuum just to see how you fared this admissions cycle. As far as science currently knows, it's also impossible.
If someone who's been through this whole process isn't a good enough authority on the issue, let me quote Einstein – the Einstein – who even used these words in an abstract for one of his papers: "When a man sits with a pretty girl for an hour, it seems like a minute. But let him sit on a hot stove for a minute and it's longer than any hour. That's relativity."
So please, if you find yourself sitting on a stove, do yourself a favor and jump off of it.
24 responses to "Take a Load Off"