I go to college.
Yay!
Here's the thing about college, every single college has books. Books come from one of three places: Internet, Library, or Bookstore. Which of these three am I going to talk about? Well, I can't very well talk about the ENTIRE INTERNET because you'd be here for the rest of your life, which for a lot of people, is perfectly acceptable. Don't look at me like that, I know you're one of them! ;)
Libraries are cool and all, and I may blog about one ore two later, but today I want to talk about the MIT bookstore. Almost every college out there has a bookstore, most named something like this:
~> The Cornell Store
~> Columbia University Bookstore
~> University of Kansas Bookstore
~> The UCI Bookstore
Our bookstore doesn't actually have the word "Book" or "Store" in its name. In fact, it's not even just our bookstore, we share it with Harvard. What's it called?
The Coop.
The Coop is an enigma wrapped in a riddle. For one, it's housed in multiple buildings (I know of at least 3). The Harvard Coop sells Harvard stuff, the MIT Coop sells MIT stuff. That makes sense, what doesn't make sense is the pronunciation. How would you pronounce it? I, forever, thought it was pronounced Co-op (rhymes with low hop). I got to MIT and all of a sudden everybody was pronouncing it Coop (rhymes with hoop).
I've never told anybody this, but I spent the better part of 3 months agonizing in my head why it would be pronounced Coop instead of Co-op. Co-op just made so much sense! MIT and Harvard work together for their bookstore, joining in for a cooperative effort. Also, The Coop is based off of a cooperative business model. Each student gets a Coop Card and essentially buys into the bookstore, getting a refund at the end of the year equal to 7% of everything they buy. Why is it pronounced Coop!?
Well, at Harvard, it isn't. It's pronounced Co-op. You know what that means? That means we have a bookstore that doesn't have the word "book" or "store" in its name, is located in 3 different places around Cambridge, sells different merchandise at each store, and is pronounced two different ways depending on where you go to school. It makes one wonder . . .
But enough of that, on to the important stuff. The Coop at MIT is one of my favorite stores. If you ever need anything MIT related, The Coop is the place to go. The store can be divided into three main sections: Books, clothes, and dorm stuff. Check out how many jackets and sweatshirts they have!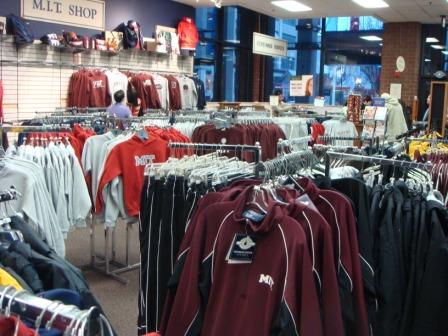 They also sell a ton of shirts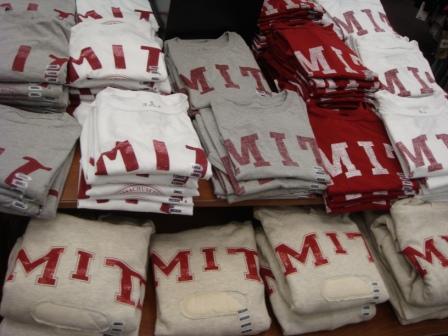 hats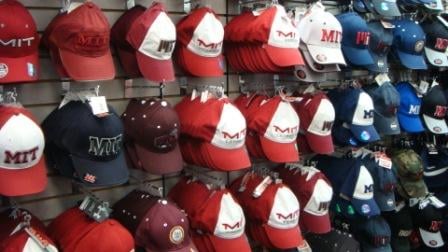 and socks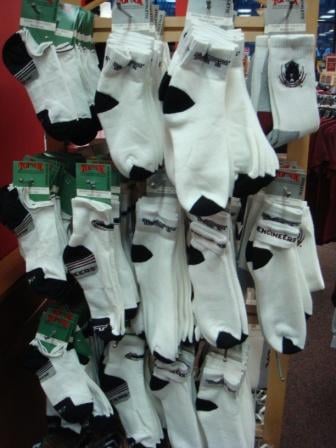 Oh, um, I should probably mention, I forgot to take pictures of the actual books at The Coop.
What else is there to spend all of your hard earned TechCash on? How about a leather portfolio?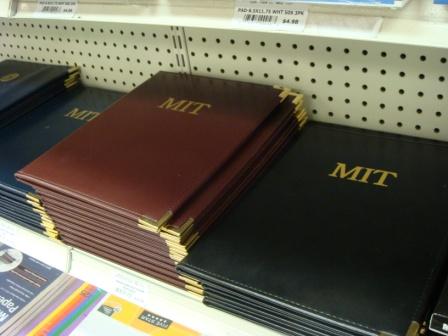 or binders?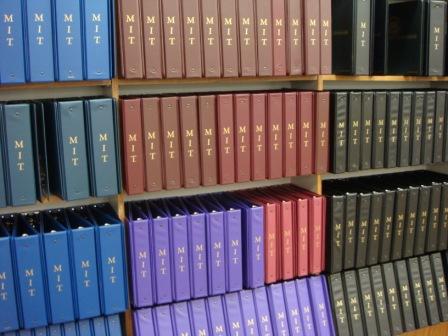 They also have some neat presents for friends and family, like this spiffy IHTFP pennant.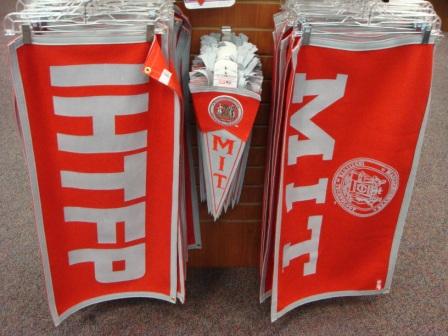 or an entire display of stuffed beavers!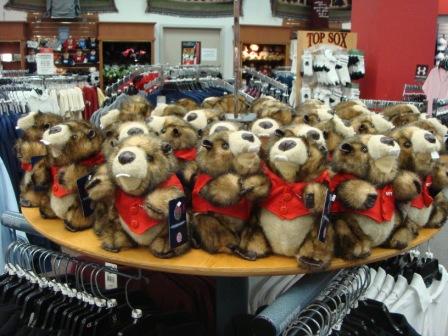 They sell all the software staples like Adobe and Mathematica, board games, puzzles, food, and other goodies like that as well. It's also air-conditioned, which is a definite plus (and not always a luxury students get to enjoy). I've been known to spend an hour in The Coop and walk out with an armful of new toys and a guilty conscious due to my compulsory need to spend TechCash on neat stuff! I remember one day I walked out with a Scrabble board, 2 Rubik's cubes (Revolution and greyscale), a dog bone, and Christmas ornament.
Luckily, if you're interested in buying a bunch of MIT gear and you don't have access to campus, they have a website that you can peruse. What's your favorite thing on there? What would you buy?
52 responses to "The Coop"