* Sonny Bono (of Sonny and Cher) being elected mayor of Palm Springs in California.
* The first mass demonstration against the communist regime in Czechoslovakia.
* Sub Pop Records, a Seattle record label known for launching such bands as Nirvana and The Shins.
* Rain Man, Die Hard, My Neighbor Totoro, and Beetlejuice.
* Haley Joel Osment.
* Ronald Weigel's two silver medals in the summer Olympics for speed walking.
* Super Mario Brothers 3.
* The death of Richard Feynman (abdominal cancer).
* The time it took for Billy Mitchell, father of three and president of a hot sauce manufacturing company, to obtain a perfect score on Pacman.
* The Doughnutgate Incident, in which New Jersey Devils' coach Jim Schoenfeld told ref Don Koharski to "eat another dougnut, you fat pig!" and was suspended.
* Mike Tyson crashing his $183,000 Bently on Varick Street in New York City.
* Weird Al Yankovic's "Fat" hitting #99.
* Rageshree Ramachandran winning the 61st National Spelling Bee by spelling his own name. (Okay, not really, but I feel like a childhood with his name had to have given him an advantage)
* The initial plans for mapping the human genome.
* "Don't Worry, Be Happy" by Bobby McFerrin.
* McDonald's plans to open 20 Moscow restaurants, featuring the Bolshoi Mak (Big Mac) for two rubles.
* The image of a benzene ring.
* "Price is Right" model Janice Pennington being knocked out by a TV camera.
* Me.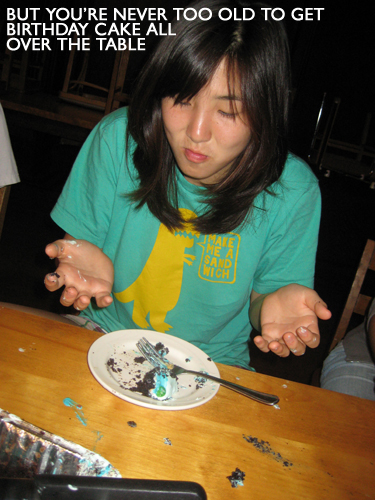 27 responses to "Things That Are 20"