Hey all, just thought I'd take a break from the "OMG, CPW TTLY PWND ME!" and give you a quick Toy Design update.
I haven't talked about Toy Design in several months but that's not to say I haven't been heavily involved. In fact, I'd like to officially propose that MIT move this class from 9 units to 15 because it's not a low time commitment class. Luckily all of the time commitments are fun so I'm enjoying it. Toy design has even influenced two major decisions in my life as of late.
1) I've declared a major! I decided on 2A, Mechanical Engineering with a concentration in product development. Toy design was a huge factor in this, I've realized that I really like having the skills to come up with an idea and then just make it, market it, and sell it. Awesomeness!
2) I got a job this summer! About a week after I initially visited Hasbro I decided to submit a resume to their modeling department. After a short wait, a road trip to Rhode Island, a tour of their model making department (I know what toys they're releasing next year and you don't, neener neener neener!), and an interview I got package in the mail. I opened it up and found a plain white folder with the Hasbro logo stamped on the front.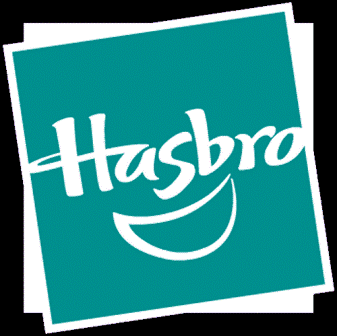 I opened it up and found a letter on Mr. Potato Head letterhead. The first paragraph:

Woo-hoo! That means I won't be going home for the summer, I'll live in the dorms, and commute to Rhode Island (about an hour) every morning to go build toys!
Alright, on to Toy Design. We've passed the brainstorming stages, everybody picked a toy from the brainstorm that they liked, presented the concept, and built a model of it. Using everybody's models and reviews from many many many groups of people (Museum of Science, iRobot, Hasbro, little kids, Olin students, etc) we, in our teams of five, whittled 50 toys down to 20. Our next step, after knocking our choices down to 20, was to build a better model of our toys.
Without revealing too much about what we're working on, I'd like to share some pictures of what a typical day in Toy Lab looks like.
Step 1: Melt Green Gummy Bears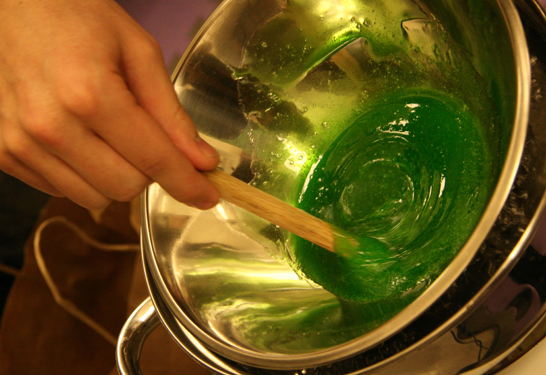 Step 2: Pour liquid into molds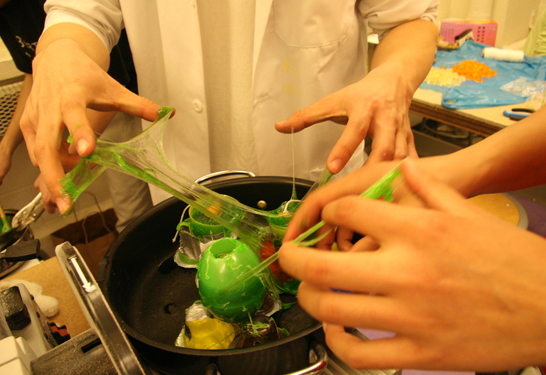 Step 3: Eat left overs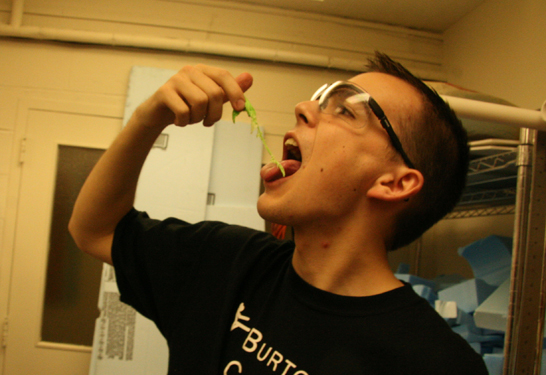 We snuck a camera into lab for MIT TechTV and while I'd have added music to it, it's still kind of a nice look into the lab.
This last Monday we had a play test, a semi-frequent event in Toy Design. We go somewhere with all of our toys, a bunch of kids come to look at them, and we tell them what we made and get advice from them. This last play test was at the MIT museum, invite only and after hours. We went headed to the museum after class, went upstairs, and into a private meeting room. There were a bunch of tables set up for us and some lab coats sitting on them. I was in charge of demoing our toys so I put on the lab coat and started having a good time chatting with little kids!
"This is called *************, do you like it?"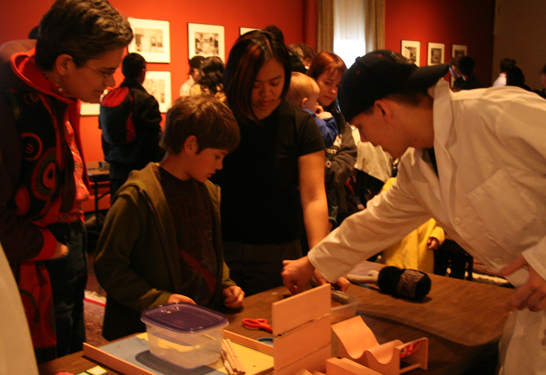 The play test went really well and we learned a lot about what kids liked/disliked about our toys. Today we had consultations at the Boston Museum of Science where we presented to the biggies (Hasbro, iRobot, Museum of Science, etc). This was our final chance to get suggestions and advice before we made decide which final toy we make. Again, it went really well, and I think our team has essentially decided what we're going to make. For the next month we are going to be frantically prototyping, building packaging, getting tags designed, and getting working models of our toys built. This essentially means a lot of lab and a lot of time outside of class.
I wouldn't be doing my job as a student if I didn't invite you to our final presenta– I mean PLAYsentations in May.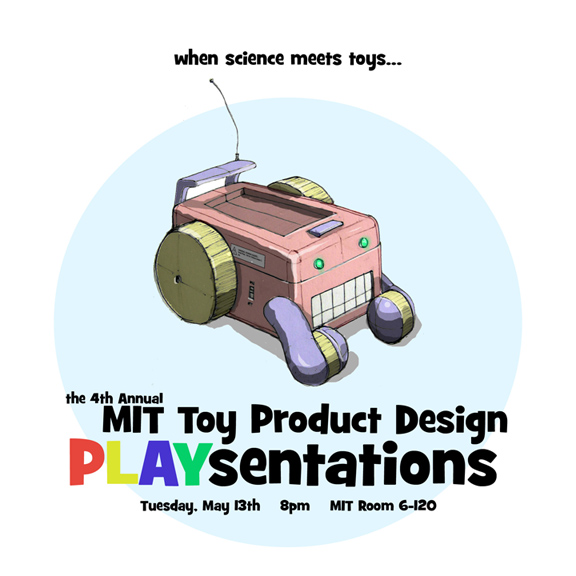 If you're even near MIT around this time you should come and play with our toys! We have some awesome stuff to show you, stuff that I anticipate actually being on the market at some point.
20 responses to "Toy Design Update"