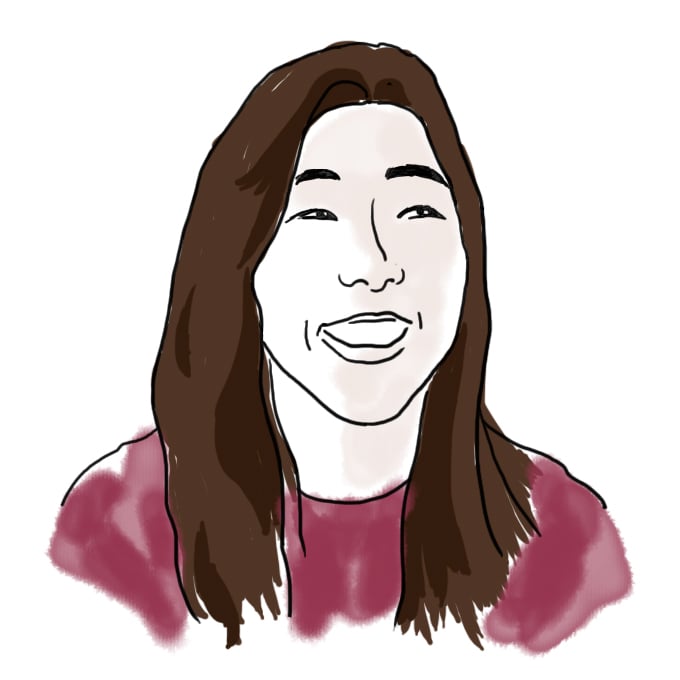 On getting old and doing things I hadn't yet done in Boston. Also, hot dogs.
So I just submitted my first-ever RSVP to a wedding for people who weren't old. As in, not for a distant cousin or my mom's best friend from college's sister's uncle's first wife's second marriage, but to people I went with high school with. As in, a couple I distinctly remember running around with in the back of my best friend Wes's Explorer, who started dating during our sophomore year homecoming, who were both in marching band with me (she plays clarinet, he plays bari sax), and who wore matching homemade Jedi costumes for Halloween our junior year. Wes once shot the guy in the face with an arrow. (That's not really relevant to the fact that they're getting married, it's just a funny story.)(Which, uh, wasn't actually that funny at the time. Sorry, Dustin.)
The point is that they're two people who are my age, both of whom I love and mean a lot to me, pledging to spend the rest of their lives together. And the last time I checked that was something that only grown-ups did. (Also buying gifts for people off of a registry. And saying the word 'registry'. What I really want to know is do people ever use registries for anything else? Because they seem like something I really want to sign up for.)
It's a weird feeling, this growing up thing. Last Thursday I walked out of my very last lecture at MIT (9.65, Cognitive Processes), expecting the Lightning Bolt of Adulthood to strike me down to the sidewalk as I walked out the door of building 46, but it never came. After I finished my last exam this Tuesday, I began packing to move into my new apartment, for which we've already paid first and last month's rent, and looking for cheap furniture on Craigslist. Still nothing. I picked up some more prunes and denture cleaning solution from Shaw's on the way back to the retirement home. Even then, nothing.
Regardless of the fact that I've spent four years here and still feel like I haven't changed much at all, there are still a few things I hadn't done in Boston until last week – first of all, go to a Red Sox game: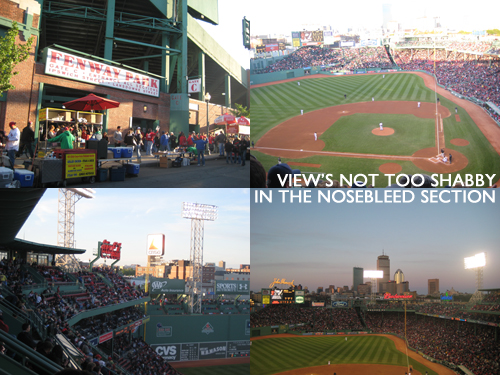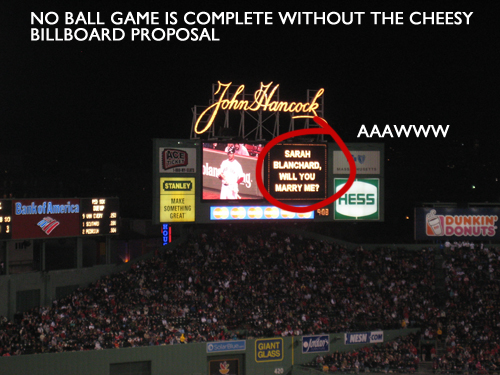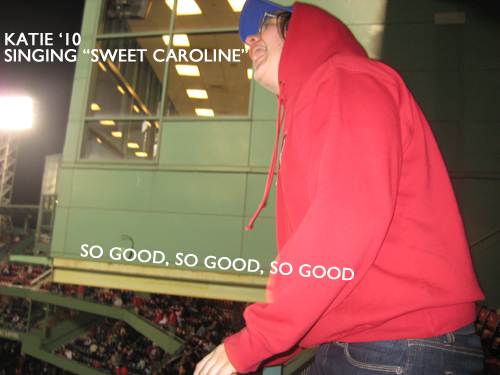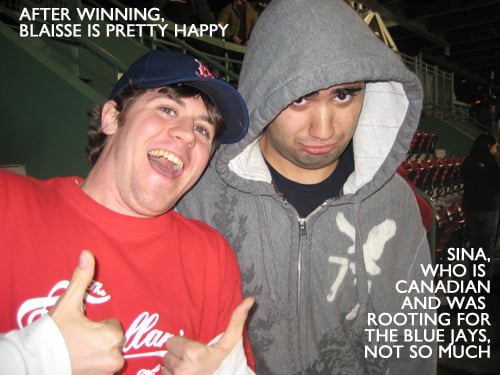 I don't know why it took me so long to go see the Red Sox play. I actually sort of like baseball and I actually REALLY like Fenway Park hot dogs, which I didn't figure out until halfway through the third inning. I also didn't realize it was going to be freezing even though it's been fairly nice out, and so I spent half of the game burrowing my face into my scarf and the other half peeking out to see what the score was. It was still pretty enjoyable, though, and I left filled with Boston pride and a serious craving for more hot dogs.
Speaking of Boston pride, last week was also my first time at the Boston Symphony Orchestra (BSO), which seems pretty ridiculous considering I grew up being taken to, and falling asleep during, San Francisco Symphony concerts as a kid. The night we went to see the BSO was a special event – John Williams, composer of such famous theme songs as those from Harry Potter, Star Wars, Jaws, Close Encounters, E.T., Indiana Jones, Cinema Paradiso, and pretty much every other movie soundtrack that gets stuck in your head for days on end, returned to conducted the BSO (he was the principal conductor from 1980 to 1993) in a special event called "Hooray for Hollywood!", in which the orchestra paid tribute to Williams' most famous compositions, in honor of the BSO's 125th anniversary. And it was amazing. Maybe even more amazing than the fact that we'd gotten student rush tickets on the main floor for $10 with our MIT IDs.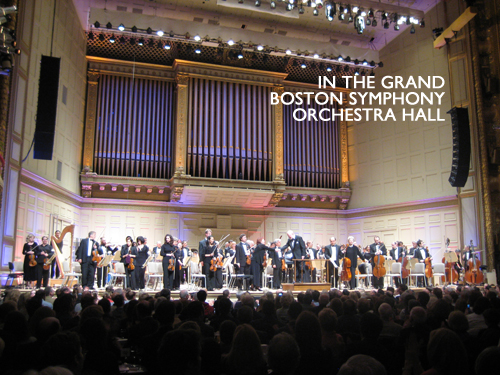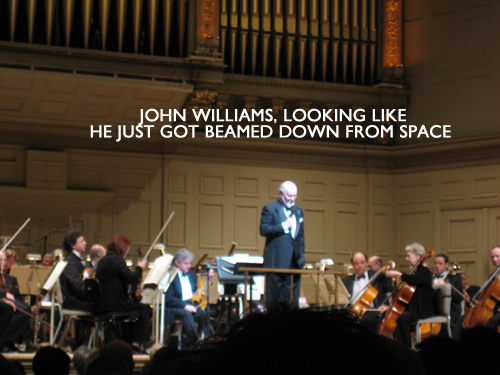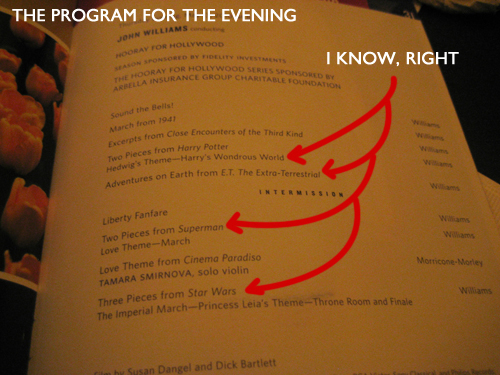 And in case you don't recognize them by name – this is Hedwig's theme, from Harry Potter:
For a few of the selections, they also rolled down a video screen and played clips from the films:
And finally, they ended with:
It was a pretty amazing concert, and even though I had two papers due the next day, both of which I didn't start until about 1 AM, I couldn't help but think that this wasn't something I would have done freshman year. I would have given up the concert tickets and missed hearing selections from one of the greatest composers of our time. I'm pretty sure those papers – which did get finished, by the way, something else I learned to do in four years here! – won't go down in history as the greatest papers I've ever written, but I'm also pretty sure that I'll remember that night for a really long time. At least until I start losing my memory and my hair, but then I wouldn't have remembered those papers anyway, would I?
18 responses to "Tying up some loose ends"