For most of the past month, I was traveling in southeast Asia, a trip inspired by a friend's wedding in Malaysia. It was a hot and steamy holiday, but well worth the visit and time away from the office. I'm still catching up on email and various projects I'm behind on since returning from Asia, but I thought I'd share with you some photos from my trip.
The trip brought me to Thailand, Singapore, Malaysia, Hong Kong, and Taiwan over three great weeks. As this was purely a vacation, I decided to not do any work on my trip (though I do hope to do a work-related visit to Asia sometime in the future).
Thailand
The first stop was Thailand. I spent some time in Bangkok, took an elephant ride in the countryside, and took a boat ride on some rural canals and visited the Floating Market.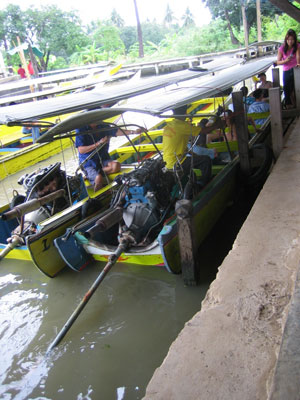 I feel like such a nerd for taking a picture of the engine, but it was very cool — all of the boat engines were converted from used Honda car engines. I think we need to admit more people from Thailand =)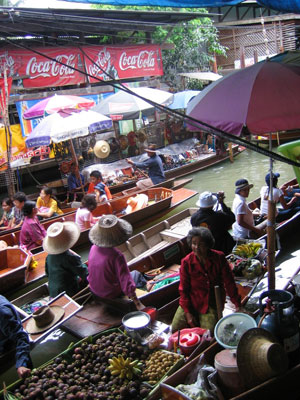 The Floating Market itself has become touristy, but it was still very cool to see. It was the one locale on my trip that my grandfather said I must not miss.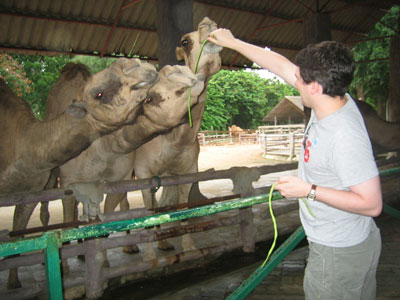 At the Sriracha Tiger Zoo (where I had some issues with their treatment of some animals, but that's another story), I got to feed what appears to be a three-headed camel. I'm not sure what a three-headed camel would do — guard the Philosopher's Stone? Be a network authentication protocol?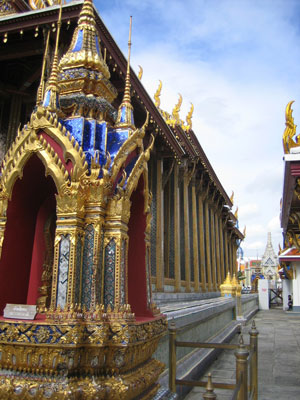 And you can't go to Thailand without seeing some of their incredibly beautiful Buddhist temples. Here is the Temple of the Emerald Buddha, just before the ceremonial changing of the Buddha's robes by the Prince of Thailand.
Singapore
The next stop was Singapore, a city-state that I've never visited before but feel like I have, since I've seen so many applications from here. It was more beautifully colorful and lushly green than I had expected, and was full of interesting places.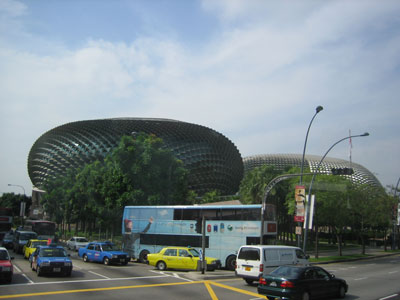 One of the most interesting buildings I saw was the Esplanade, Singapore's theater and concert hall (unlike Boston's Esplanade, which is a riverside park). It was very cool, even though it looked like two giant durians.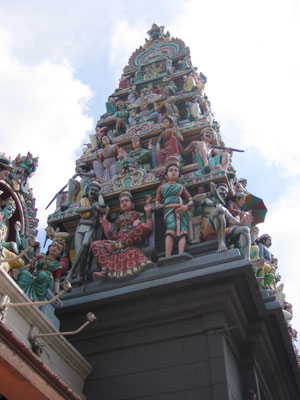 A detail from a Hindu temple in Singapore's Chinatown.
Malaysia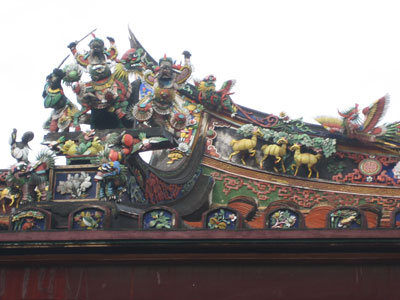 From Singapore it was across the Straits of Johor to Malaysia. This detail from a Chinese Buddhist temple in Melaka's Chinatown was equally as intricate and beautiful as the Hindu temple in Singapore.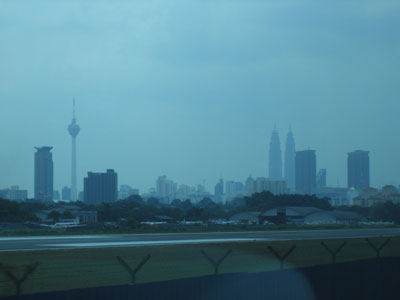 As you may have read, smoke from fires in nearby Sumatra, Indonesia, has been obscuring the skies in Malaysia. It was hard to see the Kuala Lumpur (KL) skyline, including the famous Petronas Towers.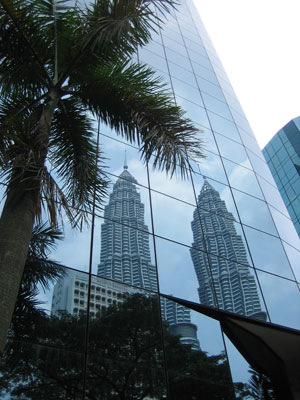 Closer in, though, I was able to get this nice shot of the Towers reflected in another office building.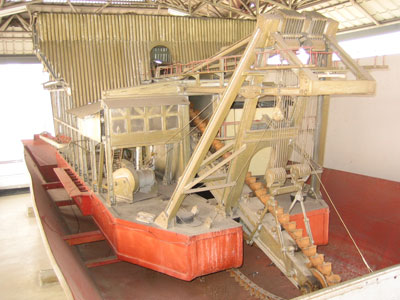 Nerd alert again — this tin dredge at the Muzium Negara was too cool not to examine for a long time, and photograph.
Hong Kong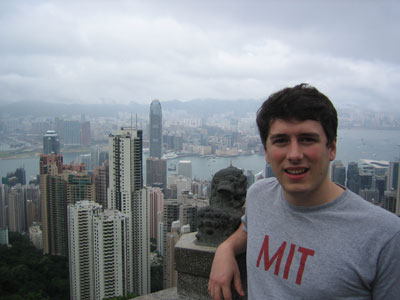 After Malaysia, it was off to Hong Kong. Here's me atop the Peak in Hong Kong, with my MIT shirt.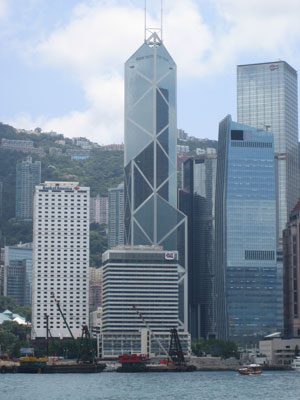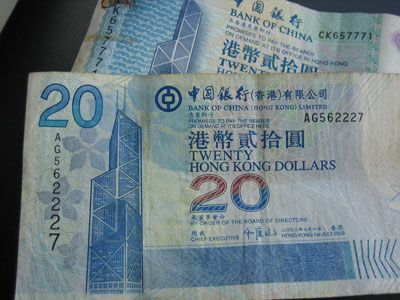 One of the most famous buildings in Hong Kong is the Bank of China building, designed by IM Pei '40. It's so famous, it's even on the back of the HK$20 bill. That's not the only MIT-design on a bill: check out the back of a US$5 and you'll find Daniel Chester French 1871's sculpture of Abraham Lincoln, within the Lincoln Memorial.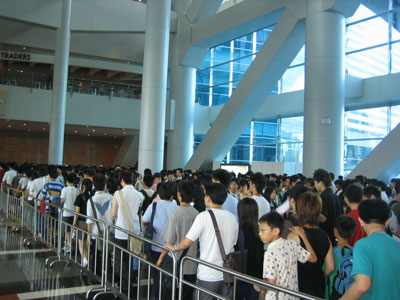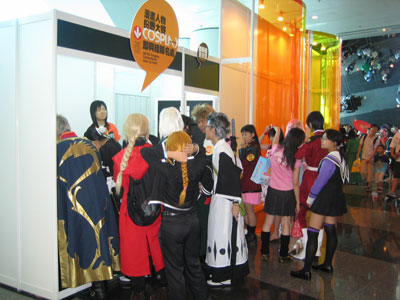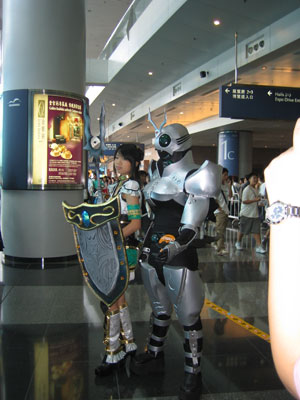 It so happened that my visit to Hong Kong coincided with the HK Comics Festival & Game Fair. As you can see from the second picture above, the line was huge, so I didn't even bother trying to go in. Apparently, the festival brought in 400,000 people!
Contest time! There was a big Cosplay competition at the festival, with many amazing costumes. Probably the best costume I saw was the above picture. However, I unfortunately know very little about Manga/Anime, so I ask you: who are these two dressed as? Winner gets a mention on the blog, or something =)
Taiwan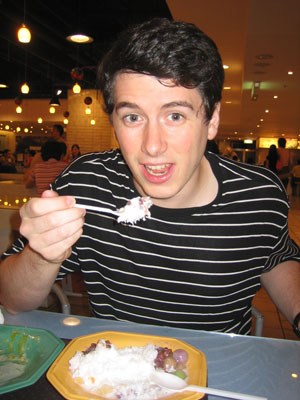 Then I flew across the Taiwan Strait to, well, Taiwan, home of the world's best shaved ice. Coincidentally, right after I returned to the US, the New York Times ran an article on shaved ice in New York City (close, but no cigar).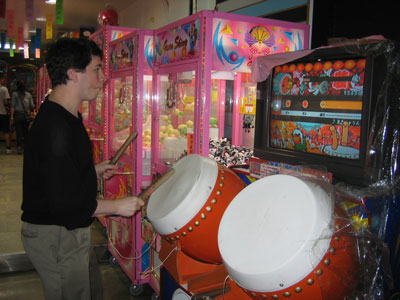 Taiwan is also home to awesome night markets, and at one I found an arcade with this awesome drumming video game (I call it "DDR: Drum Drum Revolution," although a Google search makes me think it's an arcade version of Taiko Drum Master). As you can tell, I was intense about this game.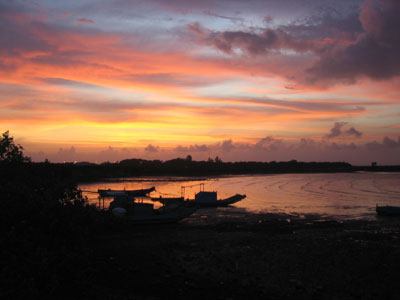 At Bali (outside of Taipei), I snapped this sunset photo. Little did I know that the dynamic colors were foreshadowing the arrival of Typhoon Matsa…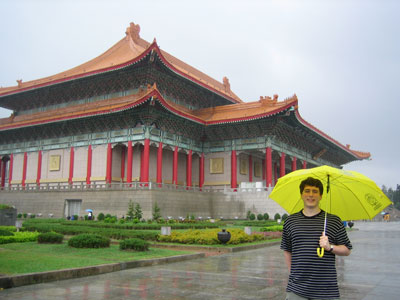 Despite the typhoon I still managed to see Taipei, including the National Theater (above), thanks to this handy Doraemon umbrella. [Doraemon history by Anime/Manga expert Eri Izawa '92]
Malaysia (Part II)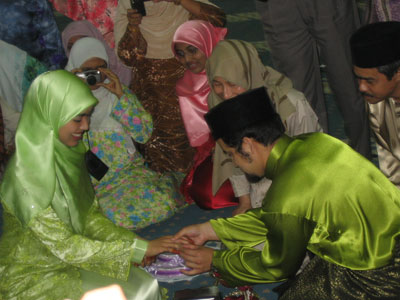 The trip's final stop was back to Malaysia, for the wedding of my friend. Above, the groom places the ring on the bride at the Nikah.
USA
I'm back home now, but tomorrow I'll be crossing the border to the nation of Jury Duty. I don't know when I'll be back…
11 responses to "Typhoon, Wedding"