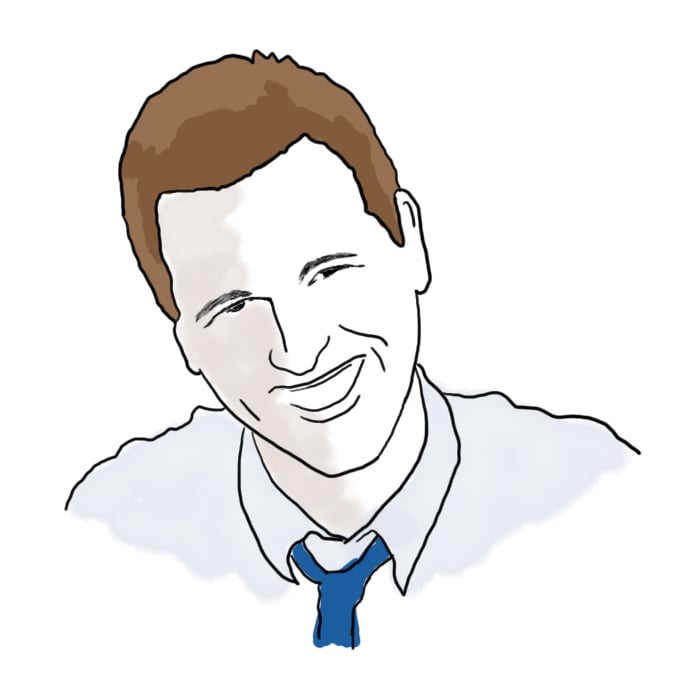 Updates And Shannon's Formula

by Ben Jones
Random mid-week fun, and a few small updates for admitted and waitlisted students.
Update for Admitted students:
We've been hearing reports that a few of you haven't received your packages yet. Please don't worry – they should arrive very soon!
In the meantime, please don't forget to register for Campus Preview Weekend via your MyMIT account by March 31st.
If your parents are coming, we have blocked off reduced-rate rooms at several nearby hotels, but the rates will expire soon, so please encourage them to call as soon as possible. There's more information for parents here.
Update for Waitlisted students:
If you would prefer to email us your plans to stay on the waitlist rather than return the postcard, simply send a message to [email protected] and we'll be happy to take care of this for you.
Random fun:
In this post I mentioned that Shannon '12 had created a job-awesomeness formula for me. To understand it, you must first read the email conversation that we had on the day decisions were released:
Shannon: Times like this make me convinced you have the best job in the world. And then I [think about the admit rate], and I think your job sucks. Just fyi.
Ben: My job is 11.6% best-job-in-the-world (this year's admit rate) and 88.4% this-job-sucks. Except… while in the first few post-decision weeks the sadness for rejected students outweighs the joy for admitted ones, that ratio soon reverses and becomes a landslide win for the joy, which sticks with you through the years (because you see the students you admitted every day, and they remind you). So you have to adjust the 11.6% and 88.4% accordingly. I'll leave it to you to put all of this into some sort of algorithm or formula to determine whether the job nets joy or sadness as a function of time.
A few hours later…
Shannon: While I had to assume 100% happiness when not making decisions and make up a few arbitrary dates and vacation times and take away your weekends, a rough estimate says your job is ~65.27% awesome. Work is attached.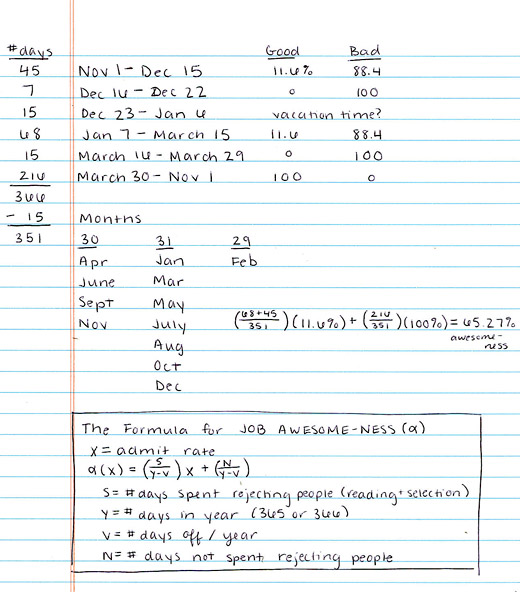 Yep, this pretty much made my day.
And now you can all use this thread to write new formulas and solve the puzzle from a variety of different ways and make me laugh all day. :-)
19 responses to "Updates And Shannon's Formula"