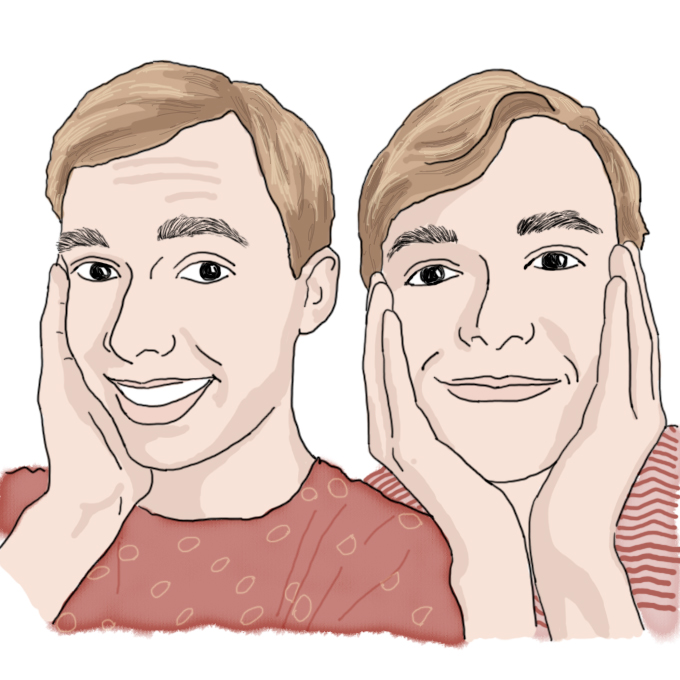 To high school seniors: we're in the struggle bus with you
We are in our senior year of college now ⁠01 how??? , and were recently discussing how much this reminds us of senior year of high school. 
In high school, we stayed up extra hours to apply to that extra scholarship and that extra school. Now, we are staying up extra hours to apply to that extra internship and that extra job. In high school, we stressed about not being qualified enough to get into the schools we dreamed of, and tried to sign up for extra courses only to drop them two week into the year. Now, we are stressing about not being qualified enough to get a job, and tried registering for extra classes only to drop them two week into the semester. In high school, we existentially asked ourselves "what schools do we even want to apply to???" and ended up applying to WAY too many because of indecisiveness. Now, we are existentially asking ourselves "what jobs do we even want to apply to???" and are applying to WAY too many because of indecisiveness. 
We didn't expect this, but it is actually uncanny how déjà vu senior year of college feels. It's also a bit upsetting, because we distinctly remember thinking we'd never have to experience the torture of filling out infinite applications again after finishing all our college apps. But here we are, filling out infinite job applications, and dreading the process. Cover letters are absolutely painful to write. 
Okay, let's backtrack a bit. We aren't writing this post to complain into the void about how annoying applications are to fill out. Though, it was very cathartic to write these first two paragraphs. ⁠02 feel free to vent about your application-filling-out-frustrations in the comment section if you want to! We wanted to write this as a message to our present selves, our high school senior selves, and to you — to take a step back, breathe, relax, and self-care!
In just this first month of school, we have already reached high levels of stress from this job-hunt season. In just under 4 weeks, all the self-care we practiced over the summer was thrown out the window. We have sacrificed sleep to fill out these applications, gone down unproductive thought avenues about being not good enough, and have pressured and pushed ourselves to apply to jobs we are not actually interested in because "why not?" 
We remember doing this exact thing in high school with college applications! Being a senior, whether in high school or college, is just really hard! Uncertainty is right on the horizon, and it feels like the culmination of the first three years' hard work is going up against the dice of fate. It is scary and stressful. 
So, let's all go easy on ourselves, okay? Let's all support each other, let's all try our best to prioritize getting enough sleep, and let's all dedicate time to doing the things that heal us.
As a step in that direction, we want to share a list of things that we have been watching/listening to recently as part of our self-care and destress routine. ⁠03 And we encourage you all to comment your self-care things too!
Watching Steven Universe The Movie and listening to all the songs on repeat
This was a masterpiece. The music, the story, the characters (Spinel 😭). We watched this so many times during this month, and listened to all the songs on repeat. Our favorites are Independent Together, Drift Away, Change, and Happily Ever After. And here is a list of timestamps that *actually* heal our souls: Pearl's animation in Independent Together, Steven singing "we don't have to fight," Pearl's entire part in Happily Ever After, and the beautiful animation where Ruby and Sapphire fuse for the "first" time again.
Watching the cast of Steven Universe The Movie singing live at New York Comic Con!
Everyone is so talented omg. We love the fact that Rebecca Sugar is singing Steven's part in Happily Ever After, and how proud and happy she looks when hearing the voice actors singing their parts. Estelle is SUCH an amazing performer while singing Isn't it Love and True Kind of Love. Sarah Stiles. SARAH STILES. S A R A H S T I L E S. sarah. stiles. 
Endlessly Watching a medley of the Hercules Muses songs! 
This video came up on one of our YouTube recommended and we have been OBSESSED with it! It's so good and uplifting and fun! Our favorite part is here, where they are singing Zero to Hero!
Watching Jenna Marbles videos every Wednesday/Thursday 
From her cute dog videos, to her extravagant makeovers, to everything in between, Jenna Marbles makes us laugh and smile every week.
Watching Evelyn From The Internets
This video of Eveyln trying all the flavours of LaCroix came up in one of our Youtube Recommended. We watched it and couldn't stop laughing. She's so funny and real, so we've been slowly making our way through her content. Other favorites are her videos about Meal Prep and Creativity.
Watching all of Caleb Hyles Steven Universe Covers
We found a very nerdy Youtube cover artist who has covered pretty much EVERY Steven Universe song! He has an AMAZING voice, and dances without a care in the world in many videos! Our favorites are Haven't You Noticed I'm a Star and Peace and Love.
Obsessively Listening to Jennifer Hudson singing Memory in the Cats Trailer
We have always LOVED the song Memory from Cats, so when the trailer came out with Jennifer Hudson singing it absolutely incredibly, we literally just played the trailer on loop. Jennifer Hudson is just amazing. The end.
Listening to the Hadestown Soundtrack
Hadestown was the winner for Best Musical at the most recent Tony Awards and it is Fantastic. It's a twist on the myth of Orpheus and Eurydice! We LOVED their performance at the Tony's and were waiting almost all summer for the full cast album to be released! All the songs are amazing! Eva Noblezada and Reeve Carney and Amber Grey (who was in the Great Comet, one of our fav musicals which we have definitely talked about on the blogs before lol) have such unique and amazing voices! Our favorite songs are Come Home With Me, All I've Ever Known, and Wait For Me (all in the playlist linked)! 
Clearly, what we go to when we are trying to destress is cartoons, music from cartoons, random funny videos, and musicals. Whatever it is that you go to when you are trying to destress, whether it's cooking, or taking walks, or working out, or playing tennis, or watching Netflix stand-up comedy specials, or playing video games, or anything else, do that! 
Let's apply to everything we need to, and do it healthily. We can do this! 
how???⁠

back to text

↑
feel free to vent about your application-filling-out-frustrations in the comment section if you want to!⁠

back to text

↑
And we encourage you all to comment your self-care things too!⁠

back to text

↑