Happy International Left-Handers Day yesterday! I've never had to deal with righty desks before, so if you see me beating a chair to splinters in 10-250 next year, you know the reason.
Back when I was in high school (which is a phrase that makes me sound like I'm 64 and recounting my cavorting days as a young'n, and not like how I half think I'll be back in high school this fall), I was one of the AP kids, as I'm sure a lot of you were. But there's so much I don't agree with about the AP system. Mostly, it's that it's entirely centered around getting that 5. Maybe that wasn't true at your high school, but in all ten classes I took there was a cramming fervor around spring (that may or may not have included living in the library, seeing your AP US teacher in uncomfortably short shorts, and existing solely on Wintergreen Lifesavers because your freshman biology teacher once mentioned they stimulate your brain), then coasting post-exams until school ended (that may or may not have included watching The Breakfast Club, Indiana Jones, and the Food Network). Nothing about that says "We're doing this to really learn!" to me. Everything was scheduled around that test. About half of my classes also had finals before the AP exam, to 1) prepare us for the exams even more, and 2) allow us to party even harder after the test was over.
Getting that perfect score became so much the purpose of the exams that when I got into college, I was actually surprised to find that I could get credit for them. They had just become more requisite SAT IIs, except longer and with less expensive prep classes. The supposed reward of credit was long forgotten behind integration rules and all the New Deal programs. Theoretically, though, the real reward is supposed to be incurring a love for the subject matter. And while my sense of humor has certainly gained from being one of Those Kids, recognizing the output of a recursive method under a time limit has never made me leap out of my chair and dance for joy of Java. (Plus, I haven't retained most of it – another one of my gripes about the system. Nodes? Just a funny word to me.)(Haha. Nodes.)
Enough of the ranting, though. The point is that last night, a group of us helped our friend Nish take his scribbled-in prep books and scantrons to the beach (one that allows bonfires, so I promise this is all perfectly legal), and said our (thoroughly non-tearful) goodbyes to the days of merely skimming the surface and learning for the sake of a grade instead of for the sake of ourselves. This is the dawning of a new age. The Age of Real Education. The Age of Aquarius. I mean, what?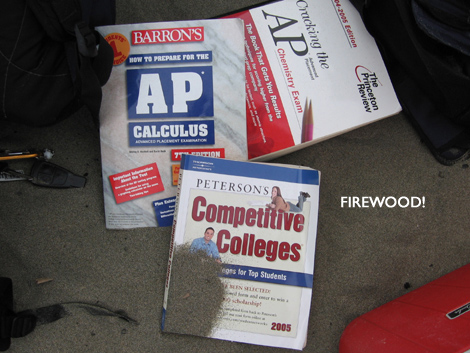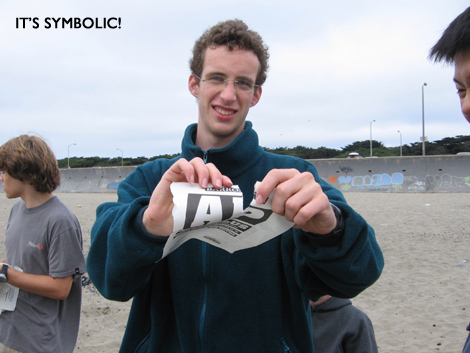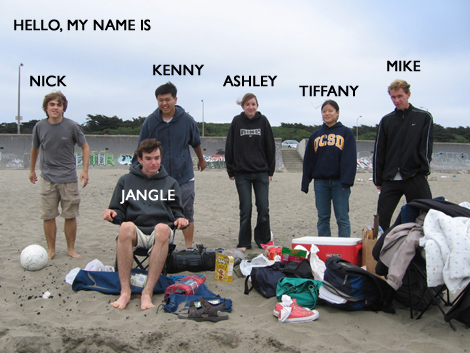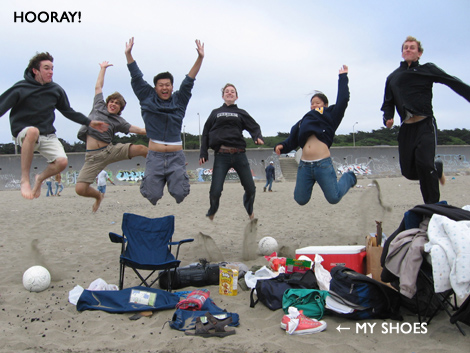 (I really just included those two pictures because they're probably among the best I've ever taken. Check out that air!)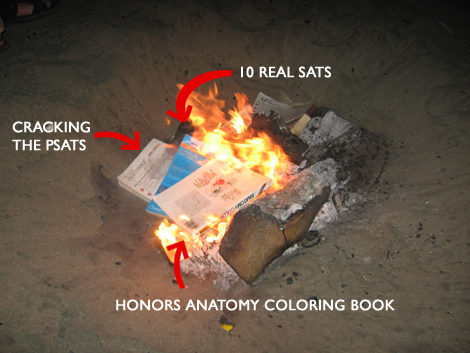 I began this summer exhausted. Chasing down 5s is hard work, especially when it becomes your sole purpose. And after my final exams high school slowed to a pace that I could walk beside (meaning, watching four hours of movies a day, and sleeping through the other half). To say it made me uncomfortable is an understatement – it gave me a chance to look at the one-track mind I'd developed and wonder if it'd be enough to keep me afloat out there. So I made no major plans; I simply resolved to take it one day at a time.
And I know it's silly, but watching those books crumble into embers with Sufjan Stevens on repeat in the background was enough to clear my head. I do know nothing can really prepare you for the firehose of an MIT education. But I think if there's any one thing that at least makes you a little braver, it's throwing out your baggage.
Try this one at home, kids.
22 responses to "We Started the Fire"