One month ago, we helped out Lauren Avalos (an MIT Admissions Counselor), at our high school's annual college forum, where a bunch of counselors from top tier schools gave a panel discussion about the college admissions process, sandwiched between two 20 minute Q&A sessions. The audience was mostly high school juniors and sophomores but there were also some very ambitious middle schoolers that came up to us. Three years ago, we went to this panel and met Lauren there, and asked her a question too. If memory serves, it was whether we could include collaborative projects in the Maker Portfolio (we think she said yes, as long as you specify what you contributed to).
We've chatted a couple times with Lauren on campus, and towards the end of this past semester, she invited us to come to this forum where we met. We thought it would be fun, so we went, and helped Lauren with the 2 Q&A sessions.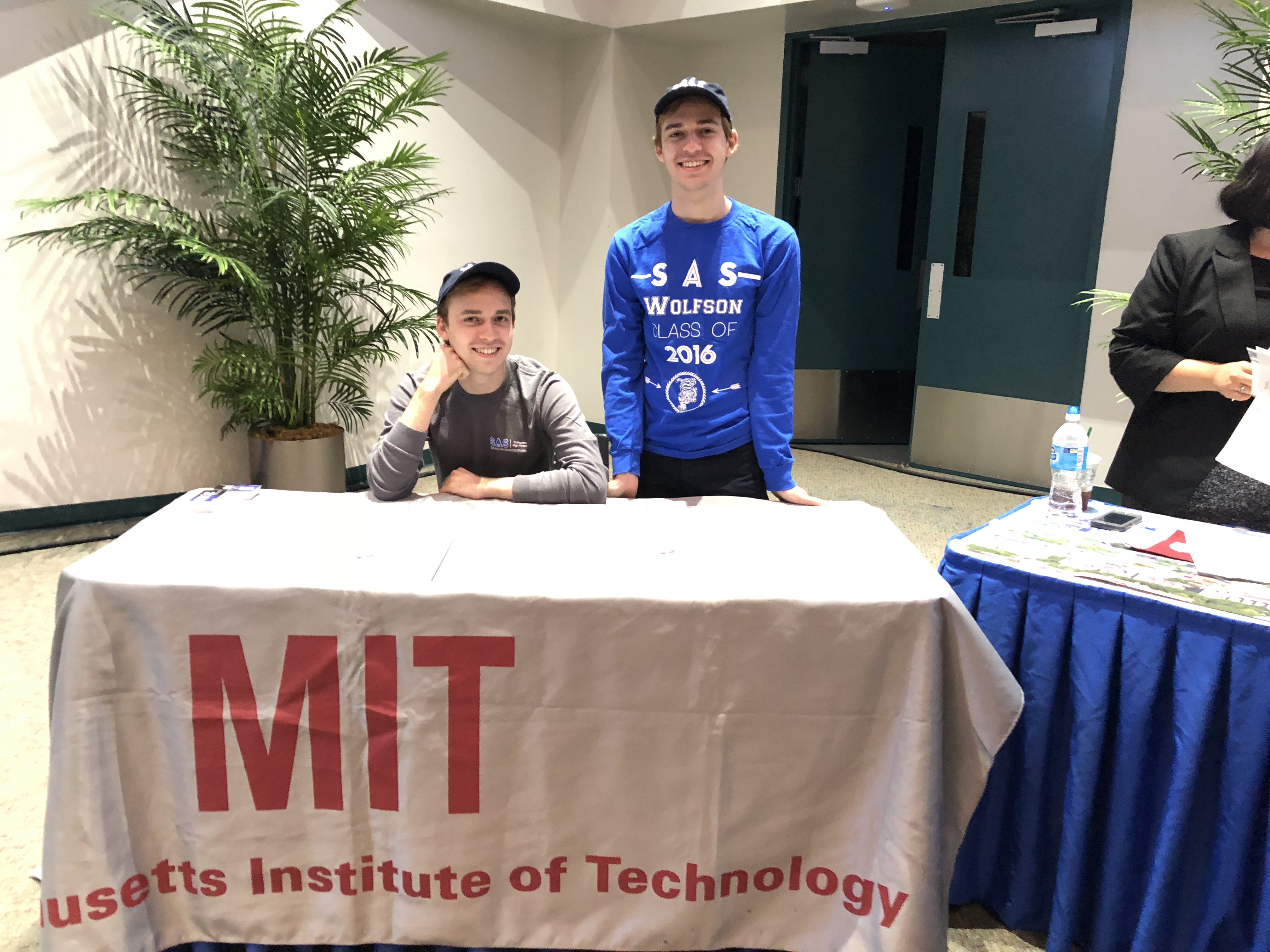 us (Danny sitting, Allan standing) at the college forum, wearing our high school shirts and MIT caps for maximum school rep; 6/2/18 @ 9ish am
By FAR, the question that people asked us the most, after finding out that we are current MIT students, was some variation of "What did you do in high school to get into MIT?"
There were so many people that we couldn't dedicate nearly enough time to any one of them that asked this to answer as sufficiently as we would've liked to, so that's what we are writing this blog to do! We remember really liking Michelle's post, answering this question, when we read it as rising seniors in high school, so we will use it's format as inspiration. She describes the gap between what you write on your application and what you actually do in high school, and we agree that this distinction is important to make. So, just like Michelle, we will write about what we did in high school.
Everything we wrote on our applications came from the sea of words below, but neither of our applications included this entirely; instead they were small, carefully crafted tide pools. Said simpler, our applications were subsets of all the stuffs below.
Anyways and without further ado, during high school, we:
Found out that "college was a thing"
We found out that "college was a thing" (as Michelle put it) in 9th grade. But specifically, that MIT was a thing, because of our relationship with blogger alum Anastassia B. '16 (who we've mentioned in a couple blogs already). Describing this relationship is on our to-blog list, because it is truly special. But for the purposes of this blog we will say that we met Anastassia when she was 14 and we were 10, because we lived in the same building and she was our babysitter lol. Eventually she became a mentor to us, and now we're just really good friends!
She entered her freshman year of MIT the same year we entered our freshman year of high school. MIT became our dream in 9th grade because of the way Anastassia described it. And MIT persisted as our dream throughout high school because of the way the blogs painted it.
While we never did anything for it to look good on an application (and tried instead to best follow this advice), we definitely were aware of miniscule acceptance rates. This awareness drove us to work realllyyy hard throughout high school, which was good, but it also drove us to hyper levels of stress sometimes, which was not so good.
Learned to talk to people and to smile
There is a lot of context we could give, but to spare this post from being unbearably long, we will summarize. We lived in Brooklyn, NY until 4th grade and moved to Miami, FL to start 5th grade. Soon after moving, we entered a phase of anti-socialness. We were afraid to show our personalities and we both developed this bad habit of suppressing our smiles and laughter — whenever we did feel a smile or laugh coming, we would cover our mouths instinctually with our hands. This phase lasted until the beginning of 9th grade. Without going into too much detail as to why (we could (maybe should?) write a blog about it), it was a combination of us getting bullied, and our own exaggerated perception that our classmates were scrutinizing our every move (it wasn't all exaggerated though… middle school's tough). So, we were afraid of drawing too much attention by changing the image we already had as the "shy quiet kids."
In the summer between 8th and 9th grade, we told ourselves and each other that we would deliberately stop this pattern of behavior and thinking, because we wanted to have friends! Sometime at the beginning of 9th grade, we made our first friend in Florida over a conversation about a broken plastic fork. And from then on, we just continued talking to more people and expressing ourselves! With each friendship it became easier and more natural. Now, we like to think we do it effortlessly (or as effortless as it can be for two socially awkward extraterrestrials).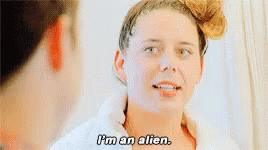 Liked playing piano, but not being in a music department
We went to an art school for 9th and 10th grade for piano. But honestly, we were not the greatest at many aspects of it. We did end up playing some technically challenging songs by senior year of high school, but we have never been incredibly musically inclined. Playing piano was always just a hobby that we loved. So, we mostly relied on finger memory, and never learned to sight read or play by ear well enough, which were the skills that we needed most to thrive in the highly competitive music department. Shortly after coming to this art school, the music instructors saw our lack of these skills, and placed us in the percussion class. Ultimately, we did learn quite a bit of percussion and had fun in the process.
But in general our experience in the department wasn't great. There was always a lot of competition amongst the students to get the best and hardest parts and a lot of unnecessary pressure from the instructors to play everything perfectly, especially before the concert date. We already had our eyes on our second high school for a while, but this definitely motivated us to switch schools even more. We still played piano for our last two years of high school, because we really enjoyed it, and even more so, once we weren't in a high pressure music program anymore.
Didn't let our academic situations limit us and took challenging classes
Freshman Year: Our first high school didn't have many resources, because it was newly established at the time, and focused the resources it did have into the arts programs as opposed to on the academics. Plus, the principal seemed to have a hobby of firing teachers. This became clear to us in 9th grade when we had three math teachers, two english teachers, and two history teachers. This resulted in not the best educational experience, to say the least. To avoid getting behind, specifically in math, we basically taught ourselves Algebra 2 by reading ahead in the textbook and watching Khan Academy videos (aaaaa who knew we'd end up living in his room : 0 ). And because by the end of ninth grade we didn't trust our school to teach us anymore, we decided to take pre-calculus over the summer as a dual enrollment course in Miami Dade College (a local community college).
Sophomore Year: Despite our lost trust in our school by the end of freshman year, this year was actually pretty redeeming. Our school began to offer more AP classes and we jumped on the opportunity to take the ones that intrested us (we took 3 that year). And although there were still some teachers getting fired, we personally had the same teachers throughout the whole year (which was a great change after the previous year). Plus they were all incredible, especially our calculus teacher!
Junior Year: Our second high school was much more established, so it had really amazing resources (i.e. it was located on Miami Dade College's campus, and half of our required curriculum was to take college classes). However, this school was purely academic, and we felt limited by the lack of arts it offered. We asked our guidance counselor if we could complete AP Art by ourselves and submit the portfolio at the end of the year. She said yes, and we self-completed AP Studio Art: Drawing that year (and Design the next year).
Senior Year: Our high school recommended us to take mostly required core classes from MDC during junior year, so that in senior year, we could choose to take classes that interested us. And we did just that. Back in those days, we found chemistry and math really fun, so we took a lot of those classes (Chemistry 1 and 2 plus labs, Differential Equations, Multivariable Calculus, and Linear Algebra) Ooof, were they hard, but we really did enjoy them!
Took a ton of public transportation
Our first high school was a 40 minute – 1 hour bus ride away from our home, and our second high school was a 1 – 1.5 hour bus ride away from our home. Mornings were not that bad because the Miami bus system was pretty reliable at 6:23 am. But in the afternoon, it was a total gamble. We spent so many hours waiting at bus stops and riding them, and tried to make that time productive by either catching up on lost sleep or doing homework. We also made some friends, even from other high schools, on those bus rides!
Stressed about the SAT, and consequently regained our love for reading
When we were little, we adored reading. But around the time that we moved to Florida, for some reason, we began really hating it! Then, around the beginning of 9th grade, we got our results from the PSAT and realized that our writing and reading scores were subpar (back in the ancient times of 5 years ago when these were separate sections).
This really stressed us out, so we read through many SAT prep books, and all of the books said that the key to the SAT reading section is to read quickly, and that the only way to read quickly is to read A LOT.
So, that's what we did! We forced ourselves to read a lot. Throughout high school, we were constantly cycling through books. We tried picking ones that interested us like fantasy, sci-fi, and dystopian novels, and also some that weren't up our alley. We also formed an informal book club at our local library (it was literally just us and a really sweet librarian) to motivate us and to get recommendations. Not only did this actually help us improve on the reading and writing sections, but we also eventually regained our love for reading books again! Huh, the SAT is good for something after all!
Just as a side note, both of our scores still ended up being in MIT's SAT Reading 25th percentile. Had we not put in all this extra effort though, our scores would have been far lower than they were.
Even though we heard things like "it's not all about scores," we still retook the SAT sooo many times, and then even decided to try the ACT. We do not regret the extra effort we put in to bringing our scores up (since it actually worked and also had such a positive side effect of making us love reading again), but we do regret the stress we felt about scores resulting in the extra and unnecessary retakes. In retrospect, we wish we would have really, truly internalized "it's not all about scores," because it really, truly isn't.
Had a tumblr with like 9 followers
We really liked making things when we were little with our mom. We learned a lot of skills from her and gained a lot of our passions from her — namely, knitting, crafting, and baking. So following this advice again, we spent a whole lot of time knitting, crafting, and baking.
We had a tumblr that we posted all of our makings on, and it had like 9 followers lol… we were just posting our projects to keep documentation of them, and really didn't do it for the social media aspect. But looking back at it, it is kind of amusing, because we wrote our posts as if there was a large audience of dedicated followers reading them.
We definitely were not secretly fantasizing about getting into MIT in order to become bloggers and we were not keeping this blog so that we could put it on our future blogger application … we're still shocked things worked out so well.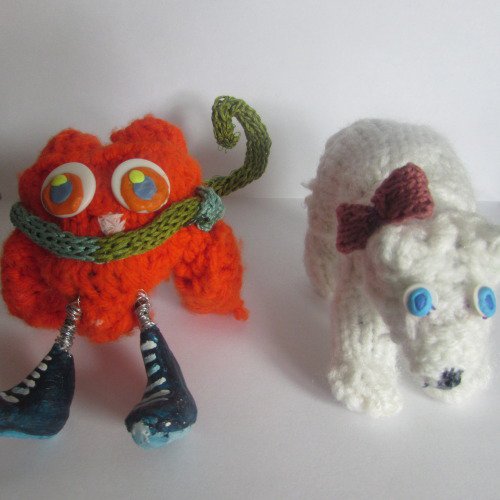 knitted owl and polar bear figurines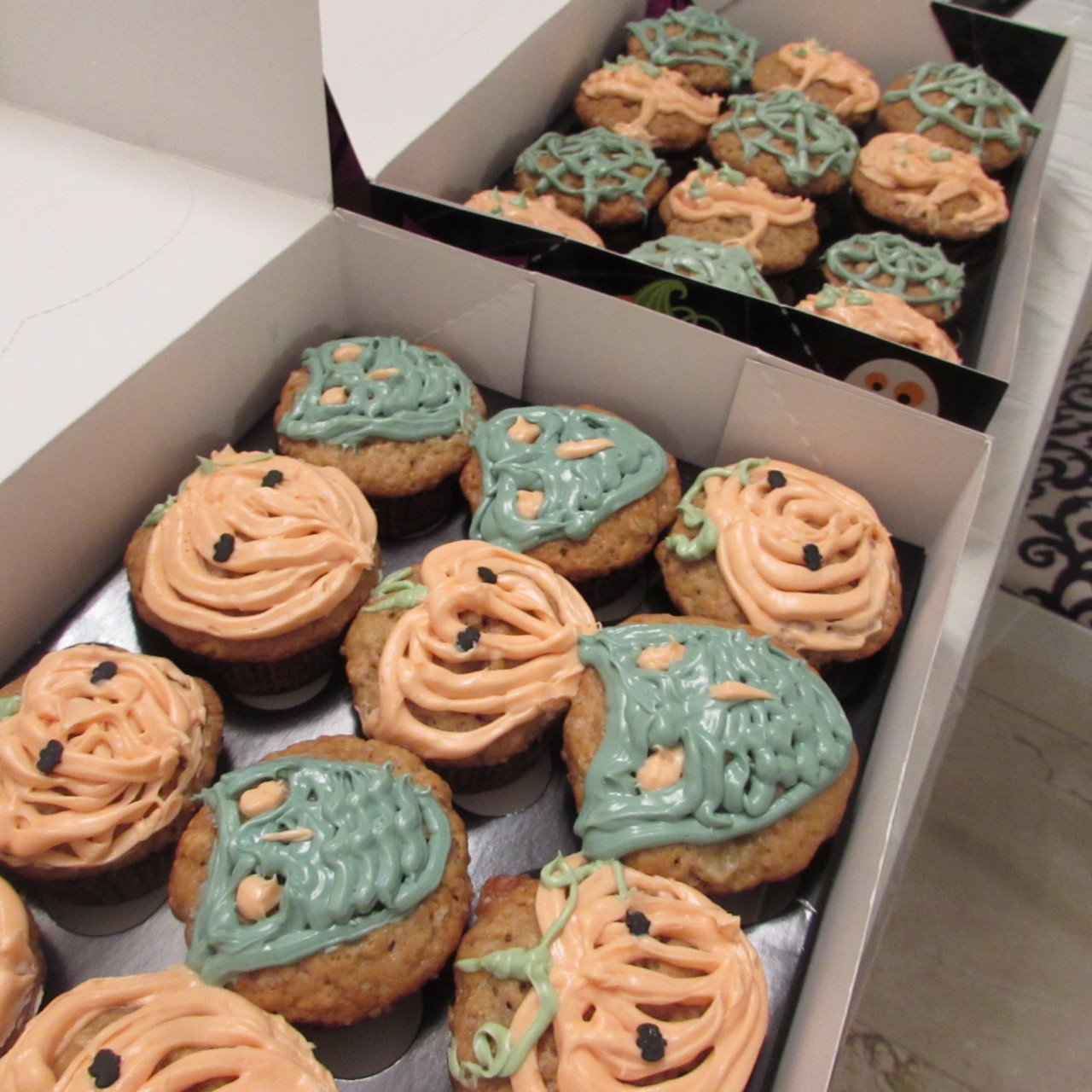 halloween muffins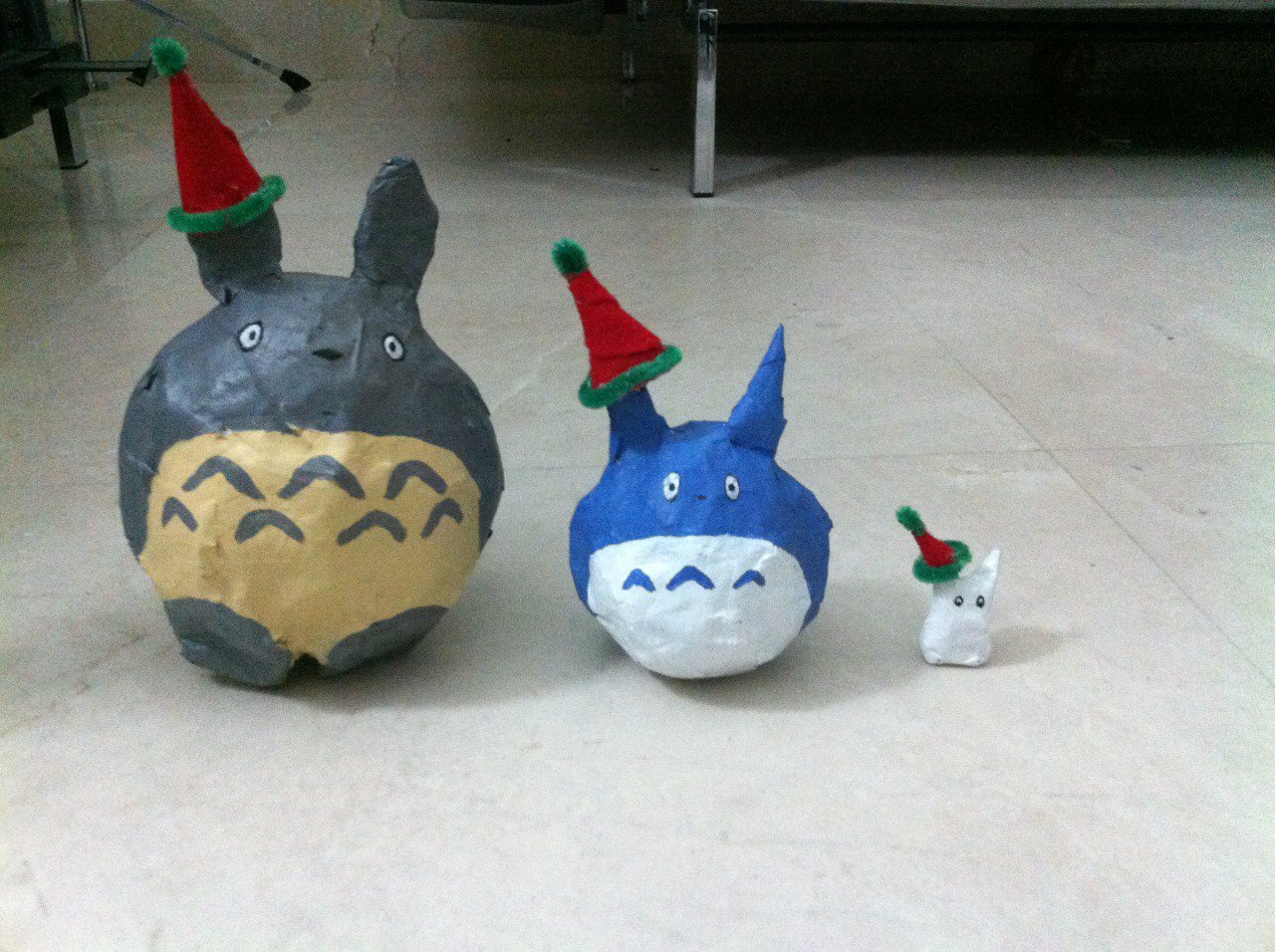 paper mached holiday totoro matryoshka dolls; we're almost certain this picture is blurry because we made this craft project in the era before we had a camera or iphones, and had to angle our desktop down on the floor and use photobooth to take all our pictures
Obsessed over these very blogs
Ever since the beginning of high school, part of our daily routine was going to mitadmissions.org to read every new post! We don't know what else to say here; we just loved these blogs!
Watched Food Network and YouTube and Cartoons and Anime and Shows and Movies (also rewatched things a lot)
When we were little, we wasted away houuurrrrs every day watching television. In middle school, it decreased a little, but not by much. Upon finding out that college was a thing, we made more or less a pact to ourselves that we had to decrease our television consumption, because we knew we needed to dedicate a LOT of time to school and studying now (like the extra SAT studying, and the extra effort to make sure we got good grades, ect.)
During breaks and any weekends we could afford it, we'd revert back to our childhood TV watching habits. Every school day though, we did allow ourselves to unwind and watch something, while we ate lunch or dinner, but only for around 30-60 minutes. For us, that time we spent relaxing was not just fun, but highly necessary for us to continue studying or doing homework after a mentally exhausting day at school (both from the classes and from the social interaction). Whether that was food network (our favorites were Pioneer Woman, Barefoot Contessa, and Giada at Home) or youtube videos or anime or movies, we always made time to consume some media!
Did mostly badly at math competitions
We were co-presidents of math club for 9th, 10th, and 12th grade. Part of the club was a tutoring service where we and a bunch of members from the club would stay after school with our math teacher to help other students. Another part of the club was the competitions. We organized for all the members to participate in a bunch of math competition, both local Florida ones and big national ones (like the AMC). We would have many meeting where we would study with our members for the competitions we'd be participating in that year.
In 9th and 10th grade, we never won any official awards, but could see how we did relative to our classmates. 11th grade is when things started to look up. After not winning anything for most of 11th grade, at the end of the year we went to a local south Florida competition called Meeting of the MathMinds. Although, our team didn't place in the top 3 (which were the only spots that were officially recognized), we knew that we only got 1 or 2 less questions correct than the 3rd place team. So, we ended up asking the scorers, and our team was actually in 6th place (technically we were the 5th highest scoring team, but there were two teams that got the 4th highest score). Then in senior year, we got 2nd place in the team competition!
And this next thing is what we were most proud of because it validated all the hours we spent knitting random things for fun: we got 1st place in the math poster portion of the Meeting of the MathMinds Competition in senior year, for presenting our math knitting project about hexaflexagons!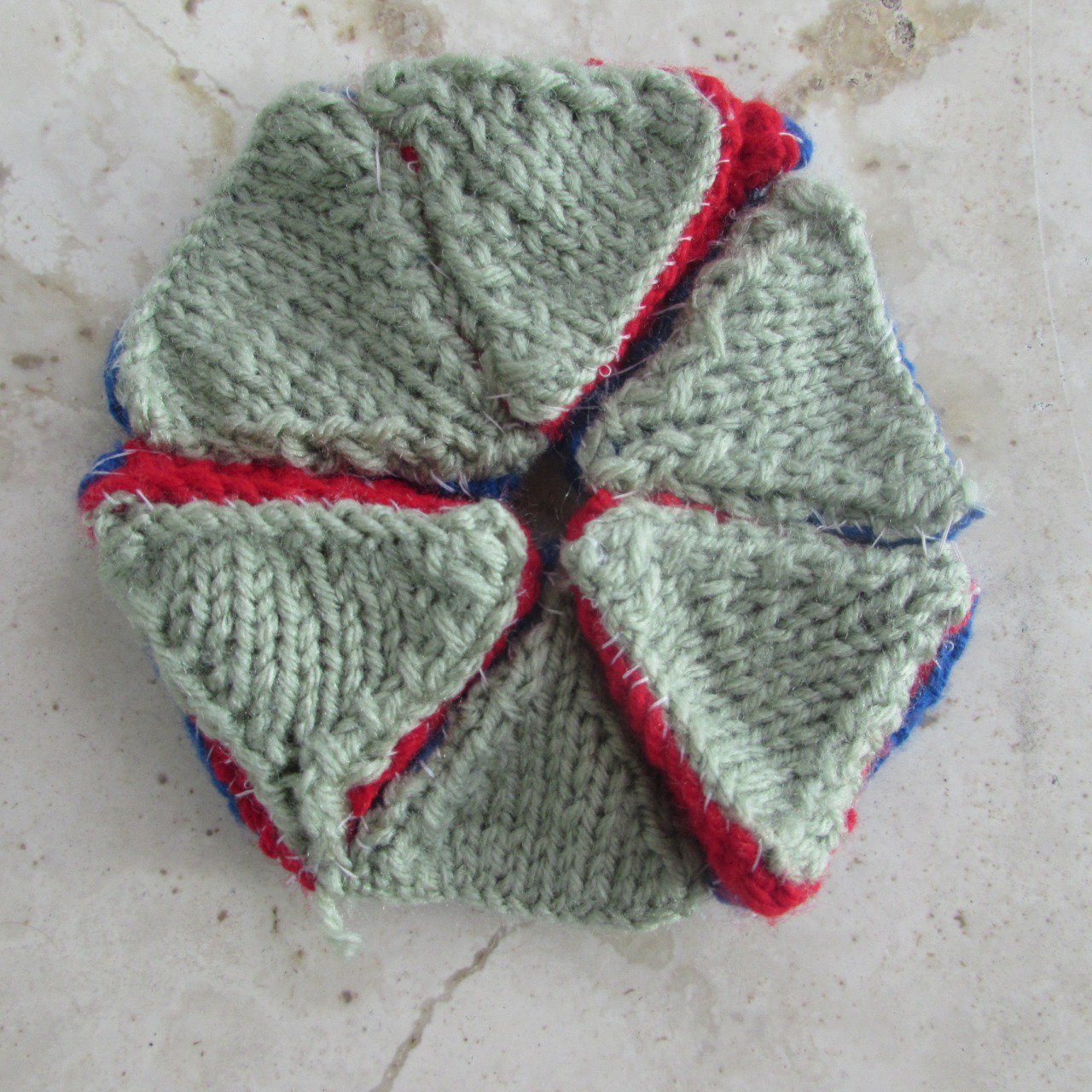 the video above shows our very first and very sloppy knitted hexaflexagon, so here is a more polished second iteration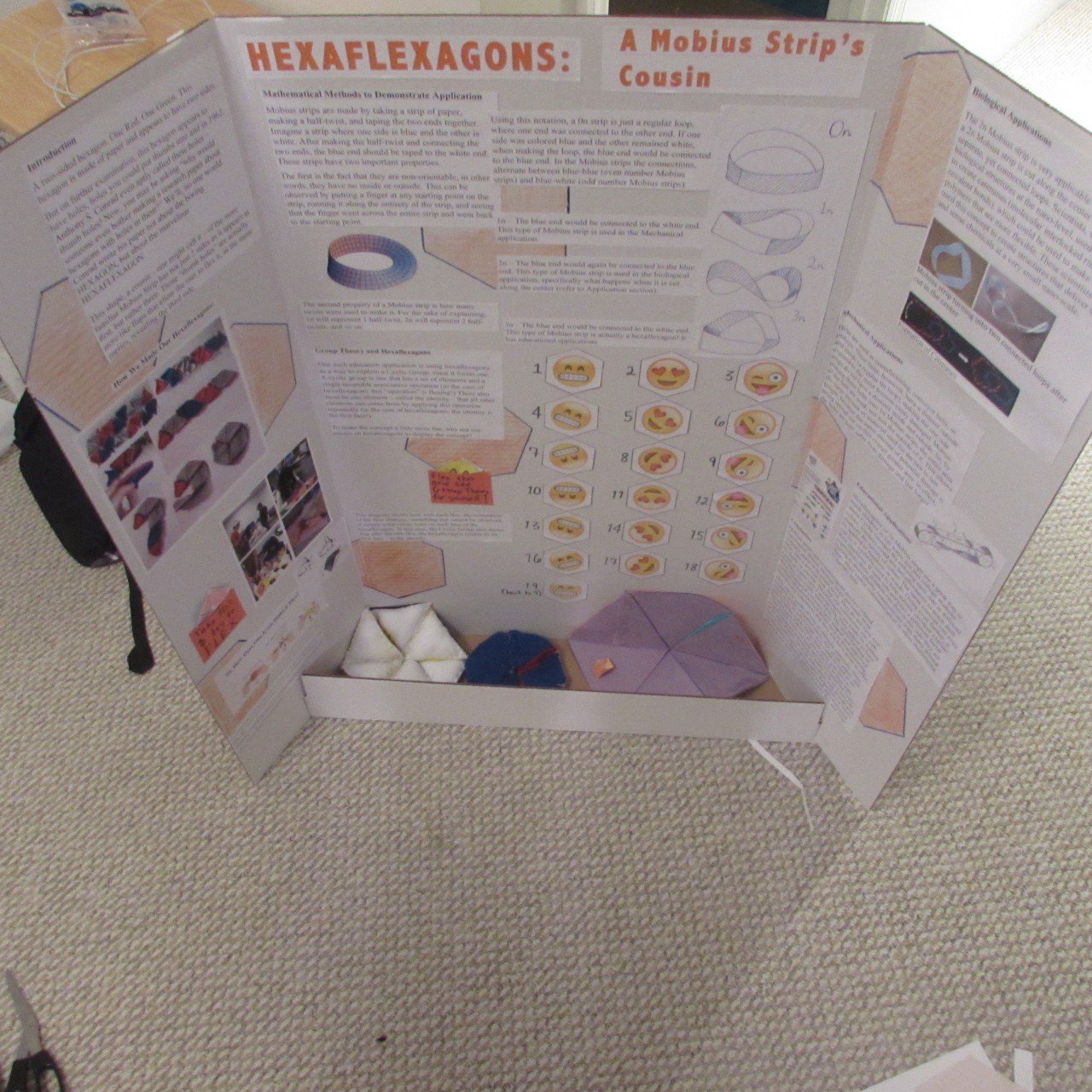 we stayed up 'till 5am the morning of the competition to get this done
post competition shock; this was literally the first and only time we've ever won first place at something :'); also, tbt to prehistoric snapchat 
Were rejected from most things we applied to
We tried applying to mannnyyy internships and scholarships and summer programs during our time in high school. We did not get 90% of them. Of the probably 20 we applied to, we only ended up getting two scholarships towards the end of our senior year, and we never got any internships or summer programs we applied for. We remember being disheartened about this pattern of rejection a lot, thinking we were totally unqualified, and would never get accepted to anything ever, let alone any college.
A message to all our fellow paranoid people: Past rejections do not predict or have any bearing on future decisions. Breathe. Please, breathe, because we did not, and wish we did.
Volunteered and interned at our favorite science museum
We really loved this one science museum when we first moved to Florida. It just always felt really magical! So, when the time came to get community service hours for our high school graduation requirement, we decided to do it at this museum! We did most of our volunteering there during the summer, but also some time during the school year on weekends. We ended up exceeding the minimum hours by more than double because we really enjoyed volunteering there! We eventually became animal handlers for two of the three levels, and were even able to train new volunteers.
In our junior year, we saw flyers in the museum for this internship program where you get to make your own exhibit. That sounded really fun to us, and you did not have to apply, just sign up, so we did! We spent the year designing and making our own exhibit, which was a series of games to help explain the phenomenon of synesthesia. We chose this topic because around that time we had watched a couple documentaries about it, and thought it was the coolest thing ever!
Gave "research" and research a try
For a while in high school we thought we wanted to pursue biology or some sort of life science. This was because we highly looked up to and admired Anastassia B. '16, and wanted to be just like her (honestly, we still do). She majored in biology and did really cool biology research, so we wanted to do that to, or so we thought.
Our first "research" project was very informal, hence the quotation marks. Essentially, we got it by talking to classmates we knew who were also interested in biology. We then all tried scouting around the community college by our high school for professors who might be interested in teaching us things. We found a really charismatic and willing professor. We spent a lot of after school hours in junior year for a couple months learning all about bacteriophages and the basics of bioinformatics, and helping out with random tasks for the professor's research project. After giving it an honest shot, we didn't really enjoy it, and as soon as a close in the project seemed evident, we stopped doing it.
We really wanted to do a research summer program in our junior year summer, because we wanted to give research another chance, specifically to see if we would like it more if we would have more involvement in the project. We applied to a couple STEM summer programs in Florida, but got rejected from all of them.
So instead, we participated in our backup, which was a summer program run through the local community college where we were taking dual enrollment courses. They grouped us up into research teams in universities around the area. We were in different teams, but both of us were in the university 10 minutes from our home, which was a nice change from our usual long commutes. Both our projects were chemistry research projects, and we did enjoy them more than the our first "research" experience.
Throughout high school we constantly felt an overwhelming sense of Not Doing Enough. We felt that no matter how much we did, we should be doing more, so we don't regret it later on. There are two specific instances we want to talk about, both involving choosing which classes to take.
The first happened in the beginning of junior year. One classmate, who we worked on the "research" project described above with, told us he was signing up to take AP Biology online (through Florida Virtual School) to learn more for our project. Despite feeling that signing up for this extra class would be too much for us (because we already were set on doing AP Studio Art by ourselves and were taking AP Calculus BC online), we wanted to take it because we thought we were Not Doing Enough. We brought this up to our guidance counselor, and, rightfully so, she was against the idea, aware of our already present extra coursework. We were very persistent, and eventually convinced her to let us take it. Within two weeks of the class, we felt extremely stressed and got behind in multiple classes, and were left with no choice but to drop this class. We felt very bad about not following our guidance counselor's initial warning and the extra work she did to sign us up for the class, just for us to just drop it later. We expressed this to her and she forgave us, as long as we followed her advice in the future.
In senior year, however, we made the same mistake again. In our high school, unlike the process to sign up for online classes (where it relied on approval from our guidance counselor), the process to sign up for dual enrollment classes gave us a lot of freedom and trust. Because we thought we were Not Doing Enough, we took advantage of this freedom to sign up for WAY too many dual enrollment classes in our senior fall semester. Within the first week, we felt we would not be able to handle the course work and had to drop one of the classes (postponing it for the next semester). Dropping this class didn't give our guidance counselor any more work, but it did give our registrar more work. She, just like our guidance counselor in junior year, was kind enough to bear with us and forgive us.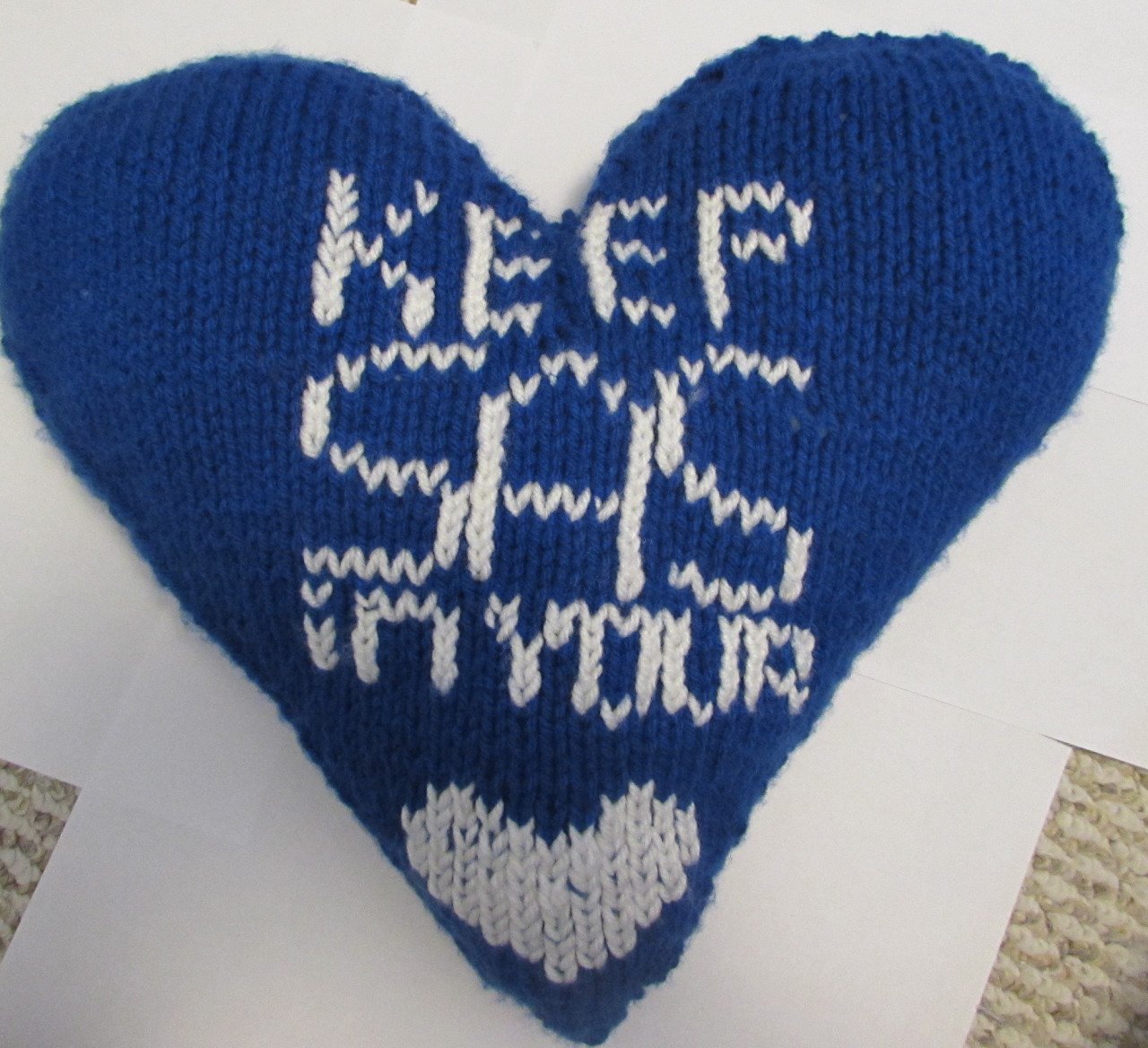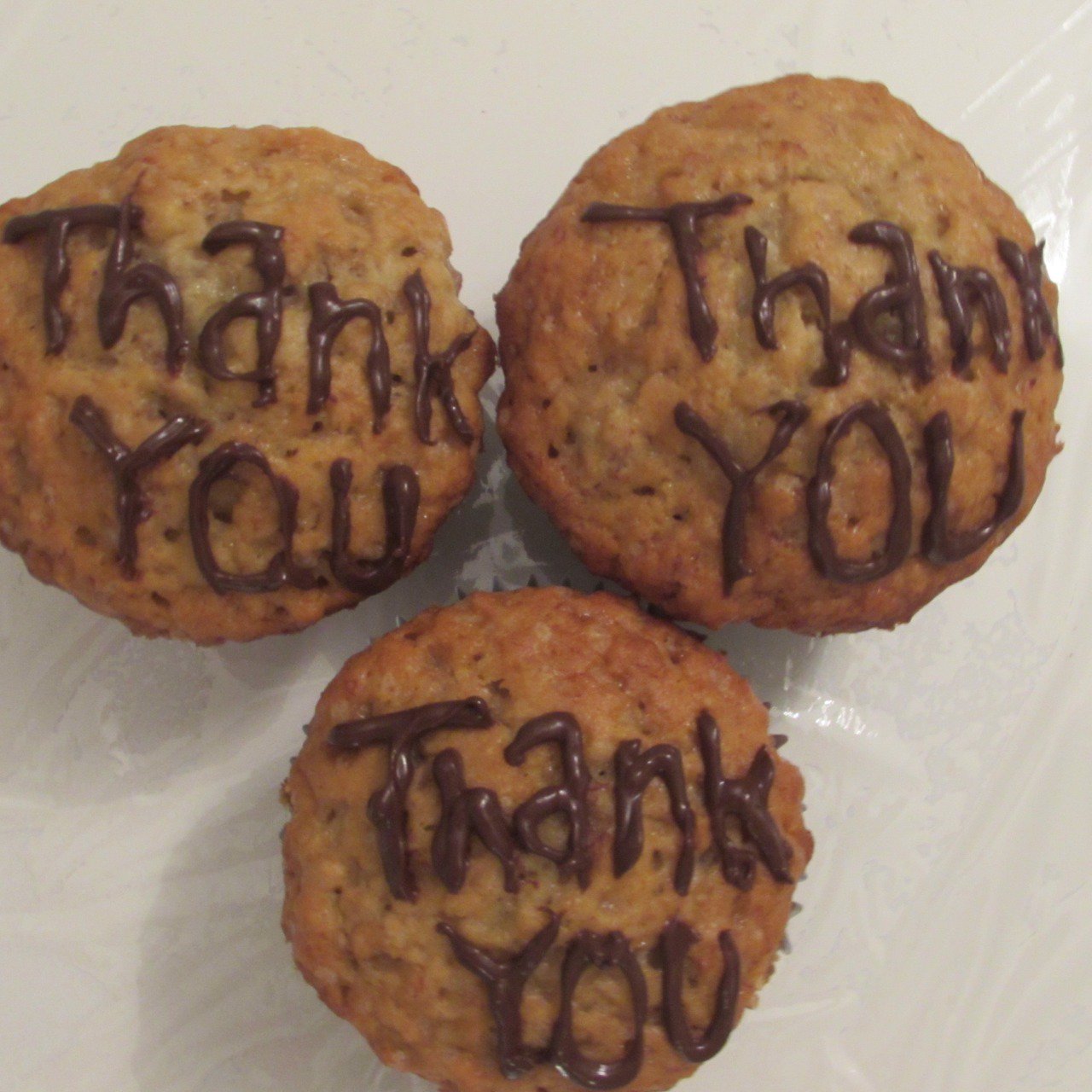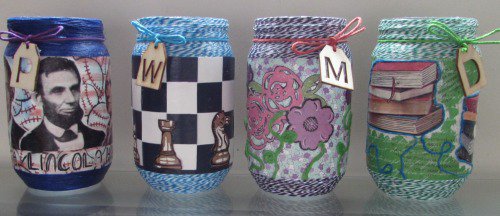 our junior year guidance counselor's goodbye present; random thank you muffins; senior year present to our high school teachers: personalized mason jar pencil holders
A big reason we made things in high school was to make them for others. We always loved gift giving because it was how we showed our affection and appreciation for others. We did this a LOT in high school, because there were SO many people who helped us along the way! From Anastassia, who guided us immensely, to all our AP teachers in 10th grade, who started our journey of rigorous academics, to all our high school teachers in our second high school (especially our english teacher), who taught us what it means to really work hard, to our guidance counselors and registrar, who helped us with our turbulent decision making and were kind to forgive us for making mistakes, and to our amazing friends, for just being our friends.
We failed a LOT in high school, and despite (maybe because of) stress, we persisted trying. We were guided by what we liked doing, but tried new things too and quit or changed anything that didn't fit. And most rewardingly, we learned to connect with our peers and make friends.
There are an infinite amount of ways to do high school and no "right" way to do it to get into MIT; we hope that reading what we did was in anyway helpful! And lastly, we said it a couple times already, but don't be like us. Step back sometimes and breathe.