Happy Valentine's Day to all you lovely readers of the MIT blogs!
I promise I haven't been trying to avoid blogging… but the last week of IAP was spent taking full advantage of my week of no commitments by exploring Boston, eating at great Boston restaurants, going to awesome events on campus, and scoring free swag (Woo! Free Swag!). Of course, the first week was needed to adjust to my new schedule and the loss of Pass/No Record :(.
But no worries, I'm back on the blogosphere.
Since today is Valentine's Day, I thought I'd give you guys some newly discovered reasons why I love MIT. (Maybe it's too early to say, but no one simply says "I like you" on Valentine's Day.)
1. MIT = opportunities, opportunities, opportunities
It never ceases to amaze me at how many opportunities there are at MIT.
Let's start with the hundreds of student groups and organizations that are on campus.
If you love to sing and dance, there's a group for that! If you like playing Starcraft, there's a club for that! If you enjoy playing Ultimate Frisbee, there's a team for that! I can pretty much guarantee you that no matter what your interests are, you will be able to find a group of people who also enjoy that activity here too. Or, if you like to try new things, you can find a new activity that you love!
The job recruitment here is also intense. Over IAP, I wandered among the booths at TechFair, enjoying the technology, when it dawned on me.
"Wow, all these companies are here because they'd love to have MIT students work for them someday." Pretty incredible.
Lastly, the UROP program here is a great chance to dive into some neat projects. I've been on the hunt for a UROP, and just browsing through all the project openings excites me! I can't believe some of the opportunities MIT students have to work on the next big thing!
2. MIT is a creative community.
MIT students are creative. We express our creativity in many different ways. Some sing. Some dance. Some hack. Some people do all three in MIT's Musical Theatre Guild's musical Hack, Punt, Tool. After watching performances of multiple different groups on campus this past semester, I've realized how uniquely talented everyone at this wonderful place is. We're creative when we work and when we play. It makes for a really interesting environment at all times, no matter how challenging times become. But the best part is that we all work as a community despite our differences in interests. When it comes to classes, we help those that need help with the annoyingly difficult last question on the pset. When a hallmate or neighbor is performing or playing in a game, we gather people to watch and cheer them on. I still find it really exciting that so many people with different personalities can work together to make such a supportive community.
3. MIT classes are awesome.
I don't think I've blogged about this, but since coming to MIT, I've finally come to a decision about whether I want to be Course 2 (Mechanical Engineering) or Course 20 (Biological Engineering)…. and I've decided to be ME (get the pun?)!!
Why you might ask? Well… it all started with Angry Birds. Not the kind that you play on your phone… but THIS kind.
Ever since I ran into the 2.009 (Product Engineering Process) class on Killian Court, I've decided that Course 2 classes are super legit. For this reason, I was slowly sucked into Course 2 (although I'm a little undecided about straight 2 or 2A-6, a hybrid of Mechanical Engineering and Computer Science).
To start my journey into Course 2, I've decided to take 2.00b (Toy Product Design) this semester.
The best way to describe 2.00b is…well… FUN :D!
Not only are the lectures interactive and engaging, but the activities are really neat.
For example, generally during a class's first lecture, people sit around and listen to the lecturer talk.
In 2.00b, we fingerpainted… with a partner's fingers!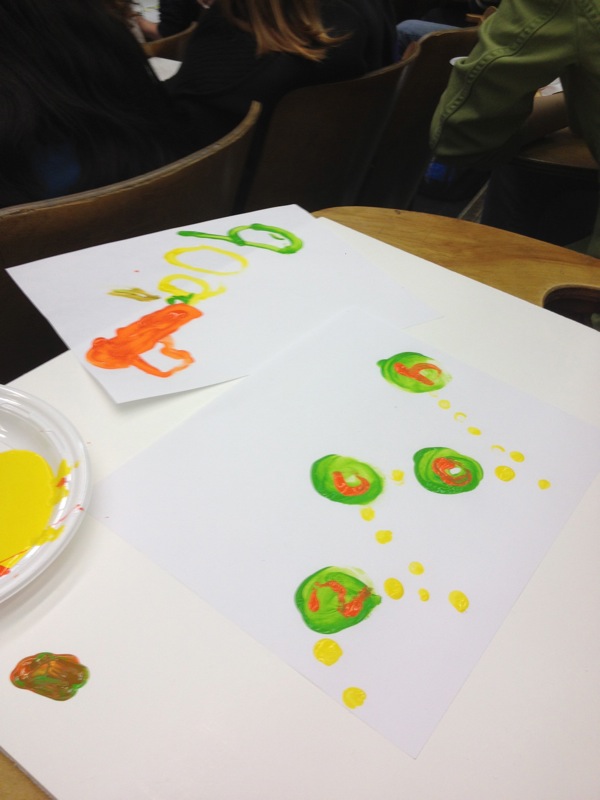 But it only gets better! For our second lecture, we played with toys! Of course, we played with toys to classify them on the play "pyramid" as a combination of fantasy, sensory, constructive, and/or challenge. This is, after all, an institution of learning!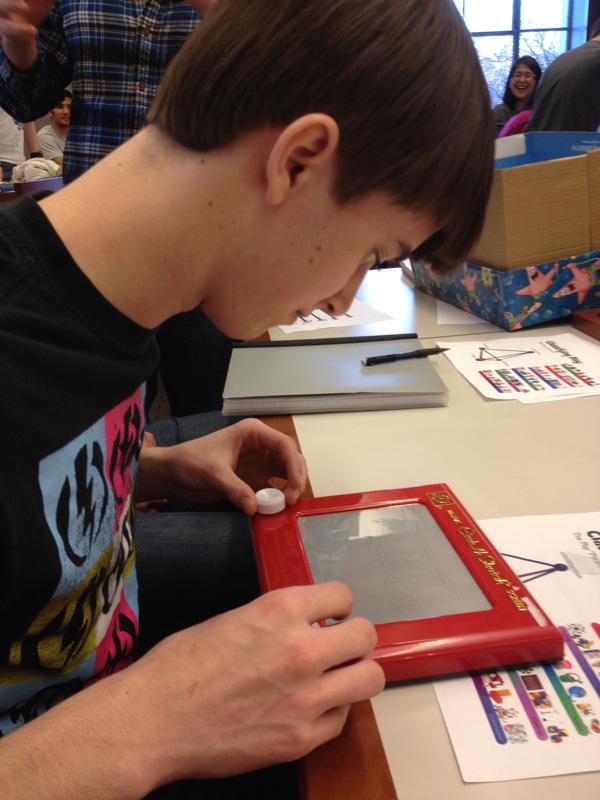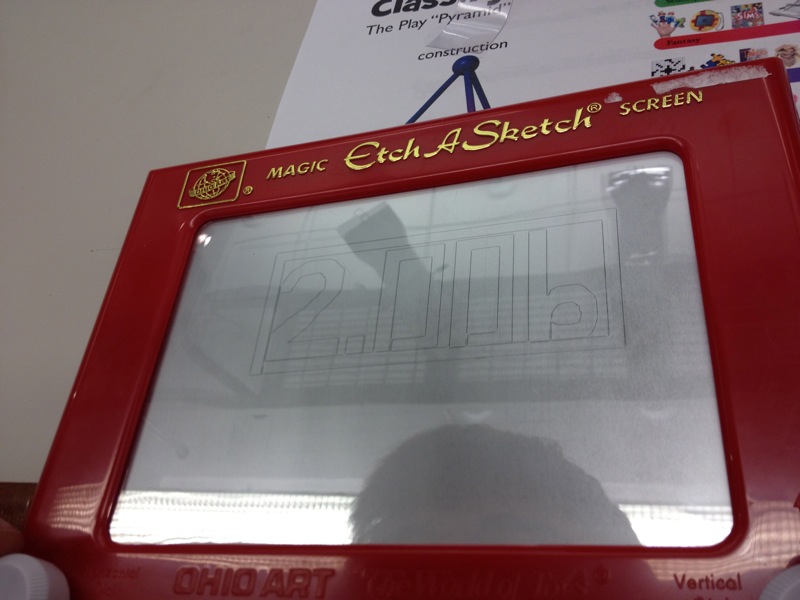 My friend Noa '15 playing with our toy, the Etch A Sketch. Look at that beautiful 2.00b logo!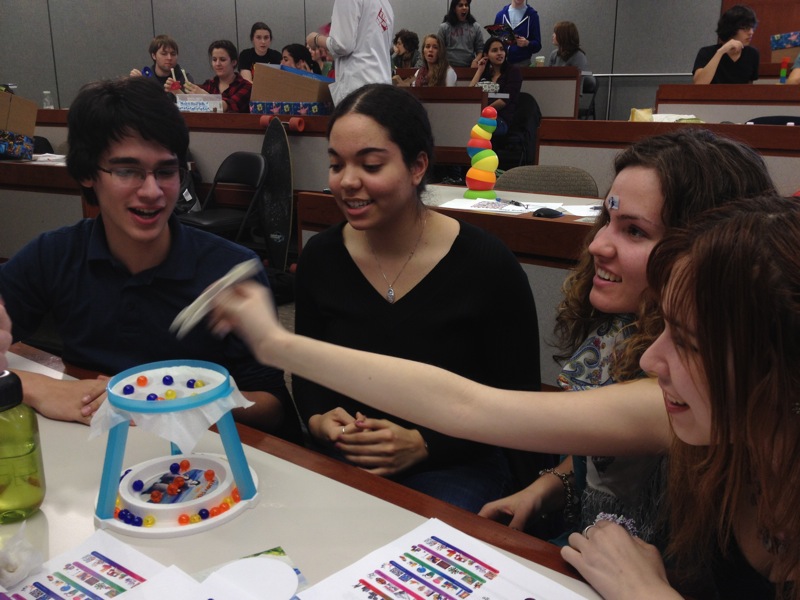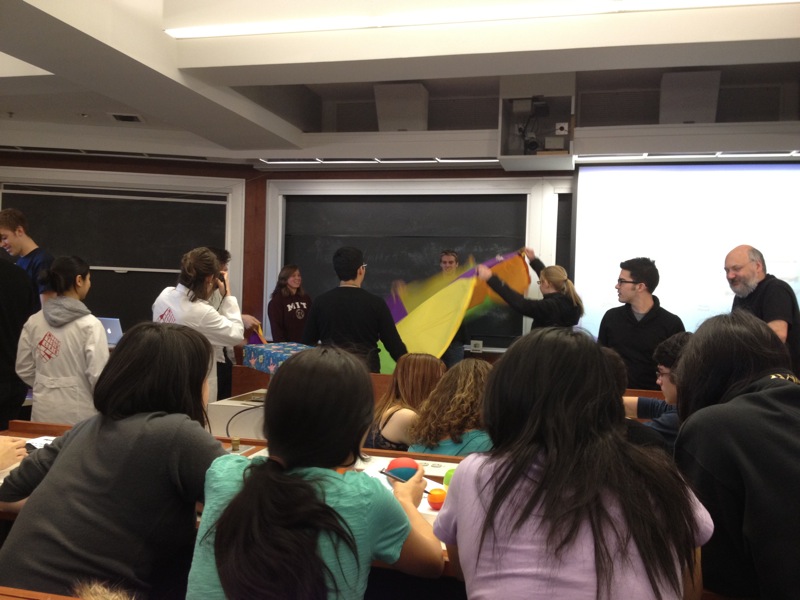 Some of my fellow classmates having fun with their toys!
Although 2.00b has definitely already claimed the title of "Favorite Class of the Semester", I'm also enjoying my other classes:
8.02: Electricity and Magnetism- Sparking an interest in subatomic physics
5.111: Principles of Chemical Science- Fun with molecules
One neat thing we've done in this class is model Geiger-Marsden's gold foil experiment (also sometimes called Rutherford's gold foil experiment) with ping pong balls! We then used the data from our "experiment" to calculate the size of the ping pong ball "nuclei" in the golf foil. Check it out:
18.03: Differential Equations- Modeling the world, one equation at a time!
CMS.376: History of Media and Technology- An insightful look back on how technology has influenced society over the course of history
:) Hope you're in love with MIT too now!
9 responses to "Why I Love MIT"