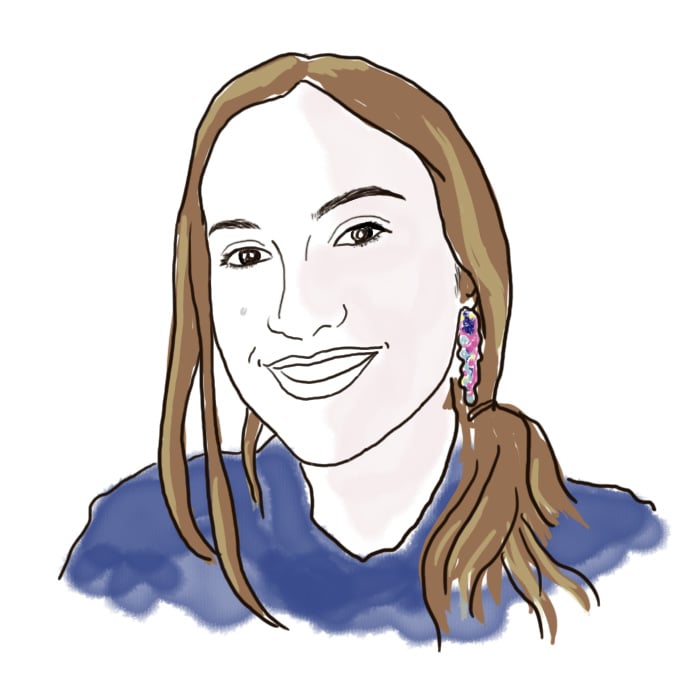 Santa and Poseidon in a winter wonderland.
Here's what I woke up to on Friday morning: massive snowflakes, falling sideways and sticking to everything.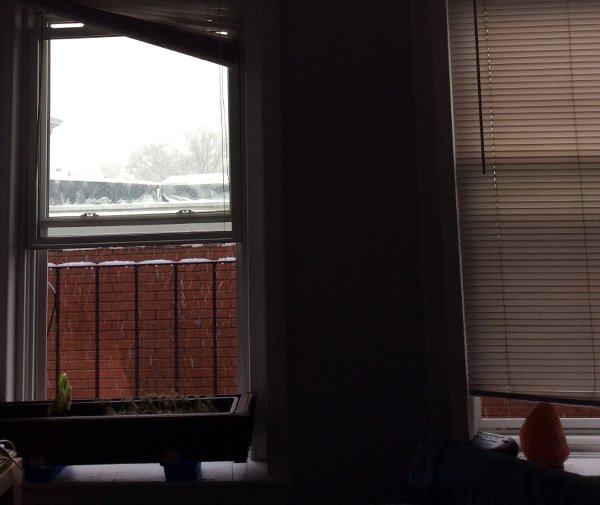 I wasn't brave enough to take photos during the actual storm (I also thought I'd be fine with a sweater (which got soaked) and a dollar store umbrella (which broke)). Here are some photos from friends who were more brave than I was (click for larger versions).
Alewife, five T stops from Kendall Square/MIT, by YQ L. '16, whose paper art you saw on Sunday:
Kresge, by Erin M. '16: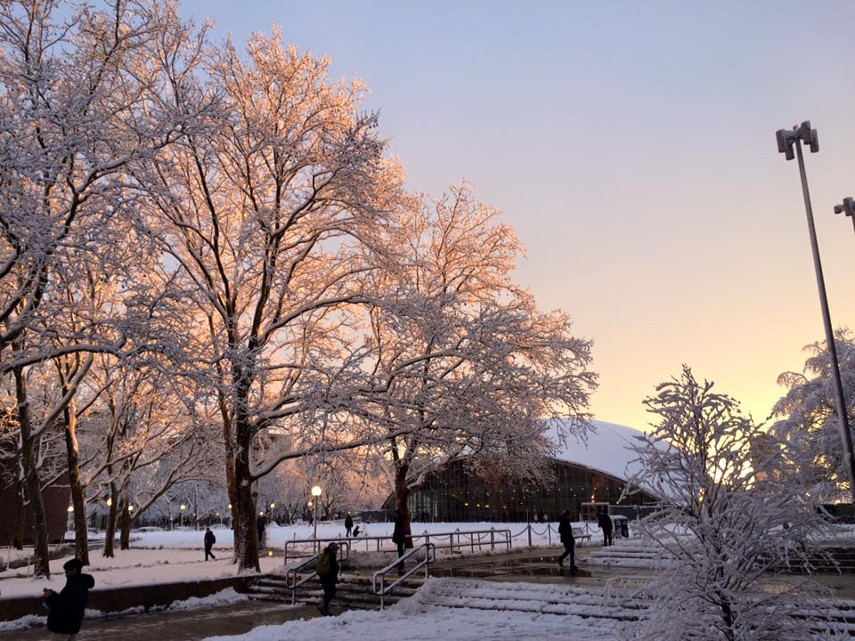 The east side of campus, viewed from the courtyard outside Medical (first three photos) and Killian Court, as seen from admissions (next two), by Chris Peterson:
(You might recognize these from the admissions Facebook page.)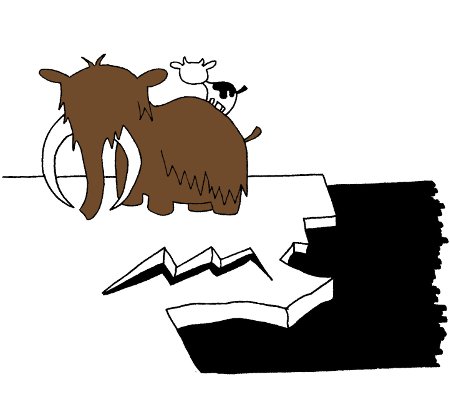 Running that evening was surreal. It felt like we were in a tunnel of snow, from the ground up to the trees and around again. The next morning it was partly melted, and the roads were cleaned. The snow looked like flowers on the trees—a weird frozen springtime, still and empty and unalive. Here was our view on Saturday: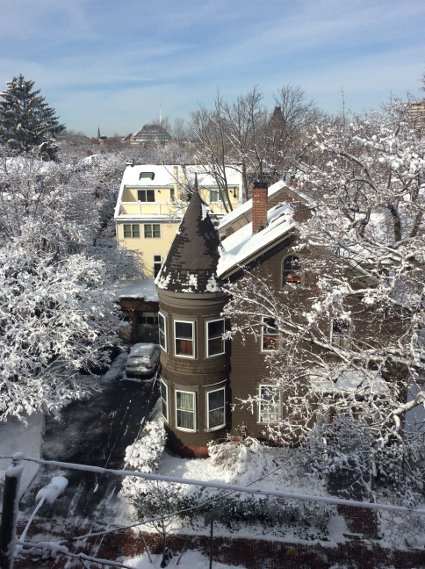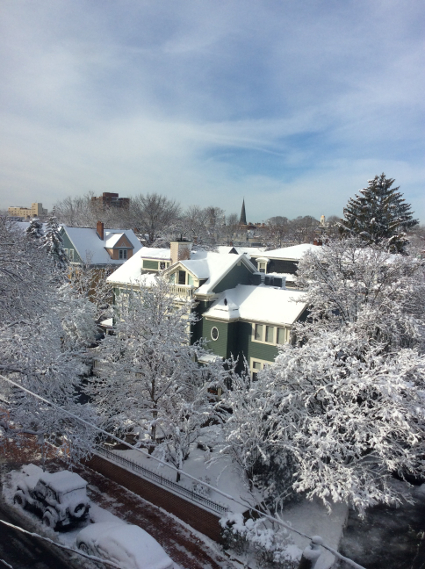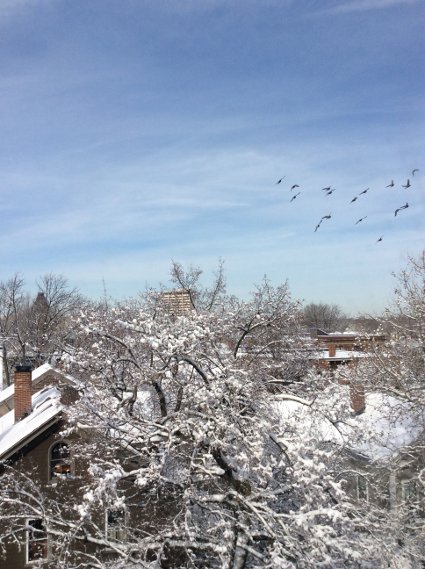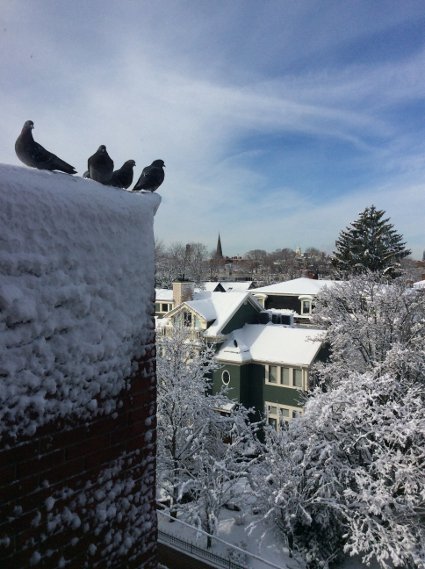 I noticed while taking the first photo in this blog post, on Friday morning, that two of our minifigures had pleasantly and similarly textured white beards. Though they have very different professions, in a way Santa and Poseidon both have a lot to do with to snow. I took them with us to meet up with Ami G. '14 MEng '16 (like me! but she graduated now-ish/a semester before I (hopefully) will) and Geronimo M. '17 and Kate T. '16 and some new friends. We got tea and then everyone else got fries while I watched, at a place with a drink named after my black heart (Lydia's black ♥).
Here are Santa and Poseidon on Ami's hat, together yet separated by what you might call an ocean of time-distance. Luckily Ami is a physicist and her hat is science-magical and they got to be together after all.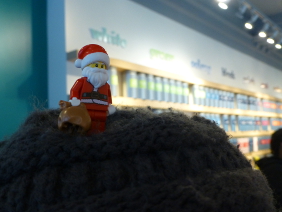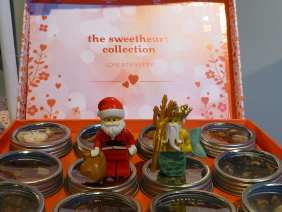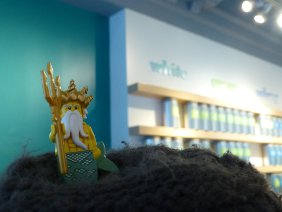 Here they are again, claiming that poutine for the North Pole/ocean.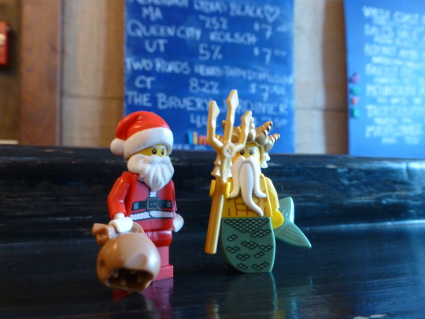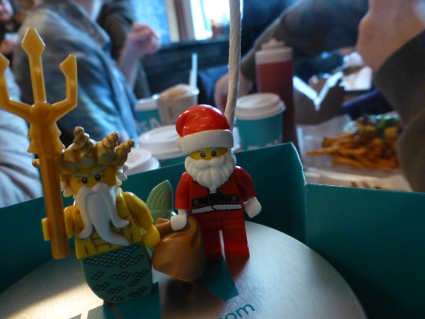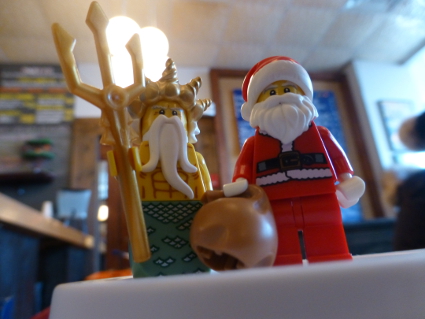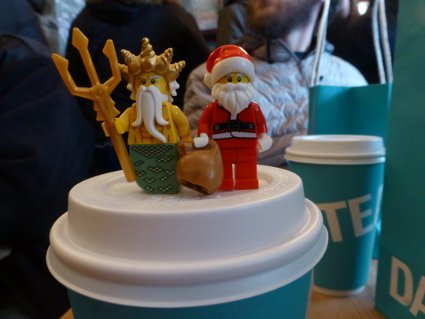 Here is Boston Common—
—and Beacon Hill (as before, click for larger versions).
Finally, we are back in Cambridge (those tiny lighted trees are in Kendall Square, by MIT).

On Monday and we had a new storm. Here are Stata and a view from the Infinite.
If you're more info apocalyptic snowy constructionscapes, we have those too.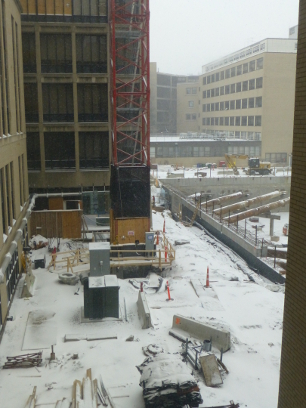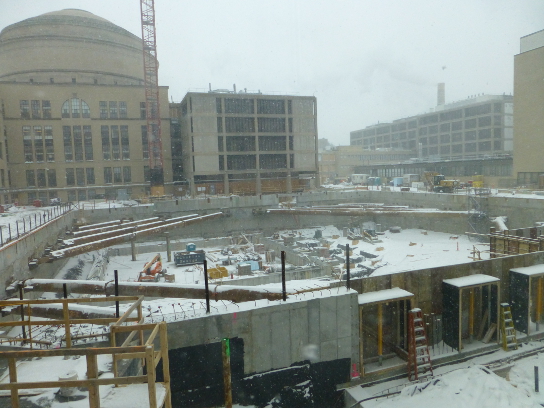 Here's a view of Boston (hint: you can't see Boston) from inside the Great Dome, and again from outside on Killian Court. You can see the grey expanse of the Charles under Boston.
Here is Killian Court itself, probably a familiar view.
You get a view of Killian Court from a lot classrooms off the Infinite, many of which have massive windows and are often empty.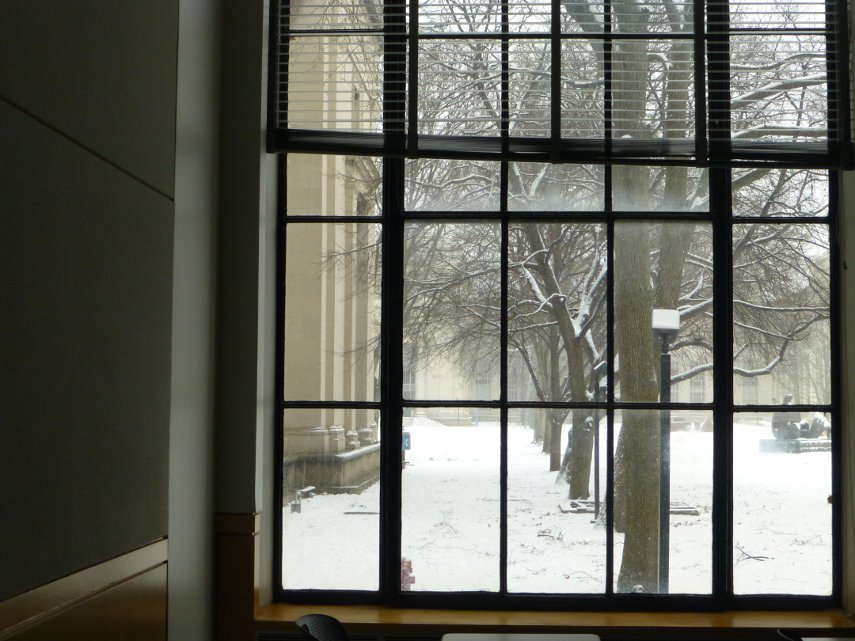 Here is the Charles again. Boston is past the river and Memorial Drive is in front of it, and the Harvard Bridge is on the right behind the trees.
Here is the inside of the Small Dome, or Lobby 7, just at the start of the Infinite Corridor. We are looking out at Massachusetts Avenue.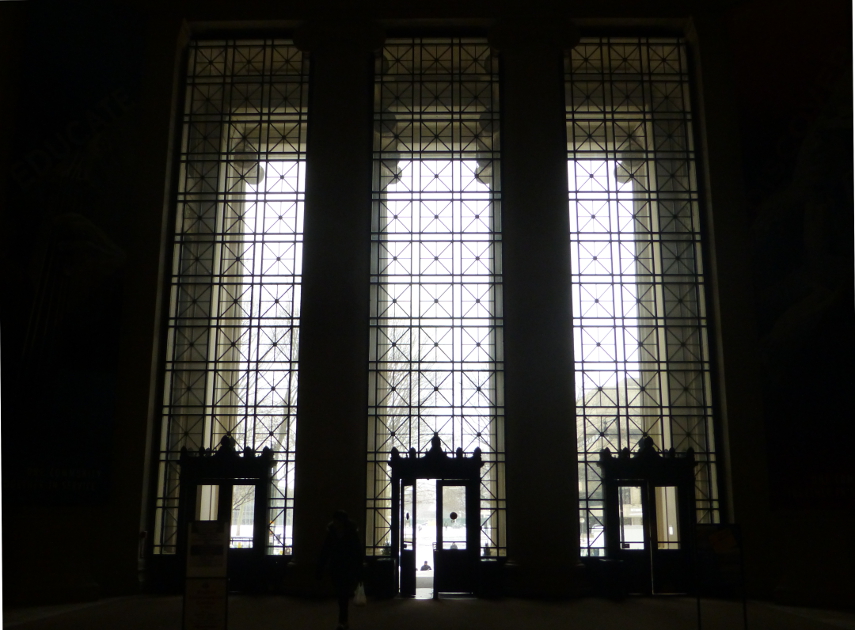 On the other side of the columns are students waiting to cross the street just outside. The Student Center is on the right across the street, and Kresge Auditorium is on the left. You can see the Alchemist in front of the Student Center. The west side dorms are farther left, past Kresge, and the Z Center is on the right past the Student Center. The student huddle is usually less dense. It was cold.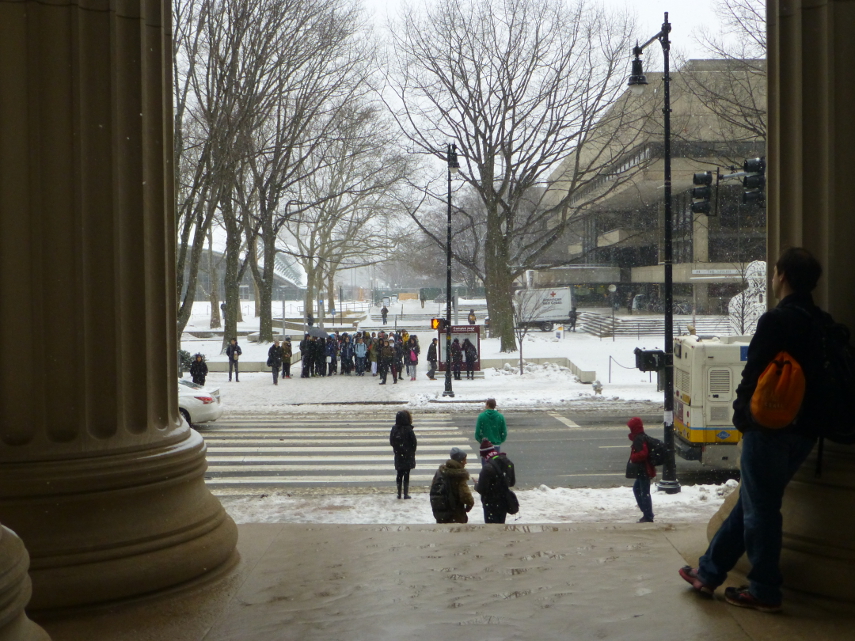 Finally, home again.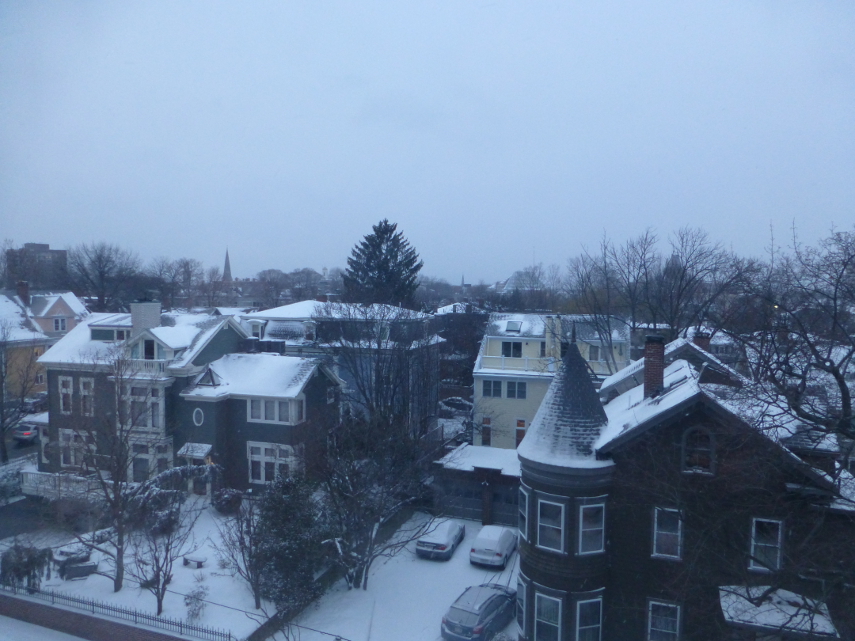 There was no sunset on Monday, just a deepening grey sky. It snowed through the night, though it was never really night, the sky glowing, snowflakes darting through the light of the streetlamp under our window.