Sila queries: How good are the social departments at MIT? And, at the risk of sounding like a complete idiot, I have to ask: do people always talk about science at MIT? I mean, obviously it IS the institute of "technology", but are people socially aware,m for example? Are there people strongly interested in the arts, politics and literature?
Irena similiarly queries: I'm a little concerned about MIT's degree of toughness…is it possible, once one has established effective study habits, to maintain decent grades with time to do other things besides study? And I got the impression (somehow) that despite the scary workload, you guys find some fun/enjoyment in the work and what you're learning. Is that true? (I dearly hope it is…)
Let me start off by saying this is probably one of my favorite questions. I get it fairly often, and I'd say it's pretty valid since MIT students have this reputation of never going outside, never talking to other people, and never showering. This is definitely not the case – as a matter of fact, I do shower. Daily. (If that's not enough for you, I also wash my hands.)
At this moment I'm sitting at my kitchen table feeling every butt muscle I never wanted to know I had, having just got back from two amazing days of skiing in New Hampshire – a bunch of the ESG kids took a weekend away to fall down a 3-mile trail. So not only do we get outside, we get out of MIT pretty often! Going to school here is really convenient in that we actually have a campus, since we're not directly in the city, but if you walk across one short bridge you're right in Boston. Or you could, y'know, take a three-and-a-half hour car ride to New Hampshire to ski down a 4,000 foot mountain. Your call!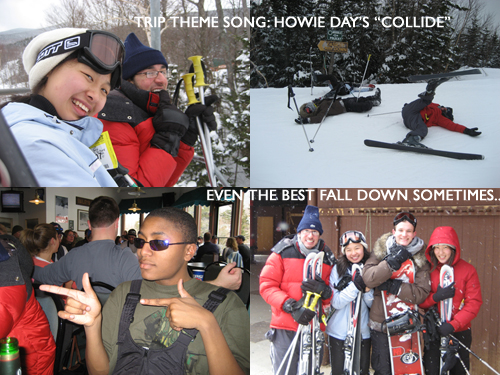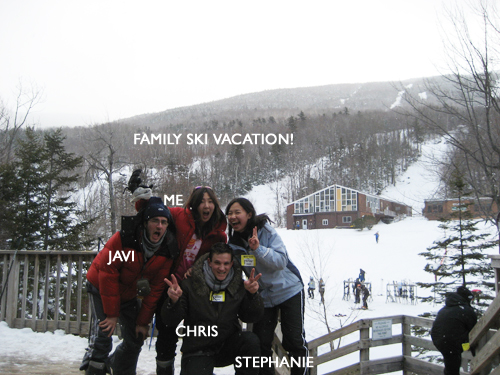 A few days before the trip, MIT Heartsafe, MIT ARCTAN (American Red Cross Team And Network) and MIT-EMS teamed up to teach around a hundred MIT students and affiliates CPR in three short hours – on a Thursday night. Thursday nights are pretty notorious for having a pretty intense workload – there was an 18.03 test, a 7.013 (ESG) test, and a 5.12 problem set all the next day – and yet we still had a turnout of about a hundred MIT students coming to learn and teach CPR and AED use.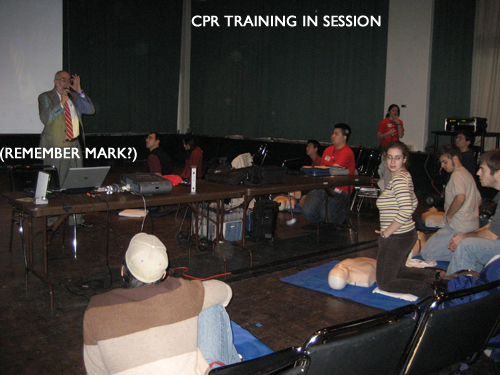 (Mark was our EMT instructor who we spent eight hours every day with over IAP. He was a pretty
amazing artist
, if you'll recall.)
CPR is an incredibly important procedure – early CPR and defibrillation can increase the chance of survival of someone in cardiac arrest by more than 50% – and many who need CPR don't get it. MIT was the first university in the nation to be named a
Heartsafe Community
for having several public access AEDs available, as well as having a significant percentage of its community CPR certified. We upheld our status by holding our second annual mass CPR class, an almost entirely student-run event: we had student instructors, mostly our EMTs, as well as student volunteers running around teaching people how to save a life. The Fray couldn't've done any better. (Wow, I'm really pulling out the bad pop song references, aren't I?)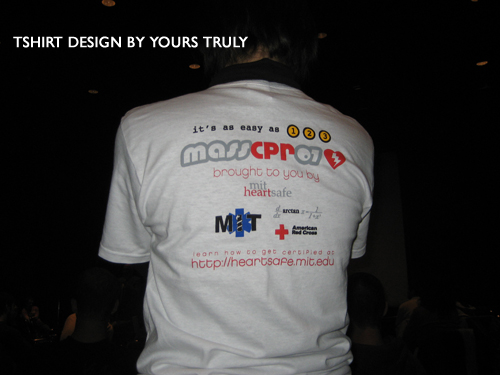 So I said that I really enjoy this question – and I do, to an extent. I enjoy defying stereotypes. But it continues to confuse me as to how people can continue to believe that MIT students are completely one-dimensional, unhappy geeks who have no idea how to interact socially. We do other things than problem sets, actually. We have
cheerleaders
and
fraternity guys
as much as we have
UA representatives
and
econ majors
; we have people who run the
Boston Marathon
and play
field hockey
and ride
trains
. We have
physicist photographers
and
radio show hosts
. We also have awkward Asian girls who design t-shirts for CPR classes.
(Did I miss anybody?)
The fact of the matter is, MIT students can't be defined by any one steretype, and it's a mistake to make one-sided assumptions without experiencing it for yourself. The last documented time I answered this question, I wrote that the best thing you could do would be to come here and see what we're like. And that's still true- to understand the balance MIT students have crafted between work and play (and sleep), you shouldn't have to take my word for it. Come and visit us this weekend! We'll even have Tim the Beaver here to greet you.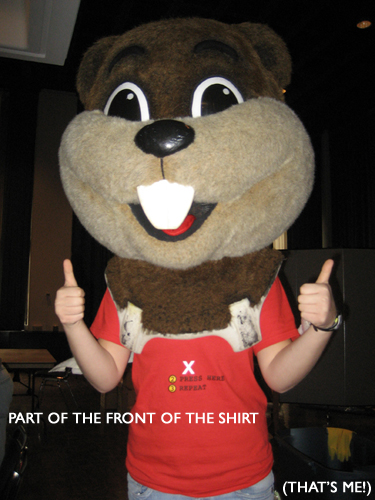 19 responses to "Work Hard, Play Hard"