A story from a few years ago:
During the 1994 World Cup, I lived in Somerset County, New Jersey, where the Italian soccer team happened to be staying and practicing. I had an enormous crush on one of their star players, Roberto Baggio. (It was in no small part due to his braids, I'll admit.) My family went to watch them run drills at a nearby soccer field one afternoon, I bought posters of him in Little Italy, NY, and even went to an opening-round game at Giants Stadium (I think) to cheer for the Azzurri.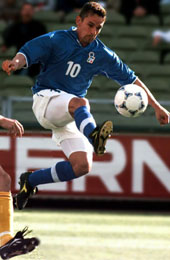 Sadly, Baggio missed the final penalty kick in the World Cup final match against Brazil. I had a good cry about it and vowed that I would never support penalty kicks as a way of deciding a winner.
(Side note: Roberto Baggio actually (awesomely) continued playing soccer after that miss and had a great career)
Which is why I celebrated with a heavy heart yesterday. I watched the first 80 minutes of regulation play in my apartment, but couldn't stand the intensity of the game so I went out to run errands. While walking along Polk Street in San Francisco, I could eventually tell how each team was doing based on where I was. For instance, if I passed a French bistro and heard patrons cheer, I knew France had possession of the ball. During PKs, I heard an Italian trattoria erupt and learned France had missed a PK. Crowds of people clustered around sports bars with large televisions that faced the sidewalk, and for the last 3 PKs I joined them.
And so the countdown to 2010 begins.
8 responses to "World Cup Finals"