This story ends with me losing my phone on a drone on a yacht on an island in an ocean, but it's going to start with me at a desk in an office on campus on the mainland. It will get progressively exciting, I swear.
One day last summer, while I was working as a UROP in the Media Lab, debugging a server at my desk outside the office of the graduate student I was working with, a delivery man walked into our lab with a large package in tow. It turned out to be for my grad student (I say "my", but in reality I am more his than he is mine), so I intercepted it for him.
When he opened the package later, it turned out to be two Amazon Echoes. Nothing that our lab does is really related to anything the Echo can do, and they're fairly expensive, so I asked him why we got them:
"Oh – they seemed cool, so I asked [our group director] to get a couple."
And thus I learned one of many lessons the Media Lab taught me this summer:
Lesson #1: The Media Lab has a lot of money
This manifests itself in many ways, from random tech purchases to the ping-pong table in the lab commons to the 8K (7680×4320!!!) display in the corner to the quality of the food is never in short supply. My group catered lunches to our group meetings every week that were higher quality than I (as a broke college student) would normally afford for dinner. I never missed a group meeting.
Another seemingly spontaneous addition to our lab's gadget arsenal was a 3DRobotics IRIS+ Drone, which joined our family early last spring. On its first day here, our group director (let's call him Larry. He oversees my graduate student), having never flown a drone before, took it to the beach to test it out. I'm not sure why Larry took the drone the beach, as opposed to some other large open clearing, but he did.
He turned the drone on.
He flew the drone up.
And up.
And over the water.
And a little more over the water.
And down.
And we never saw the poor drone again.
Then, having learned his lesson, he promptly ordered another 3DRobotics IRIS+ Drone from Amazon with 2-day shipping. Although the Tragedy Of The Drone illustrates Lesson #1 nicely, it also reveals a new lesson:
Lesson #2: People in the Media Lab like to have fun.
And now the story gets exciting. One of Larry's hobbies, aside from cutting edge technology research and drone flying, is yachting. Sailing yachting, to be specific.
Larry also owns a sailing yacht (although not purchased with Media Lab funds, thankfully), on which he will occasionally disappear for weeks on end. If Larry hasn't been seen around the lab for several days in a row, he's probably out sailing.
He is so insanely generous that, on the last day of summer, he invited my entire group (even lowly UROPs like myself!) to go sailing with him to Baker's Island, just outside Salem, MA.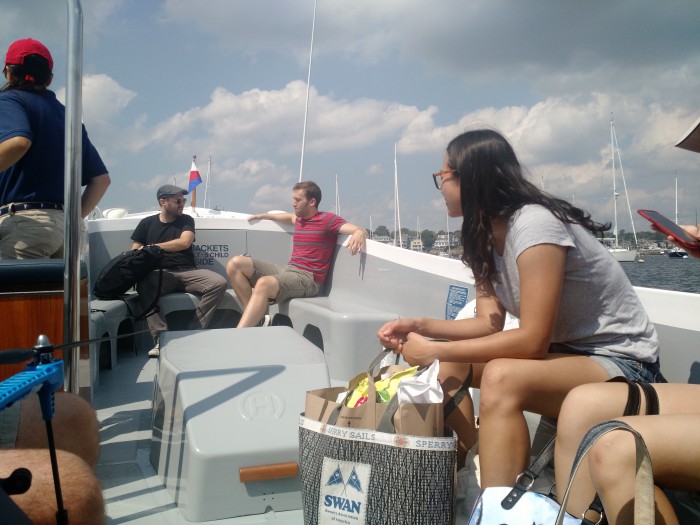 I did not decline the offer.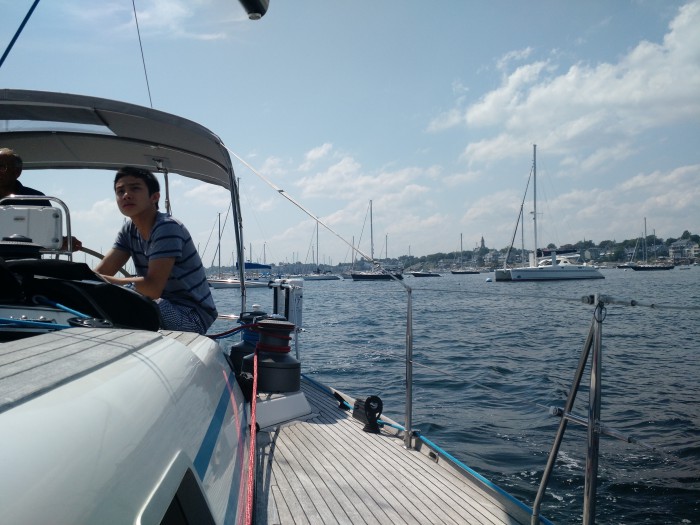 The weather just happened to be beautiful.
This drone had no idea what happened to the one before him.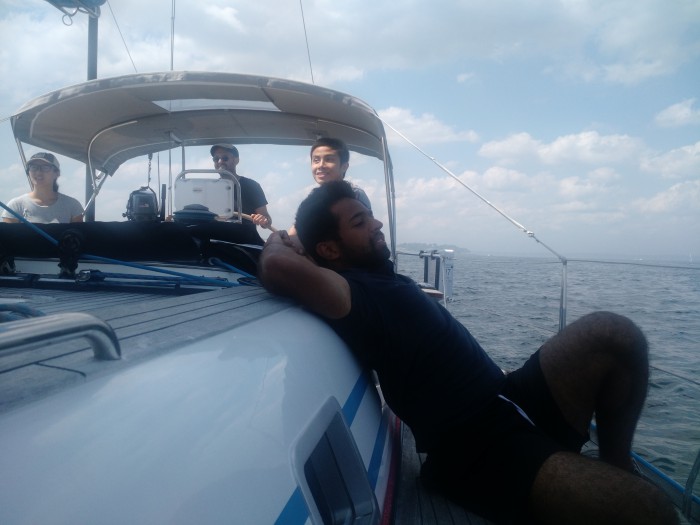 Remember Lesson #2.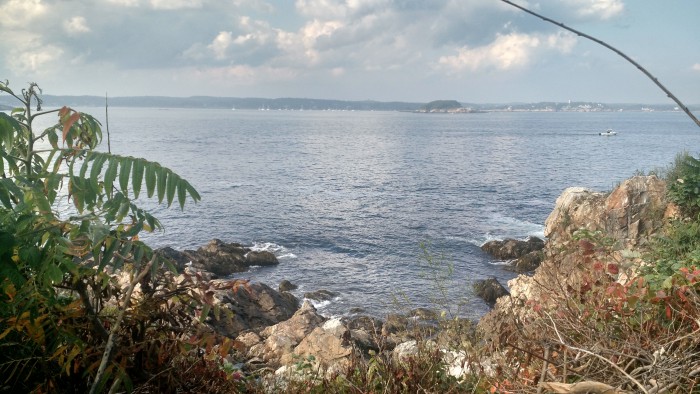 After arriving at Baker's island, we anchored offshore and took a raft to the beach, military assault style. We hiked around, ate lunch on the beach, and discussed strategy for the upcoming years, as well as why there haven't been any outstanding baseball batters for a long time (you'd be surprised at how much mathematics was involved). Then, of course, it was time to fly to drone.
Unfortunately, half of the fun of flying a drone is looking at footage taken from the drone afterwards, and, while our IRIS+ was fully charged, the attached GoPro was unfortunately out of battery. Naturally, I decide to be the hero, and offer to tape my smartphone to the bottom of the drone, which seemed like a decent idea at the time (we're all engineers, right?). We got some tape, started my phone's video camera recording, and tried our best to secure it without blocking the camera. Then we handed the remote to Larry and braced ourselves It was at this point that I remembered that Larry has a 0-1 lifetime record with drones.
However, it was too late to back out, and, after a reassuring "How does this work again?", Larry turned the drone on.
He flew the drone up.
And up.
And over the lighthouse.
And past the lighthouse over the forest.
And down.
And the drone, with my phone still attached, disappeared into a large expanse of trees and shrubbery.
But I wasn't too perturbed: after all, I had the foresight to anticipate this scenario, and had previously turned on Android Device Manager, which would allow me to locate my phone's GPS position in case of loss or theft by drone. However, it slowly dawned on me that in order to use Android Device Manager, I'd have to log in to a someone else's phone. But because I have two-step authentication enabled on my Google account (extra security sounded good at the time!), I wouldn't be able to do that without retrieving a verification code that would be texted… to my phone.
Fortunately, Robert '18 was luckily observant (and intrepid) enough to find the drone on his own, lying fortuitously visible just to the side of one of the only trails on the island. My phone had even survived, and had been recording 20 minutes of peaceful cloudy sky while I was stressing out.
Here's the same story, but told from the drone's point of view.
Which leads us to the last and most important lesson I learned over the summer:
Lesson #3: Never let anyone fly a drone with your phone attached to it