You know you're in a sad place when you're so desperate to procrastinate an assignment that you organize your life, clean your room, get a job, exercise, drink 8 cups of water, consult your doctor, and resurrect a blog you've ignored for almost 6 months (!!). So welcome to my sad place, featuring life updates and interior decorating tips.
It's a new semester, which means another dramatic housing lottery at Zeta Psi. Every year, the brothers participate in a rather chaotic room assignment process, with all the tranquility and order of the Republican National Convention, except that at the slightest hint of instability we throw out our progress and start over from the top. As you can imagine, this usually takes a while.
When the dust finally settled, my new roommate Robert Tran '18 and I moved into Dream Machine, a cozy double in the third floor of 233 Mass. Ave. The beds – like all the rooms in the house – were lofted to save space, which left us with the entire space to rearrange at our leisure.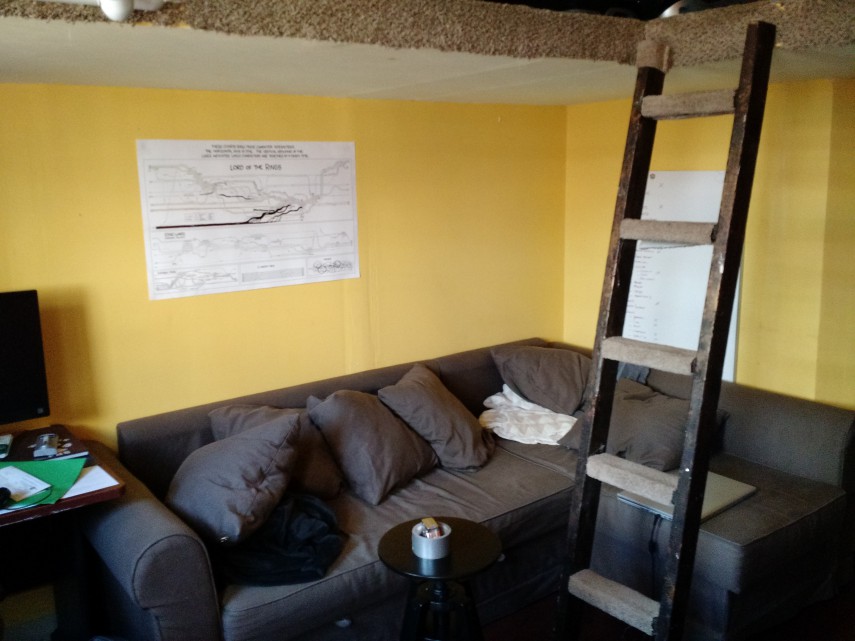 We moved the couch to a new corner, but that left its previous wall rather barren. It felt like it should be the centerpiece of the room – all the seating faced towards it in one way or another – but what could we put there that would be worthy of all the attention it'd receive?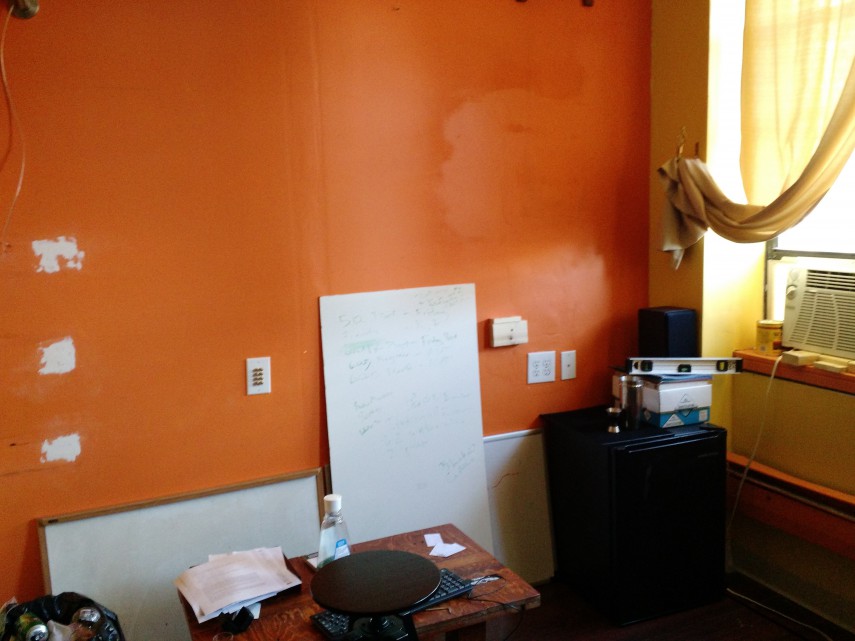 Answer: a standing desk. After discovering our mutual love of standing desks, we decided to make our own. This was a rather ambitious undertaking for us, since I didn't know the first thing about wood, drywall, or literally anything else that we'd be working with, but Robert has this strange, inexcplicaly infinite repository of experience with anything a person could ever want to do, so we commited to making something nice. We found a lumber yard in western Massachusetts that sold giant, live edge slabs of wood, and picked one that fit the wall.

It's 9'4", 170 lbs, and a type of South American Oak called Roble. Neat.
After trying and failing to rent a U-Haul (moving day in Boston; none to be found) and then a rental car (would have been more expensive than shipping) and then a ZipCar (requires membership activation), we cut our losses and just had it shipped by freight to a loading dock nearby.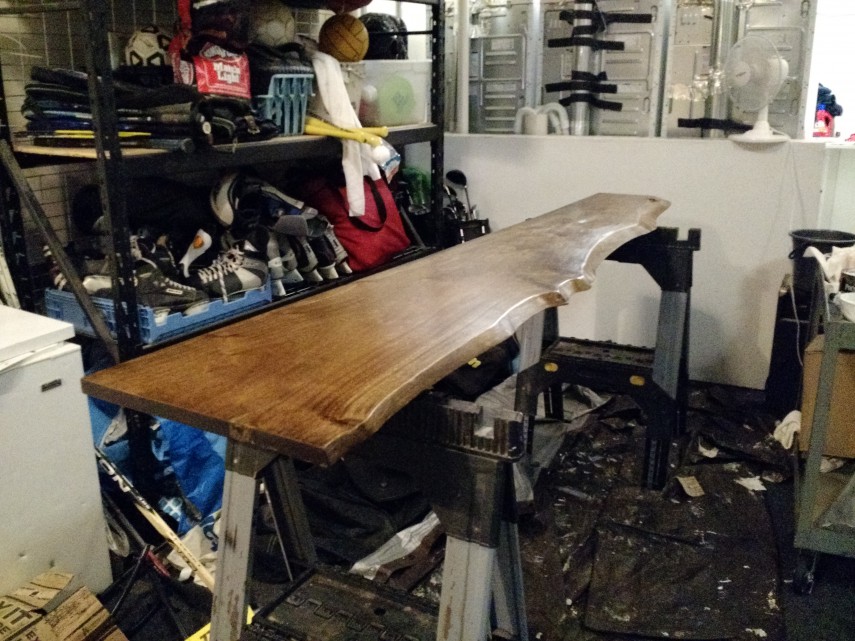 I've had the good fortune of never having to care for a baby, but I think wood slab ownership is the closest I've ever come. Robert and I spent a week sanding, staining, and sealing: picking out stain colors, obsessing over cracks, smoothing splintered edges with surgical drips of epoxy, and applying coats of polyurethane finish every day before going to bed and the first thing in the morning. All the while wondering: what in the world are we doing?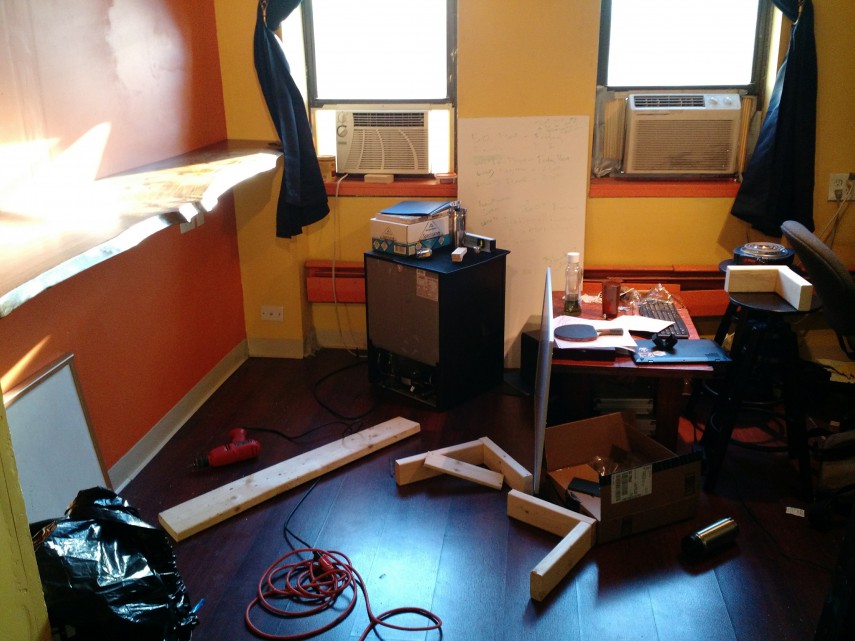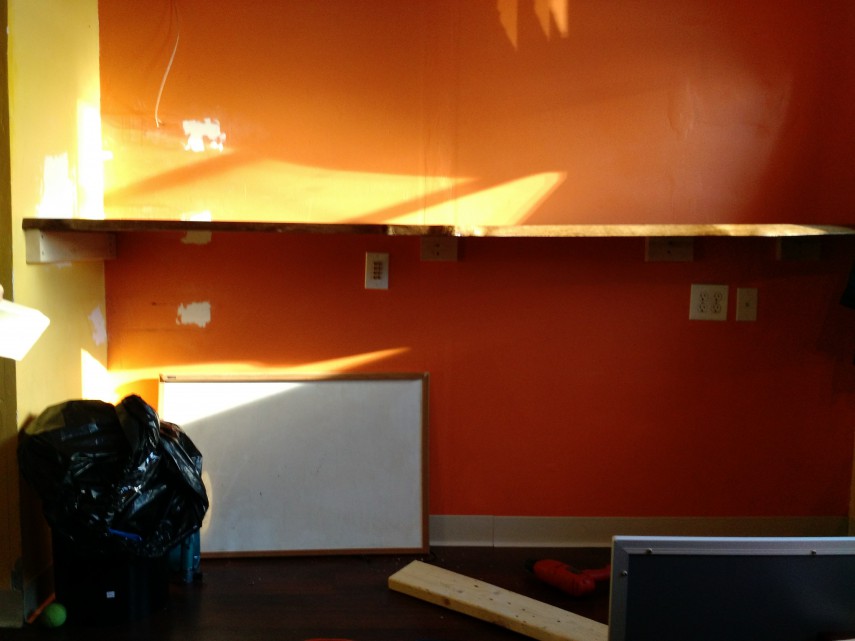 Finally, we mounted our finished product in Dream Machine. But it was too nice. Its class and panache overshadowed its environment. We needed something more, something crazier, something that would make a giant slice of a tree seem normal.
Answer: art.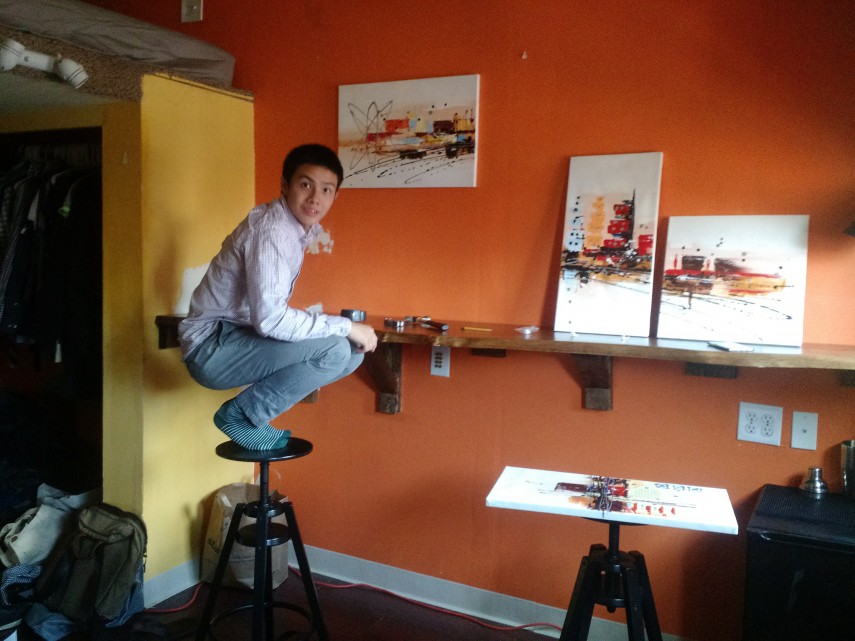 "This is insane. Why did we do this?"
We bought an oil painting (on Amazon – Prime eligible!) – a composite multi-piece canvas that seemed to fit our aesthetic – and hung it above our desk.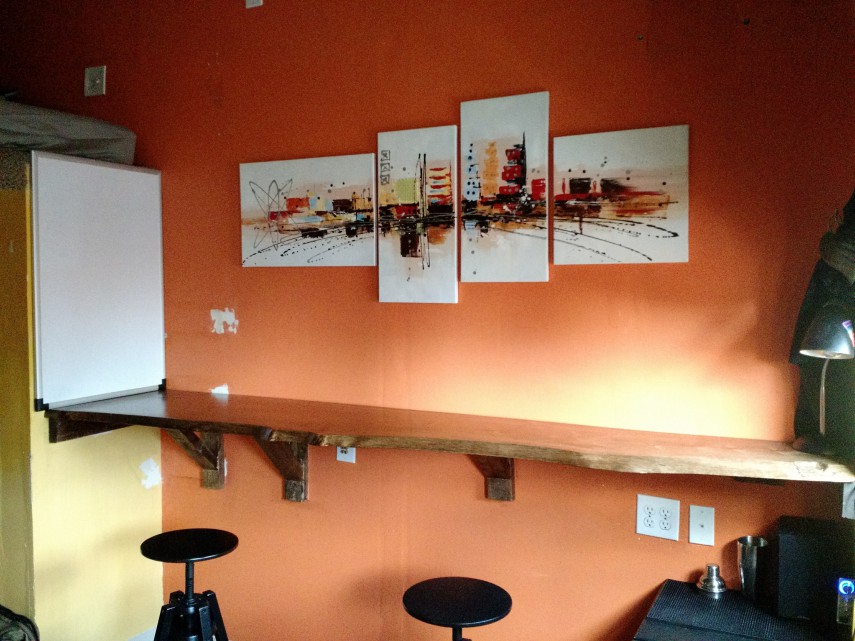 Garnish with Ikea bar stools and matching curtains; sprinkle whiteboards to taste. Let simmer for 30 minutes. Serves 2. Enjoy!