(I can file an entry on Yoga under "Academic" right?)
Today I received this email from the Committee on Academic Performance (links are all mine)
According to our records, you have not completed the General Institute Requirement in Physical Education. The requirement includes successful completion of the swim test (or beginning swimming class) and a total of 8 Physical Education points. It was your responsibility to fulfill this requirement by the end of your sophomore year. (Mitra note: WHATEVER) It is imperative that you take steps to complete this requirement as soon as possible or you will place your graduation status in jeopardy. If you have special needs, such as gender specific swim environment or modifications due to a disability, please notify the physical education office 8 weeks in advance of registration, so that arrangements can be discussed.
Include Physical Education classes in your IAP or spring schedule to ensure completion of this General Institute Requirement.
The physical education lottery can be found online at: http://web.mit.edu/athletics/www/physed/index.html
The registration dates are:
IAP December 5 – December 13
3rd Quarter January 30 – February 6
4th Quarter March 13 – March 20
Looks like DAPER doesn't believe that I care about physical education, despite my previous entry on PE classes and my previous entry on training for the Boston Marathon. Eh, I always knew Sam's Blog was more popular anyway.
WELL turns out I am in fact taking Beginner's Yoga this quarter. Every Tuesday and Thursday from 12 to 1, I am in the T Club Lounge, sprawled on purple yoga mats that probably haven't been cleaned for years, trying to undo the damage of 20 years of yoga-less life. See below for some exciting photographs of what we've learned so far:
First, we start out with a few minutes of controlled breathing. (Note the flowers and lava lamp)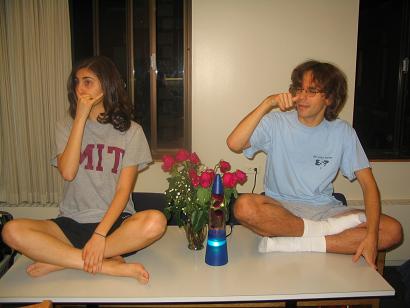 Then we work on stretching our legs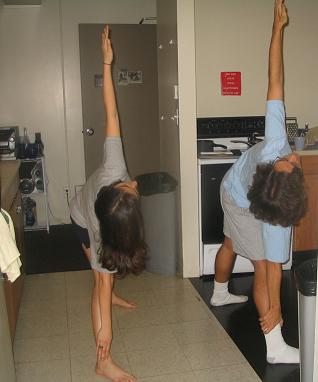 Balance! (Honestly, this is so hard to do. In class, I can't stand like this for more than 30 seconds or so. Try it yourself and see how it goes!)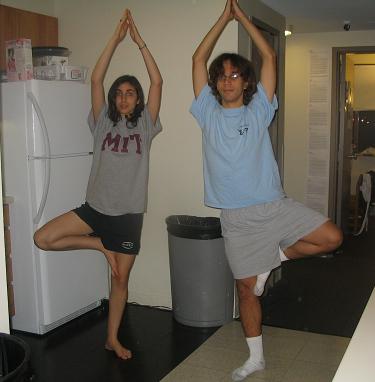 Our kitchen floor is really dirty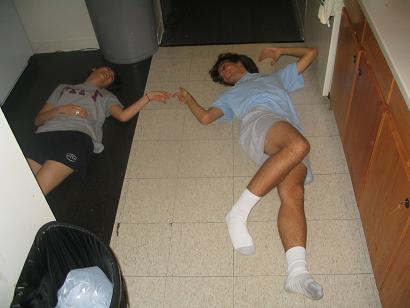 Remind you of anything? (JK)