It's a Wednesday afternoon, and I sit in my dining room and stare at the problem set on my computer screen, neck craning down. The music in my ears is loud—too loud, frankly—but it's all I can do to block out the endless noise of constant motion that comes with living in a house of seven people. I read over the problems again, eyes moving to and from the class notes open on the other half of the screen. Nothing sticks, and my eyes both dart to and from material and see nothing at all. It's been twenty minutes of this, the ache in my neck slowly appearing as if on cue. 
My mind buzzes at the thought of literally anything besides schoolwork, and as my roommates come down to grab cups of water or make friendly conversation amongst each other, I preemptively take out a headphone as I prepare to be distracted. All the while, I hear the voice in my head that tells me I have to work, that begs me to find the concentration I had just weeks ago. I try to ignore it for the most part, giving it a small space in a corner of my mind where it slowly eats away at my mood until I'm completely soured and stressed by bed time.
Even though the answers are clear as day,⁠01 could it be the global crisis we're in? the fact that i don't have enough desk space in my room and need to work in a high traffic space? or maybe it's the fact that my facebook feed has become a string of memorials, a digital graveyard, from people back home in new york? part of me still doesn't comprehend why everything has suddenly become so difficult. My brain keeps drawing me back to a cycle of self-blame, taking root in my head and placing it's foot down when I try to be kinder to myself. Why can't you just finish? Why can't you just work? Why have you become so useless?
I shudder to think about what my grades would have been if MIT hadn't implemented a pass/no record grading system across the board. I have to admit that initially, I'd been quietly upset by that. I felt like my stride was being cut short, and I thought I could finish the semester in the same sprint. At first, I did—I finished assignments over Spring Break and caught up on most of the work I had to do, putting myself in a pretty good spot when we finally returned to classes. And then, it all just fizzled away. The trained control I had over my time and work had slipped out of my fingertips. I couldn't get myself to finish the last remaining work I had due, work that had already been pushed back due to the quickly changing schedule. And now, thrown back into the semester, I'm finding it even harder to continue learning and studying like nothing is wrong. 
There are a lot of things that have become infinitely more difficult in the past few weeks. I can't:
Sit still in a lecture, can't stop my eyes from running across the screen: the occasional faces in boxes, the ticking time on the top right, the birds outside my window, and the creaks of people walking around my old house. My ears feel too primed to hear outside noises, listening to every sound I can to take my mind away from class. My hands, when they're not taking notes, find their way across the entirety of my face,⁠02

yes i know i'm not supposed to touch my face

from a bunched up fist against my cheek, to my index brushing the underside of my nose, to grabbing the cup on my desk that's been empty for fifteen minutes, hoping that somehow, water would magically appear, to putting it back down, to clasping both together and stretching above my head, to shifting my computer screen by 1-2 degrees. I keep my camera on in most of my classes to keep me accountable in at least

trying

to pay attention, but I've discovered it's very easy to

appear

to be paying attention on a low resolution video. On top of that, I feel like my general interest in my classes has waned. It's hard to keep feeling engaged and to motivate myself to care about what I'm learning when there's just so much going on. It makes me incredibly sad, because I feel like I've spent the past year rediscovering my enjoyment of

actually

learning instead of just getting by, and it feels like I'm regressing. I worry I won't be able to get it back.

Finish a problem set in the same amount of time it would've taken before. The workload for all of my classes has been reduced by a fair amount, out of both necessity (for lab classes) or for lack of time (the rest of them), and the material hasn't gotten much harder. I have added time in the weeks: 1 hour less of daily commute to and from campus, meetings drastically reduced or outright cancelled, reduced time spent working out. Yet still, I find myself staring blankly at my screen until my eyes hurt, unable to remember even the basics that I learned at the beginning of the semester. Coupled with the fact that I retain so much less from lectures now, I am often frozen in the process of trying to complete a problem set. This past week, it's taking me a grueling amount of time to get through Question 1 Part A of an assignment, lost to the point where I don't even know what to ask my TA via email without feeling embarrassed. I write and then erase, write and then erase, repeating this over and over until the paper starts to crumple and I decide to start over and write it over on a new sheet. All the while, I watch the time on my monitor tick down, keeping a mental track of deadlines that have since become more flexible, but somehow feel as rigid as ever.
Exercise as much. Like I've mentioned in previous blogs, I had built up a very consistent work out schedule at MIT prior to all the corona-madness. I've attempted to keep at it, trying to run four days a week and do miscellaneous free body workouts five days a week with my roommate(s). What had (miraculously) started to feel like a pleasant break from work during the earlier semester has become mostly a source of added stress now. It's not really the working out itself that sucks,⁠03

though i must say, trying to get into running isn't very fun, and i haven't reached the point where i actually like it, and i miss just picking up heavy things and putting them down and feeling a deep muscle pain and soreness and occasional dizziness rather than a heart-clutching heavy burn in my lungs

but again, my mind goes back to the constant timer running in my head. At 1:00 PM, mostly around 1:10, I resume work after lunch and keep a constant tab of how much time I have left to finish an assignment before I'm scheduled to work out at 5:30 PM.⁠04

because, it's effectively impossible to work in a communal space after 7 PM when all of my roommates are done 'working'

I dread it until the moment it arrives, anxiety looming over me and making it even harder to work. When I'm not thinking about how I can't wait to be done, I stress over crunching time and other things: Can I try to go back to work after this even though all I want to do is watch more episodes of True Blood? How quickly can I shower and make dinner before my 7 PM class? How can I maximize the amount of fiber and protein I'm eating while minimizing time of cooking? What's worse: the stress of lost time spent doing something I can feel myself resenting, or the shame and self-doubt that comes with quitting something that used to make me feel proud?
Balance my work life and rest life. Besides the obvious being at home 24/7 thing, the lines I established between work/play before have faded into each other, leaving behind a mix of constant buzzing stress. Even when I try to follow my rigid schedule from before,⁠05

wake up at 8 AM. shower and get dressed. eat breakfast. <s>go to class.</s> work <s>30 mins</s> <i>2 hours</i>. go to class <s>again.</s> eat lunch. work for <s>5</s> <i>4</i> hours. <i>go to class again</i>. work out. shower again. eat dinner. work until 9. relax. rest.

I find that I have a hard time still following it. Even in a perfect world where I do conform to the rules of my daily routine, it takes me so long to actually finish things that I'm forced to adjust and blur my lines further. It feels like it takes twice as long to finish half of the assignments, and I constantly feel like I'm racing against the clock towards something, something I can't even grasp and can't look too deeply at without feeling overwhelmed. And so, I cut into my time, perfectly separated before, taking chunks from my free hours—a half hour from my 1 hour lunch, an hour or two after my scheduled stop time of 9 PM—and repurposing them as I need. I tell myself it's just this week. Just a way the deadlines seemed to match up, piling up during the first weeks back from Spring Break, and I just need to get through them to reach the other side. But next week quickly becomes this week, and I tell myself again, just waiting and waiting for the moment to come when I feel like I have this under control again. There's always more deadlines, more projects I'd totally forgotten about, more things that have snuck up on me even though I've known about them since the first day of classes. Even with just a few weeks left in the semester, the days drag on.
Relax. I imagined many different ways this situation would play out. At its best, I imagined an endless summer, of getting into old hobbies that I never had time to continue pursuing, of new avenues being opened up with the influx of new time. I imagined spending my days writing, and reading, and drawing again. I imagined finishing TV shows I never finished and getting into new ones. My current reality feels a lot different from that, and I'm left with unanticipated wants and desires that still feel difficult to reach. I want to sit on my porch and drink ciders at 2 PM on a Tuesday, the first sunny day of the week. I want to stop obsessively checking social media until my eyes burn. I want to stop being paralyzed with anxiety when it's 3 PM and I have something due (though the lines are unclear) at midnight because all I can think about is how much I'm not performing, not completing, not succeeding. I want to stop feeling numb to the world around me. I want to not feel anything.⁠06

it sounds like a contradiction right? on one hand, i feel like i haven't really processed, haven't really mourned for the life i had since this all started, and i feel like i'm lacking some grand feeling or moment of revelation. on the other hand, i'm afraid. i'm afraid that if i start to view the situation more clearly that it'll consume me. one of my elementary school teachers died recently, and even though it's been years since i've seen him, i cried as i felt the effects of this virus inching closer and closer to my life back home. he went to my parent's church, he had a daughter. if i look too hard i can't keep moving forward.

In the most stressful moments, I find myself asking: where is all this free time everyone keeps talking about? Where are the hours in the day where I'm simultaneously not bound to other responsibilities, and in a mental state to want to do anything but check out and stare at a screen? I long for boredom, for free time and a carefree attitude to take me wherever. I'm exhausted.
Imagine the future. I have a bad habit of mapping out my life in the worst possible pathways, imagining the thousand different ways I can screw up. Of course, it still happens now to an extent, but in general the future feels a lot more nebulous than normally. I can visualize my life until the end of the day, or in the next few days, or until the end of week. After that, it becomes harder to see without projecting an overly pessimistic narrative. My internship in New York was recently cancelled, and to be honest I can't imagine how my summer will play out. Loosely, I've been trying to find other opportunities, but find it hard to be motivated to go through this process all over again when there's the chance the next one will be cancelled. I'll go back home in either case, trying to figure out how to spend my days in social isolation with my family.⁠07

something i haven't done for an extended period of time since 2016

And then, with the uncertainty of the Fall semester, I might stay there longer. As someone who feels the need to have control over the time in my life, the blankness of the next few years is terrifying to me. What will a post-Corona world even look like? I try not to think about the parts of my life that I fear can never return—standing shoulder to shoulder at a live performance of my favorite band, brushing into people as I try to walk through to find my friends at a crowded party, greeting people with a hug. I don't want to have to remember the last time I did them.
Stop asking myself what ifs. What if I graduated when I was supposed to, last year; how would my life look? Would I be comfortably working from home, not worrying about paying rent because my monthly salary is unchanged? Would I be furloughed, or worse laid off, and have to scramble to figure out how to survive? When I have such little control over the future, it's too easy to fixate on the past, what I could've done to be experiencing this a little differently. I go back to points in my life, reimagining the choices I made that led me to where I am today, and I feel an overwhelming sense of regret. I think of how I was counting on my internship for vital job experience, or how I'm probably going to graduate in one of the worst recessions in decades. There's nothing I can do to change the past, but I still fixate on the what ifs, imagining an alternate reality where things were different. What if all those decisions are leading me down a place where I can never recover from? It's extreme to think this way, and frankly pretty unhealthy, but right now the past is one part of my life that I feel like I had some control over, and that's enough to get me to think about it endlessly.
I know I'm not alone in how I feel. People everywhere have been writing think pieces about the inability to work, or the crushing feelings of loneliness, and how to try to remedy these. According to these, I'm doing a lot of things right—I'm maintaining a sense of normalcy, keeping my morning routine, going on walks to simulate my commute to class, and maintaining a consistent eating and sleeping schedule. I have people around me. And despite all this, my brain just can't function the way it once did, and I can't help but blame myself even though I can't control the state of the world. I read another post along these lines circling around on Facebook that included a simple addition to Maslow's Hierarchy of Needs, which I've recreated badly for the sake of potential copyright infringement: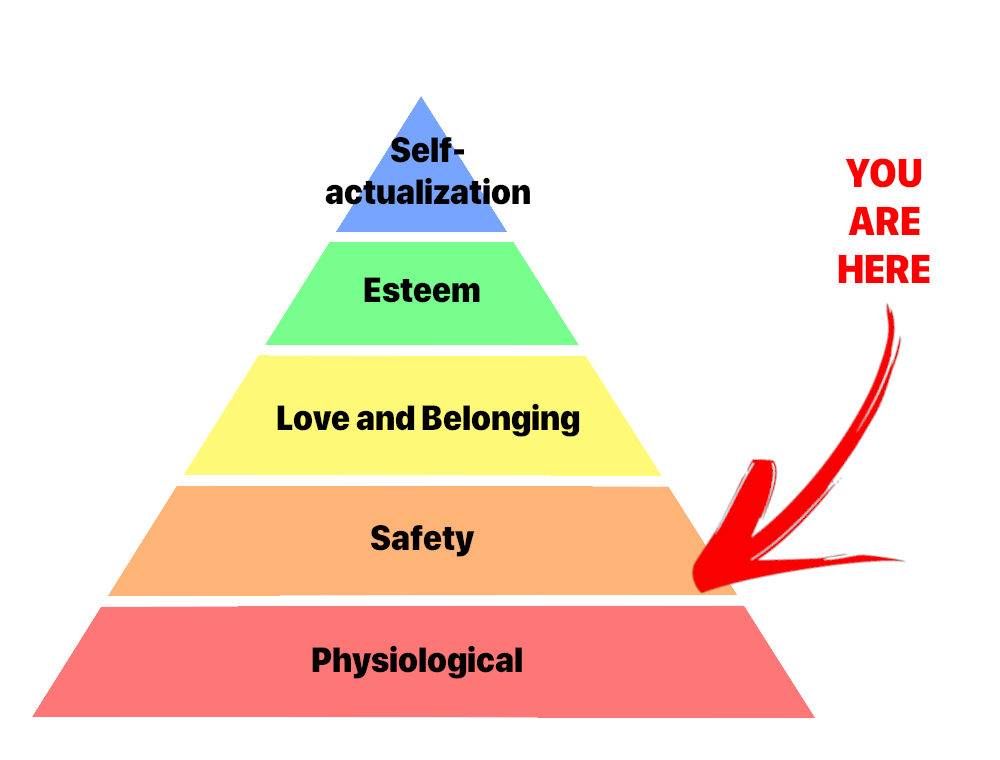 Like being lost in a sprawling mall at the age 7, just the words You Are Here are enough to put me at peace, knowing I'm not the only one who's getting lost. Thinking of it this way really helps contextualize what I'm—what we probably all are—collectively feeling. With the focus on survival and safety, both for ourselves and the people around us, it only makes sense that there's less capacity to do other things. There are a lot of things I am trying to accept, like knowing when I simply can't do something (and that it's no one's fault), and it's okay.
For everything I can't seem to do, there are a lot of things I can do, even if they feel much more meaningless and less productive. I can:
Do laundry and sleep in my clean sheets.

Eat a handful of chocolate chips from a Costco sized bag and not feel bad about it.
Stay up late watching bad television.
Go on a run and breathe like hell underneath my mask.
Take a multivitamin every day.
Master a new dish.
Sit on the porch with the intention of writing (even if I don't actually end up writing)
Eat local bagels and Sourdough bread.
Go on walks (wearing a mask, of course)
Get really into a Wild West table top RPG with my roommates. Consider buying a cowboy hat.
Make new Spotify playlists that make me feel like I'm a teenager, but not the teenager I actually was, just the one I wish I was.
Write this blog.
For now, they keep me going until the next day, and that's enough.