Ayush wrote:
"How about a Clown Parade around the MIT campus? That might strike as perfect after circus school and this show."
Haha, I don't think other MIT students have the extensive circus training I have been lucky enough to receive. You didn't mean for me to parade by myself, did you?!
Aliza wrote:
"I love your blog name and the subtitle. I didn't actually read your entry and hope you won't take offense."
None taken.
"If you do, we'll never meet so it's no big loss. Anywho… Actually I'm not quite sure why I commented. MIT keeps sending me junkmail so I looked at their site. Do you have any idea what I'm supposed to look at, exactly? It always struck me as a tad odd that I should be "getting to know" a college, especially through the internet."
That's fair. Immediately from the packaging of the mail/website, you can get an idea for the "vibe" of each college. The colors, graphics, and images provide an impression of life here, which may help you decide if you like the lifestyle. Believe it or not, people sit on committees that design these publications – fonts, formats, etc. – and strive to make each aspect of them representative of some slice of MIT.
Secondly, the content of MIT multimedia hopefully helps answer your questions. At different stages of the process, you will be deciding what schools to apply to, how to fill out your application, and eventually, how to decide which school to attend. At each stage, a school's website and print media should anticipate and address your questions. Does this school have an architecture major? Binding early application process? Jazz band? Mandatory meal plan? Foreign language requirement? If the MIT website doesn't answer these questions, it hopefully serves as a bridge to connect you to resources or people that can.
Some of those people can be the student bloggers. These weblogs are here to begin to capture for you what MIT student life is like. The bloggers' attributes cut across sex, major, hometown, dorm, ethnicity, personality type, and "blogging style" quite broadly. When you aggregate us (and our blog entries), you begin to build a tapestry of what your MIT experience might be like. An extra feature is that they allow you to comment and question (like you did earlier), to get responses from MIT admissions officers and students. I think MIT is very open, friendly, interactive, hands-on, and collaborative, and the blogs extend that to prospective students.
The print and web content is, however, not meant to replace visiting MIT and experiencing its culture first-hand. If you can, come to campus for a visit/tour/overnight/meal — especially if you are an admitted student who is deciding between schools. The "crackling intensity" (as MyMIT refers to it) of this school is hard to trap into two (or three or four) dimensions.
Good question. Keep them coming.
JKim wrote:
"I definitely walked by Teatro ZinZanni this morning! Actually, we drive by every morning before work, but this morning my sister and I went to the Farmer's Market at the World Trade Center, bought some fruits, and then walked all the way down to Ghirardelli Square."

Nice. Yesterday, I went to the farmer's market at the Ferry Building and found some fresh raspberries. There's something similar in Boston called Haymarket, near Government Center/Quincy Market/Faneuil Hall; they have tons of fresh fruits, vegetables, fish, and cheeses. I usually walk there if the weather is nice, but have to take the subway back since I end up carrying so much stuff.
——————-
Later on Saturday, I went to Cafe Gratitude in Berkeley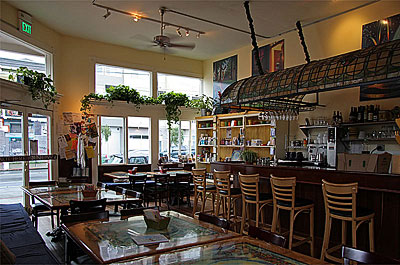 Their menu has dishes with names like
I AM MAGICAL — Six cremini mushrooms stuffed with sprouted sunflower seed-walnut pИҐtИ©, sprinkled with Brazil nut parmesan
I AM DIVINE — Chilled creamy carrot avocado soup with hot chilies, basil and a touch of mint

I AM INSIGHTFUL — Two spinach wrapped samosas filled with almond sesame seed pИҐtИ© and marinated veggies, comes with spicy fresh mint dipping sauce
So when you order, you say, "I'll have the 'I am divine.' " When they bring the dish, they present it with a flourish and announce, "You are DIVINE."
I ordered the "I am luscious" and the person I went with ordered the "I am delicious." As the waitress put his smoothie down on the table, she told him, "You are DELICIOUS, and she is LUSCIOUS."
It's almost like we paid them to say that…. except we did.
8 responses to "You Are LUSCIOUS"