Tonight, as MIT's Spring Break was wrapping up, we gathered up all of the student hosts who have returned from vacation (hundreds of them!) and released hosting assignments for CPW. Here's what the crowd at the meeting looked like: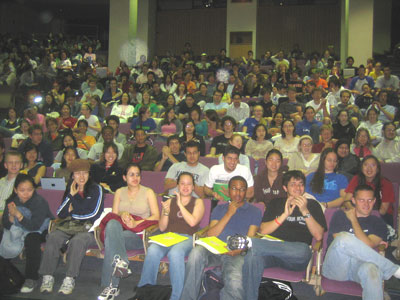 (note fellow blogger Bryan in the front row, freshly back from his trip to Italy)
If your assigned host is back from Spring Break, expect to get a call/email from them tonight or tomorrow (you may have heard from them already). Otherwise, don't worry, you'll certainly hear from your host well in advance of arriving at CPW [and even if you don't, I assure you that you have a host]. We also have some backup hosts on hand, so we may be able to accommodate some late registrants for CPW. It's going to be fun.
One of my favorite things about CPW is that it isn't an administratively sponsored sales pitch weekend; it's an exciting, genuinely student-programmed weekend. Current students are as excited (more excited?) about the weekend as the prospective students are. Take a look at the schedule — the bulk of events are put on by student groups, not our office. The students at tonight's meeting, you could tell, are very much looking forward to CPW.
In short, we're all very excited about Campus Preview Weekend. Can't wait to see you then!
19 responses to "Your CPW Host"