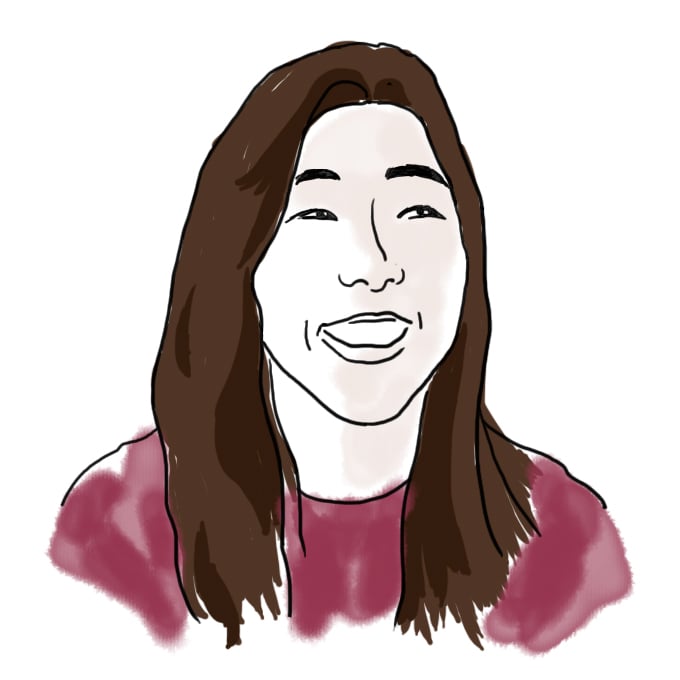 Yo Snively - I lied. There are actually 2 admits in Oregon BESIDES you - so 3 total. Now all you have to do is find the third kid.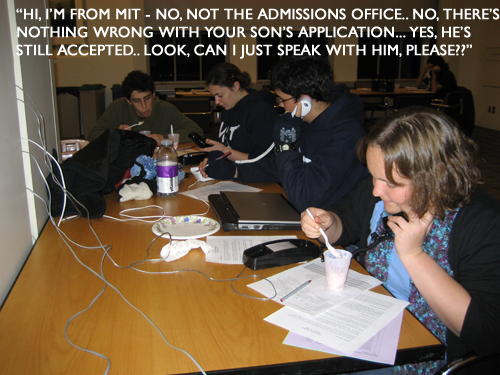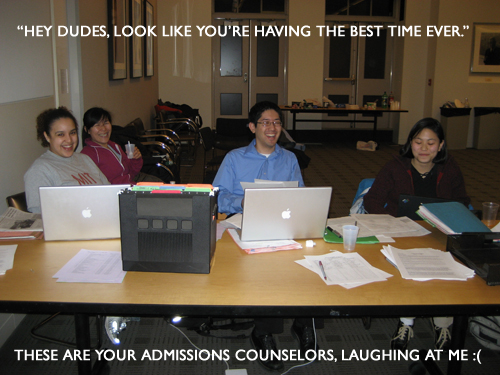 So both Melis AND Laura beat me to it, but last night was the early action telethon! 54 MIT students total came to chill out and check up on how you guys are doing by calling all 390 of the early admits (sometimes more than once.. our bad). We were probably more excited than you were – there were periods of time when we'd have to wait to call some people back, during which Christina and I called our parents to congratulate them on their early acceptance to MIT. ("Frank? Hi, this is Christina from MIT, and I'd like to congratulate you on your acceptance! That's right! I was just wondering if you had any questions or would like to get the perspective of a current student.. yes, there are girls here..")
So I was planning on posting the most common questions, but the truth is the most common question was just "nope, no questions"; which I totally understand. Last year when Anthony called me, I flipped out. "OH MAN MIT IS ON THE PHONE. OH MAN, I HAVE TO REMEMBER MY SAT VOCABULARY, OR THEY'LL RESCIND ME. OVER THE PHONE. AAAHHH. AAAHHHH. AHHHHHHHH." And it's not like you have time to prepare a list of questions either. So just in case you'd like to put names to faces and events to rooms, here's what we looked like while we were talking to you.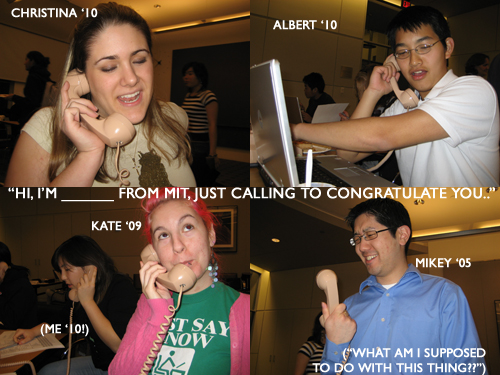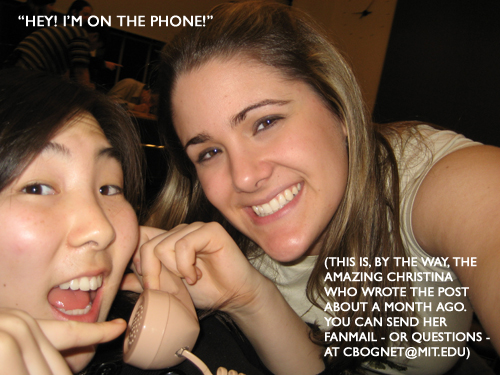 I gave out my email probably around 30 times this evening, but just in case you didn't get a call from me specifically, or we missed you – it's iamjkim at mit dot edu. Please, please leave a comment or send me an email if you have a question or just want to say what's up. Let me know you're alive!
I did get asked about what I was doing over IAP a couple times, so just in case you missed it, here's an update: EMT training, 8 hours a day, 4 days a week. Tonight was supposed to be my first shift on the ambulance, but it's currently out of service due to a mixup with the insurance company; it should be up by next week, in which case I'll be on shift next Tuesday. MIT's Student EMS is actually the only collegiate-run EMS that runs their own ambulance and can thus transport students and other patients to get the care they need. It's a pretty cool program, and I'm really excited to be a part of it. So's everybody in the class, as far as I can tell..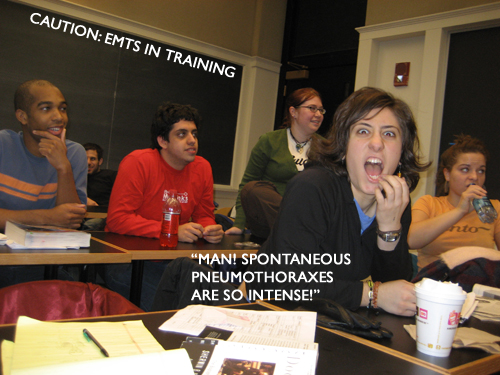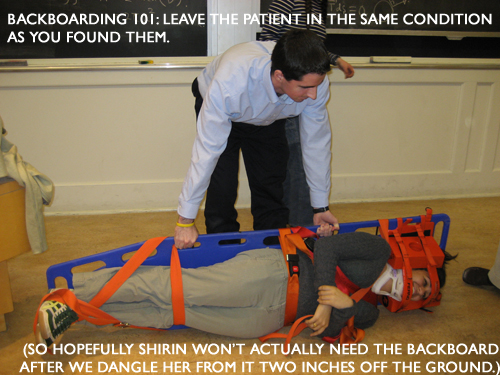 Anyway, it was nice talking to you guys for real! Keep those questions coming; I'll answer them all together in the next entry.
39 responses to "MIT Calling"