Has CPW left you with this? :)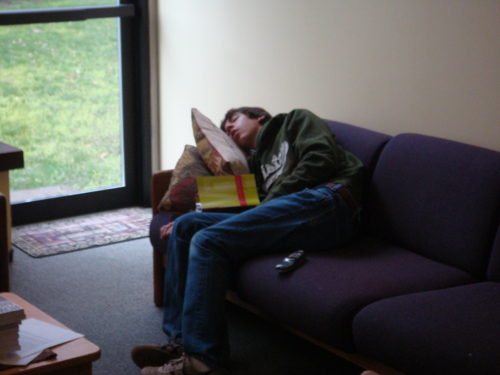 So I learned two major things about myself this weekend, courtesy of you guys:
1. I apparently do not look like myself *points at the banner* (perhaps bringing a stuffed penguin with me next CPW would help? =p) and apparently I look a lot taller.
10. "Wow, you don't sound like a college professor in real life!"
I'm sure now that you guys start to head back to the four corners of America (and the world!), there will be an opportunity to relive CPW through the various guest blogs that would undoubtedly be popping up over the course of the next few days. But I just want to say something.
In a word, you guys are awesome. Meeting so many of you over the course of this weekend at random events – seeing how you all hail from OH, PA, VA, MD, HI, NY, MA, CA, NJ, MI, SC, GA, TX, MO, WA (just to name a few) and getting to know your passions in high school, from research (I don't know how many ISEF and Siemens people I've talked to these few days) to violin to scuba diving to volunteering to a passion for languages to butterfly collecting…it all had been "wow." I am now convinced of the statement by Admissions that they are "excited" about this class. You guys are truly one group of accomplished people that blows my mind away.
As you undoubtedly now begin to ponder your college choices and attend other colleges' admit weekends (I know Princeton is next week, and Stanford the week after), I hope you have a good time exploring other college campuses (though, you're not allowed to have a better time than you did at MIT =p) in making an informed decision about where to spend the next four years of your life.
But there's something you should know.
One of the questions that kept on popping up over the weekend was, "How much of MIT Blogs is real? Why does it always look like you guys are having a good time?"
MIT Blogs are real. We don't try to give you a sugered version of what MIT is like. This is real stuff.
Granted, we don't always blog about our stress during the weekdays when we're up tooling all night – nor do we blog about the anguish of failing an exam, but hey, that's just something that comes with the rigorous, well-renowned scientific training that MIT offers. Yes, we do get stressed out at times, but we also know how to enjoy life when we're not doing coursework (and there are too many blogs to that effect, so I'm not going to bother linking them all). :)
We hate MIT at times for keeping us up at 4 or 5 in the morning, but we love MIT for all the possibilities it offers – diversity, excitement, enthusiasm, research, and a healthy dose of quirkiness, to name a few. This is why IHTFP stands for two things. This is why my EC interviewer reflects nostalgically upon her time at MIT. This is why we come together during CPW and Orientation to show you what MIT has to offer.
A lot of people are wary of the statement that "CPW is fake – you guys are just getting this together for us, but it's not like this during the school year." True – we might not be having like 600 different events every single weekend, but we're trying to give you a cross-section of MIT culture, to attempt to show you everything that you can possibly be involved in at MIT. We might not always be having barbecues, roofdeck parties, and pancakes at 2 in the morning, but they're all there. We're not trying to bribe you. We're welcoming you to MIT.
On Saturday, a prefrosh asked me, "If you could pick only one thing that you love about MIT, what is it, and why?"
I said, "The people. Definitely the people. What makes MIT so amazing is the excitement and the enthusiasm that's present across all facets of the Institution. Intellectual curiosity in class aside, the flow of energy in student groups, the passion in student-led initiatives are really things that make MIT students so special. MIT admits passionate and driven individuals, provides them with a place to learn, and lets the students bump into each other, do crazy stuff, and accomplish the things they've been dreaming to do."
I hope you got a taste of that during the weekend.
And I hope you enjoyed the liquid nitrogen ice cream. :)
22 responses to "72 Hours Later…"