Figure 1. Life outside of classes.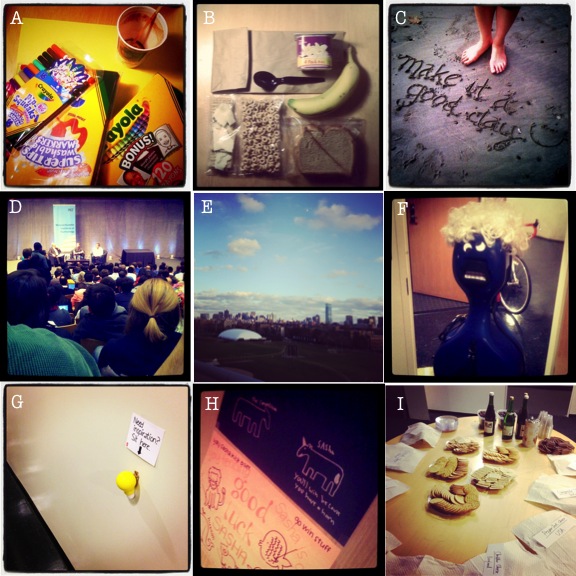 A) Study break to make Matt (or rather, Papa Matt!) a congratulatory card.
B) On Wednesdays and Fridays, I have class from noon to 4, so I usually eat lunch during my documentary class. This day I was feeling particularly preschooler-like when I packed my lunch.
C) Tech Catholic Community's annual fall retreat in Kennebunk, Maine. The sand was the perfect dampness for writing, so I proceeded to write little messages all over the beach…
E) It was an unusually gorgeous day in December (it got into the mid-60s!). This is the view from Simmons' 8th floor terrace.
F) My friend Maita '13 (her feet featured in Fig. 1C) decided to add a little something to my cello case while I was out of the room.
G) My hallmates and I have taken to sitting out in the hall. This is one of our handful of thinking spots (mine is right across from this one and is labeled "Happy Place" and sits next to a poster of Jimi Hendrix).
H) Sasha '13, one of the 3AB goobers, had his first fencing tournament of the year the day after we made these posters (you'd be surpised how handy a stack of construction paper, three packs of markers, and 120 crayons have come in handy in the past 2 years).
I) Our GRT (MIT's equivalent of RAs) threw a "Harvard Study Break" the other night. This consisted of cheese, fancy crackers, sparkling cider, a couple of us dressing up in sweaters, and pretentious conversation (I couldn't take it for very long, though, and I soon changed into my Spongebob pajamas). Reinforced the fact that I am extremely averse to blue cheese.
9 responses to "9000 Words"