The past week has been total craziness. As previous blog posts covered, MIT, understandably, made all undergraduate students leave campus. As a result, all campus events, shows, concerts, etc. are no longer happening (at least not in their originally intended form), and the work that students had been putting in to plan, rehearse, or prepare for these activities very sadly could not come to full fruition. But as a last ditch attempt to make something positive out of this otherwise terrible situation, some student groups held small last minute open rehearsals or live-streams to display the work they had put in up to that point. We want to talk about one of these events that we were involved with and the experience of going to the final rehearsal in the last days of us being on campus, because it was actually a really beautiful and healing experience amidst the pain and chaos. 
This semester, we were going to be involved with the Latino Cultural Center's production of In the Heights, a musical written by Lin-Manuel Miranda. Our friend Luisa, who was the director and leader behind this production, asked us if we could do the set design for this show at the beginning of the semester and our response was "OMG YES!" We looovve In the Heights so much – it's such a beautiful show about a Hispanic/Latino(x) community in Washington Heights dealing with the effects of gentrification, loss of loved ones, financial struggles, and shows how they come together to overcome those hardships and, in the process, create their home. 
We were really excited to be a part of this production, originally scheduled for April 2nd and 3rd. We had only ever been in the audience of plays and musicals, and were looking forward to this opportunity in our last semester to be "behind the scenes." The show was going to be in one of the biggest classrooms on campus, 26-100, and the set was going to be entirely on the chalkboards. We even created photoshop sketches already for how we envisioned it.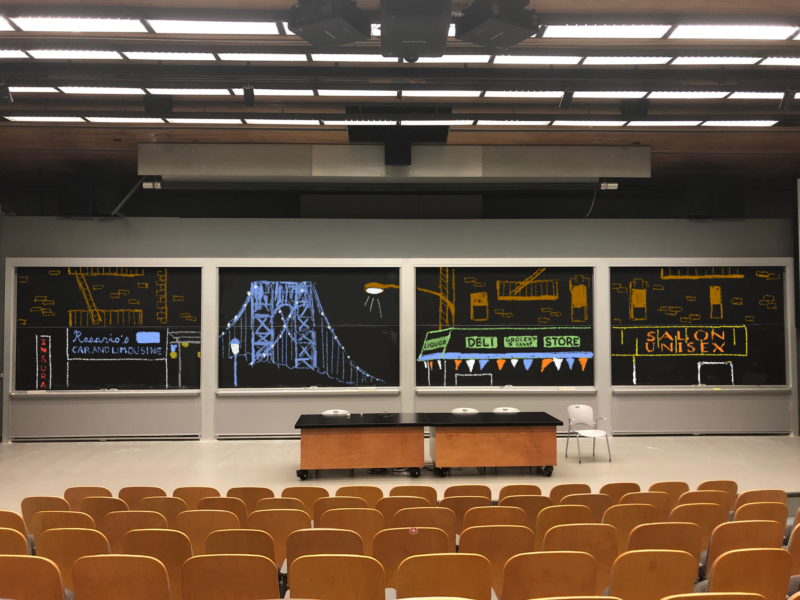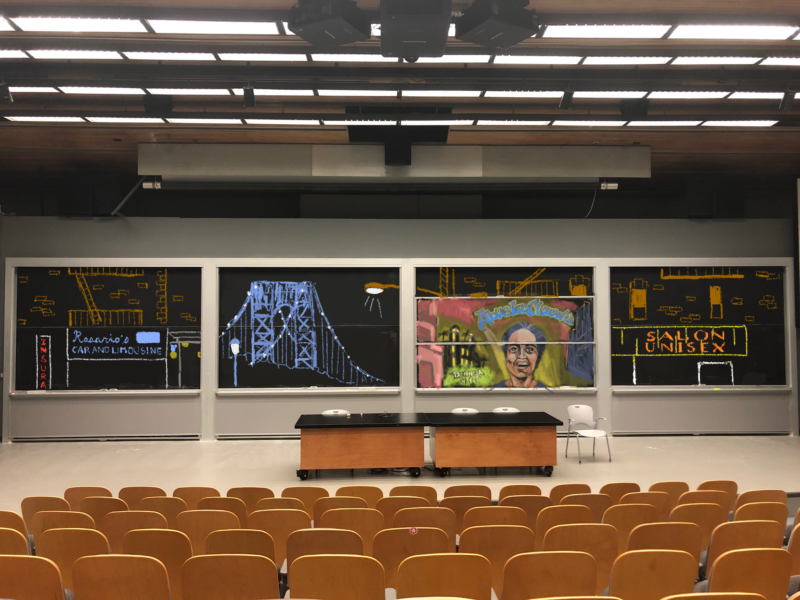 Everyone involved in the production was just as, if not more, invested in making this show happen. So when the news hit that we all had to leave, one of the first things we thought about was this production, along with all other student events, that people were putting so much of their time and hearts into. It was really sad. 
But in the face of such bad news, students frantically tried to make the most of it. The directorial staff and cast held a small final rehearsal open to the people involved and close friends to celebrate their work (the few audience members sat far apart). It happened two nights before we left campus and it was BEAUTIFUL. They came together to run through all the numbers, and it became a night of improvisation, funny messups,  beautiful harmonies and voices, creative props, and utter joy. It was an incredible feet of collaboration between Luisa A. '21 (Director), Diego B. '20 (Vocal Director), Natasha S. '20 (Co-Producer), Vanessa G. '22 (Co-Producer), Kiyah W. '21 (Stage Manager), Gabriella G. '21 (choreographer), and Marty Marks (MIT Faculty in Music), and the amazing cast!
It was a true representation of the resilience and innovation of MIT students, and really reminded us how unique and amazing the people here are. 
Aside from being totally amazed by the incredibly talented cast who managed to do a great run-through under such circumstances, the content of the musical also really spoke to us in some unexpected ways. 
Sigue andando el camino
Por toda su vida.
Respira.
Breathe.
Y si pierdes mis huellas
Que Dios te bendiga.
Respira.
Nina Rosario, a Stanford freshman comes home for the summer after just dropping out, as a result of having many side-jobs to pay tuition and consequently doing poorly in her classes and losing her scholarship. As a first-generation student, she is particularly upset because she was the first one "to make it out", and put a lot of pressure on herself to succeed. She sings "Breathe" as a way to reflect on everything that happened that led her up to that point, and to remember to just breathe.
The context may be very different from our current situation, but the idea of remembering to breathe and to check in with yourself during times of panic feels very relevant right now. We should all remember to breathe (just six feet away from each other).
We are powerless!
. . .
Look at the fireworks…
Abuela, are you alright?
Light up the night sky…
The stars are out tonight!
Look at the fireworks…
You're not alone tonight
The whole city faces a major blackout, and chaos ensues. People have trouble finding their way home and small business owners worry that people will begin robbing them, so they set off fireworks to create beacons for people to follow to find their way home and to distract the robbers.  
MIT felt like it was hit with a similar "blackout." The plug was pulled, everything suddenly ended, and chaos ensued. While the community of Washington Heights was literally powerless "electrically", we, as an MIT community, felt powerless emotionally. But despite this, students lit their own fireworks and beacons to come together as a community one last time. Even in the darkness, we were able to find our way to a sense of home and family one last time, before saying goodbye to it. And in this time, where social distancing and isolation is imperative, we hope that we, as an MIT community, will continue to foster our sense of home (and hopefully share that with the newly admitted class) in creative digital ways. 
I remember nights, anger in the streets, hunger at the windows
Women folding clothes, playing with my friends in the summer rain
Mama needs a job, Mama says we're poor, one day you say, "Vamos a Nueva York"
And Nueva York was far, but Nueva York had work, and so we came
And now I'm wide awake
A million years too late
I talk to you, imagine what you'd do
Remembering what we went through
Nueva York! Ay Mama!
It wasn't like today, you'd say,
"Paciencia y fe"
Abuela Claudia just won the lottery and reminisces about all her hard work and struggles in her life up to that point, and how through the hardest of times, one mantra kept giving her the strength to push forward. It was something her mother told her,  "Paciencia y fe" or patience and faith. 
Everyday this past week, every hour even,  felt so uncertain. We kept getting sent new information, new changes, new plans of action. It was very overwhelming. And these types of updates seemed to have become a new normal, because of the nature of this situation being an ever evolving one. And that's really scary. Uncertainty is really scary. All we can do (aside from the recommended actions of self-quarantining/distancing/hand-washing), is to have "paciencia" for a new-new-normal of a calm post-pandemic world "y fe" that we will make it to that other side. 
So, remember to breathe during the stress, to look at the fireworks during the darkness, and to have paciencia y fe during the uncertainty. And if you want some new media to consume while you self-quarantine, we strongly recommend listening to In the Heights. Stay safe everyone!