My dorm, Burton-Conner, has a great view of the both domes from just outside the front entrance. This was highly convenient this morning because when I walked out of my dorm to head to Physics I noticed something strange.
What are those pokey things on the small dome? I hastened my way towards physics and while passing the student center I realized what they were.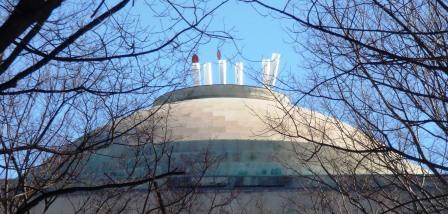 Birthday candles! Last night hackers snuck onto the small dome and installed giant birthday candles. Happy Birthday J. Arthur Random! Kudos hackers, well done.
Now, for the advice. The summer before I came to MIT I spent working full time and trying to get ready for life on the east coast. This meant learning about weather, types of stores that would be there, and what I needed to take to my dorm. I was discussing this with Sara '11, MA born and raised, and quickly began to realize that Boston has a bunch of random little quirks about it that nobody but a resident would ever know. That's cool, Boston people are unique and have special traditions, but it's not so fun for the tourist and the non-native because all it takes is mispronouncing Worcester once and you're instantly red-flagged. Anywho, Sara was explaining some stuff to me and she mentioned a couple of songs. I believe her words were:
"If you're going to live in Boston you need to listen to Tessie and I'm Shipping Up to Boston. A lot."
I'd never heard of these two songs, so I downloaded them and proceeded to listen to them. A lot. I'm glad I did, because it's one of the few Bostonian things that actually feel like I know about over a lot of my classmates. Granted, by now we've all listened to Dropkick Murphys (the band that plays the two songs) but at the beginning of the year I felt special.
So, prefrosh, or anybody who ever plans on coming to Boston, here's my advice. Listen to the Dropkick Murphys's "Tessie" and "I'm Shipping up to Boston." A lot. I've included some YouTube videos in case you're too lazy to go download these songs.
I'm Shipping Up To Boston

Tessie

Actually, the other day I was heading off to class and as I was leaving the dorm I realized that I was being very Boston. Dressed for cold, I was listening to Tessie on my iPod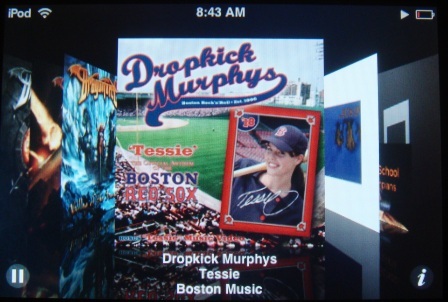 and drinking a World Series edition of a coke.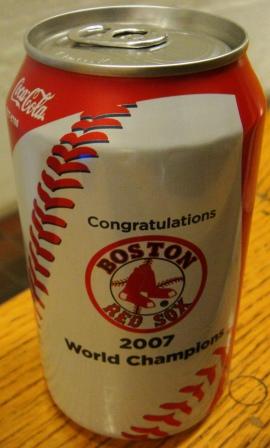 That's all, have a nice day.
[Post updated to include information about the hack, thanks for tips in the comments]
21 responses to "A Hack and Advice"